Welcome to Best In The Biz, where we catch up with the hottest names in the cocktail kingdom for an inside look at what they're working on now.
Folks in the bar industry know that the path from bartender to brand ambassador is a well-trodden one. But switching from marketing to working at the bar? Now that's rogue - and it's just the move Tako Chang chose to make when she joined the crew at New York City bar Double Chicken Please (DCP) after building a career in marketing for drinks brands like Kavalan Whisky, Bacardi and Heineken. 
Her decision paid off. Since co-founders GN Chan and Faye Chen opened DCP in 2020, the place has made a name for itself with its playful comfort food-inspired cocktails, next-level fried chicken sandwiches and two-in-one bar set-up (the front room is all about tap cocktails, while the back takes a design-focused approach to drinks). And with Tako leading both the bar's marketing and front-of-house, things are really heating up: earlier this year, DCP snagged the number-one spot at North America's 50 Best Bars awards. Yup, THIS is the best bar in North America! 
So what does it take to make a massive career pivot and help lead a bar to major success? We got the DL from Tako herself...

The front room at Double Chicken Please
Huge congrats on DCP being named North America's best bar! What was it like hearing that announcement?
Thank you! Well, how do I start? A lot of winners say "we never imagined this", but we truly did not! I was actually supposed to make it [to the North America's 50 Best Bars ceremony in Mexico] as well, but somehow my visa got rejected, so I couldn't.
Around that time, we had to close our back room for an air conditioning installation, which was not meeting the timeline. So there was a lot of stuff going through our minds: when are we going to [re]open, we have a whole house team to feed, and now we're going to Mexico and my visa just got rejected! Finally, when the announcements were made, our minds were blank, like what just happened? It's surreal.
Personally, I was emotional. I got goosebumps! But then the thought was, oh, what are we going to do next? We're not going to do anything special, even after [winning], but it's a lot of stress. Like, okay, now we have this title, but then we are such a young team with a young brand. So how do we make sure that our team members are still doing what we are supposed to do and not getting too carried away with our ranking? That's something we think about.
Tell us about your journey to the hospitality industry. What inspired your move from marketing to front of house?
This whole journey is very surreal. I'm from Taiwan, but my whole family moved to China about 20 years ago. I had my very first internship in Malaysia. My client back then was Heineken – that was my first encounter with an alcohol brand. I don't think I can ever go back to a non-wine and spirits field, which is funny coming from someone who doesn't drink! My family doesn't drink, and I still don't drink these days. We'll have tea, we'll have coffee, we'll have boba.
Right after I graduated, Heineken China wrote me an email asking if I was interested in joining them. I was like, yes, of course! So that's when the journey started with Heineken and brand marketing. After about five years, I moved to Bacardi. I was running Bacardi Legacy for China, Hong Kong, Macau and Taiwan. The pressure was on!
Coming from the beer world and going to cocktails, I had no clue what was going on. How can you have someone who doesn't know anything about cocktails running Bacardi Legacy? That's when I started doing a lot of my own research. After work, I would pick two bars, and I would go get different POVs and learn different stuff to really understand cocktails and what kind of consumer they serve. Even though I don't drink, I found a passion along the way: the craftsmanship, the actions behind the bar, the ambience, the service.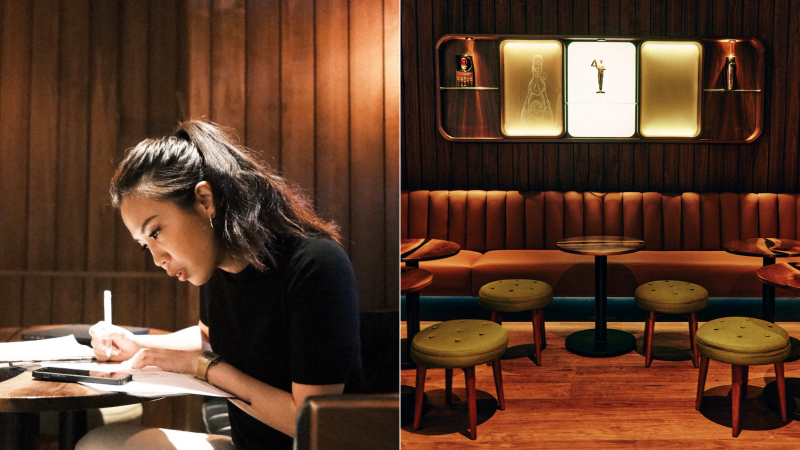 [Working at Bacardi] changed my life because that is where I met [DCP co-founders] Faye and GN. Faye and I worked really closely because one year she was the Bacardi Legacy champion of China. We did tours and seminars together, and she was talking and sharing her experiences. It was almost like love at first sight! And I met GN in San Francisco later when he was doing Legacy and we stayed in touch.
I always knew that GN and Faye wanted to open a bar together. GN was working at Angel's Share and Faye was the general manager of Speak Low in Shanghai with Shingo Gokan, and they decided it was time. They quit what they were doing and started looking for a spot in New York, and they asked me "Do you want to join us?" 
That was huge. It's a field I'd never been in. I'd never poured a water for a guest; I'd always been the guest! I wasn't sure. I'd been with brands for 12, 13 years, so leaving my comfort zone to do something new was a huge commitment for me. But GN and Faye look at the brand in a very different way: this is not going to just be a cocktail bar – we're building a brand. That was actually a lot more convincing to me. I'm like, "Okay, if we're together building a brand, I'm down".
We made a deal. I told them, you guys settle down first. In the meantime, we'll stay in touch and see how we can make this happen. Let's just keep this a long distance relationship right now. 
What role does not drinking play in DCP's cocktails or ethos?
GN also doesn't drink, but he has a very sharp palate and he enjoys eating. Faye doesn't drink cocktails anymore as well, and I myself I don't drink period, but I also enjoy doing a lot of cocktail tasting just to explore the flavours. We have different POVs when it comes to the flavours we'll put together and we constantly do R&D. So it's about deconstructing flavours, almost like playing a science game!
What do you think sets the DCP brand apart?
Double Chicken Please opened at the peak of pandemic. That was a big setback for all of us. Rather than building a brand it was more about needing to survive. At that time I was in Taiwan working with Kavalan Whisky because of the whole pandemic situation. It postponed our plan. I was waiting for Double Chicken Please to get on its feet, brainstorming what we could do. I'd only been to New York once during a Legacy trip, so it was hard for me to pitch any ideas because I didn't know much about the city, plus it was in the peak of the pandemic. Like, what can I do?
It was all about Uber delivery: bottled cocktails and chicken sandwiches. And we all just waited and hoped that Covid would go away. That was a tough period, listening to their stories remotely, trying to think if there's anything else that I can help with from Taiwan as they made $200, $300 a day to survive. It was pretty crazy.

DCP's wicked chicken sandwiches
How did DCP get through those really tough days?
We always have this mindset of go, go, go, go, go. We didn't have room to give up. It's full dedication, full devotion. So when Covid started slowing down, I came [to NYC] to scout, just to see if I could do this as my full-time job. Finally both rooms of the bar were open. That was the time I said yes to GN and Faye. I went back to Taiwan, packed my stuff, moved to New York and said, "Let's start building a brand"!
What are some of the challenges you've faced making such a dramatic change?
Physically it was overwhelming at the very beginning, because I've never really signed up to a gym membership or worked out. DCP is a big space, so there's a lot of walking on a daily basis, and the hours are very different from where my body clock is. I'm a morning person, but we close the bar and get home at probably 3am. So at the very beginning I had to adjust my habits. That was actually the most challenging part. After that, I got used to it really quickly, because there was no time for you to even think! It was just go, go, go, go, go.
That's when I realised that every single position is a touch point of marketing. I read some news, some magazines, and tried to apply my research. I started figuring out that the hostess would be the very first touch point to talk to the guests and to create this whole brand experience. So that's how I started building what we call the guest experience, from the line outside, to the moment you open the door, speak to the host or the hostess, and learn the whole concept, the service style, the drink programmes, how to order drinks and food, even how we drop the check when the guests leave.
In the beginning, to be honest, I struggled a little bit – like how do I wear different hats? But then everything started to make sense to me. It took me about half a year to find the balance and start building the brand. Now we're in phase two, to take a more storytelling approach and translate it to a language guests understand.
And what is the story that Double Chicken Please is telling?
We're a design studio. Our name came about because GN himself studied industrial design. His approaches are very design driven. Along with his best friend – aside from me and Faye – he wanted to open a design studio called Double Chicken Please. Back then, GN was also doing a little bit of street magic because he loves to perform, and one day his money was scammed! I was laughing when I heard that. Like, how do you do a magic show and all your money and savings get scammed? He needed quick money, and that's how he picked up bartending. Eventually he thought to himself, I love to perform and I love design, so Double Chicken Please, instead of an industrial design studio, will take a little bit of a different approach. 
We're a design studio but we design F&B experiences. We design our products – cocktails, chicken sandwiches – and we design the flavours and the intention. And in the future we're going to focus a lot more on events and our own curation, like guest shifts. How do we bring a more sensory experience to events and cocktails – not just your palate, but the whole physical experience? The concept is not just about one bartender or two bartenders or the guest bartender, it's finding a partner that shares the same synergy with us and doing something that is outside of the box. 
What inspired the culinary-driven approach behind DCP's cocktails?
When GN was working at Angel's Share, there was this regular customer who was going through a severe physical condition. Like, every drink could be her last drink, literally. It was heavy. She had all the cocktails from Angel's Share already, so she was like, I'd like to have a beet salad. Can you make something close to that? It's kind of interesting, because you're talking about a dish.
So GN took on a challenge, and he made the cocktail for her. After that, he started thinking that it could be a very cool idea to develop a menu that is fully food driven. He also learned about hacking design back in his college life – how do you deconstruct an object and then put it back together? So the back room's craft cocktails are all about hacking design. There's Japanese Cold Noodle, which was also GN's Legacy drink. And there's a Red Eye Gravy from Florida and a Mango Sticky Rice from Thailand. Since day one, we have not replaced any drinks, but we are going to expand our menu.

French Toast and Cold Pizza, in cocktail form
How's NYC treating you?
I love it! I love every bit of it. For the first five months I could not deal with the rat situation. Like, I'll get down on my hands and knees to scrub the toilet, that's not a problem, but when it comes to taking the trash out, can someone do it for me please? I'll pay you anything, I'm so scared. But now I live peacefully with the street residents here! The city moves really fast, and I enjoy that. 
What are some of your fave NYC bars for inspiration? 
When I first joined the team I visited a lot of great spots like Dante and Katana Kitten, but now I actually don't go to cocktail bars. Back in Shanghai I visited pretty much every bar, but right now, this is what I do: Double Chicken Please. And I still don't drink, and my hours are very, very long.
Where else do you get inspiration from?
One of the new habits I've picked up is going to art exhibitions and looking for non-industry inspiration. That's what actually inspires me! I'll go to MOMA or the farmer's market. And since Double Chicken Please is on the Lower East Side, there are lots of small art galleries around, so I'll just pop by and I never know what inspiration I'll receive. 
Some of my friends in New York work in the shoe business, so I'll hang out with them to get new POVs and stuff like that. 
BarChick's in town and we're dropping by for a drink and a bite. What should we order?
For our back room menu design, the first three cocktails are an appetizer, and as you move on, the middle three cocktails, Cold Pizza, Mango Sticky Rice and Red Eye Gravy, are more like the main course. And we end with dessert cocktails, Butter Raisin Biscuit, Key Lime Pie and French Toast. But if you only have time for one, I'd recommend the Red Eye Gravy paired with our chicken liver mousse. 
For the Red Eye Gravy, we cook our own corn syrup with fresh corn, and wash whiskey with butter, coffee and mushrooms. So you have all that umami flavour in the glass, and it's garnished with microwaved prosciutto, which represents the country ham. And the butter we take out from the Red Eye Gravy process, we pass on to the kitchen team who melt it on top of the chicken liver mousse. It's to die for!  
By Kate Malczewski
23/06/2023