Your tastebuds are gonna explode.
We might not be able to visit our favourite restaurants just yet, but we sure as hell can support them AND bring some joy into our lockdown lives by ordering in from these epic eateries. 
Live like you're on a minibreak in Lisbon with a delivery from the G's at Bar Douro. If epic Portuguese cuisine is your jam then you've come to the right place. We'll be getting stuck into the grilled octopus with blistered peppers & onions, alongside a class Messias Clàssico. And yes, we will be ordering the Pastel de Nata for dessert. We're not insane.
Bar Douro will be open for pick-up and delivery from their London Bridge restaurant via Deliveroo Wednesday to Sunday from 5pm - 10pm to South London.
Get a clucking good burger fix with this new opening from the Honest Burger crew. They've put blood sweat & tears into finding the perfect fried chicken recipe (not literally) and now the wait is over. You can choose from the Classic (Free-range buttermilk fried chicken thigh, American cheese, chipotle mayo, lettuce and pickles) as well as Buffalo, Grilled and Thai. Hell yeah, we feel like chicken tonight. 
Honest Chicken is currently a takeover of the Honest Burgers restaurant in King's Cross - check Deliveroo and Uber Eats for delivery areas. 
You can't keep an epic restaurant down, damnit, and Gymkhana are once more rising like a phoenix from the ashes (quite literally ashes after their devastating fire last year). Everyone's fave Michelin-starred Indian reopened just before lockdown, meaning they had to close again. Savage. BUT now they're offering delivery for the first time ever. Man, have we missed those tandoori masala lamb chops and the wild muntjac biryani. Not your average Friday night Indian, for sure. 
Available via Supper - check the website here: gymkhanalondon.com
You want awesome Sri Lankan cuisine delivered during lockdown? Hoppers are gonna make sure you get it! You can now order from all three of their sites (Kings Cross, Soho & Marylebone) so scrumptious South East Asian food is never far away. We're after the Taste of Hoppers - mutton kothu roti, chicken kari, dal kari, pilau rice & roti, sambols. Hop to it. 
Available to order on Deliveroo here. 
Missing your Crispin-fix from this popular restaurant & wine bar in Spitalfields? No drama - Crispin has evolved and is now Crispin stores! There's a weekly 'ready meal' dinner menu plus online grocery store & bottle shop. All our fave things in one place, nice. With treats like Burrata, courgette, elderflower & breadcrumbs for starters and Tagliatelle with Cavatelli with vegan wild garlic pesto' as a main, we'll be hitting up the Dinner Feast Box on the reg. 
Crispin Stores online grocery and wine shop, and weekly 'ready meal' dinner home delivery service is now available via: www.crispinstores.com
Couldn't be arsed to queue for three hours in Fitzrovia when this place opened? Who cares, now you can try their Italian showstoppers at home! This includes a whole tray of Tiramisu (because YOLO), pizzas like the That's What Cheese Said, and their cocktails too. Sex On The Couch or Zoom Service, anyone? We do highly recommend a visit when normality resumes cos Circolo is cracking fun, but we reckon this is a banging substitute for now. 
Available via Deliveroo here. 
Ding dong, dim sum delivery! Words we will never get tired of hearing. If you're a sucker for shumai, partial to a pork puff and go gaga for gyoza then what are you waiting for?? Get ordering! We'll have one of everything, please. 
Order from their Baker Street site on Deliveroo here. 
Persian hotspot Berenjak is back, baby! So if you've been missing your Koobideh and Jujeh Kababas then worry not, you can now order them to your crib. There's also a selection of Mazeh including Hummus, Mast O Khiar, and Kashk E Bademjoom. Their ethos is all about the family & friends getting involved, so if you've been isolating with housemates/fam and it's starting to get a lil bit strained, order in a bunch of dishes and come together with a heart fulla love once more. 
Check their website for more details here: berenjaklondon.com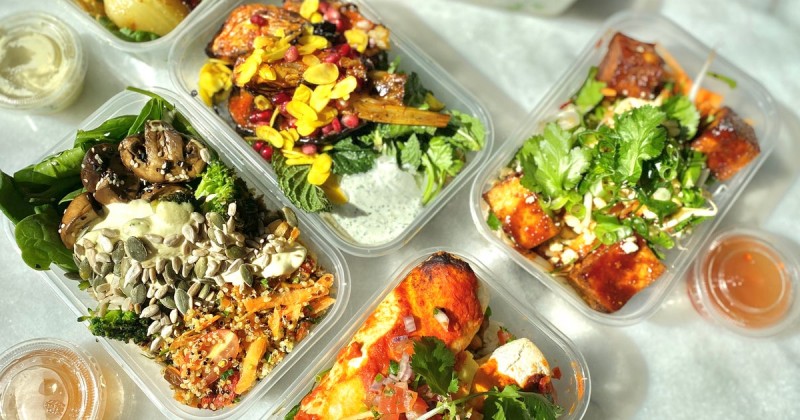 Big up the plant power and get involved with dinner from vegetarian & vegan favourite Mildreds. Their King's Cross and Dalston sites are now on Deliveroo, so dreamy dishes like Char Siu Tofu noodle bowl and an insane vegan burger can be yours if the postcode gods are playing ball. If your lockdown diet has been seriously lacking in vitamins then now's the time to change all that. 
Check their website for more info here: www.mildreds.co.uk
We dare you not to find something you'll go wild for from this basque hotspot in Marylebone. They've got a menu of dishes such as Presa Ibérica with romesco sauce, wine and G&T delivery, and even a meat shop (oh hi, Galician rib-eye for BBQ). But it's their slices of baked cheesecake that we're here for - that and a bottle of the Agerre Txacoli. We gotta lotta love for Lurra. 
Check out what you can order here: www.lurra.co.uk