We're in the middle of a vodka renaissance, and your home bar is nothing without a decent bottle (or five) of the stuff. Not sure where to start? These are the 20 bottles we always look out for on any back bar, and the ones you'll usually find stocked in our collection.
Black Cow Vodka
Why we love it: Looking for a world first? How about the first and only vodka to be made entirely out of milk? Yep, milk - so wrong and yet so, so right. More specifically, it's made from the whey leftover after making the award-winning Black Cow cheddar. Moo-sic to our ears. Don't believe us? You can visit the distillery where they make this insanely smooth vodka, and meet the cows that produce the good stuff. 
How to drink it: We love sipping this neat, straight from the freezer, paired with a block of the Black Cow Cheddar. Perfection.
Where to buy it: Straight from the Black Cow team RRP £25. Don't forget to grab some cheese to pair with it while you're there.
Ketel One
Why we love it: Ketel One was born out of a need for a smooth and palatable vodka to improve the Martini. It hails all the way from Schiedam in Holland and is named after the distillery's oldest pot still, Number One. So what can you expect from a vodka designed specifically for a Martini? Well because it combines modern distillation with the traditional pot still, it's fresh on the nose with a unique crisp taste and long finish. Basically, it's exactly what we want when we're knocking back a chilled vodka Martini, thanks very much.
How to drink it: Well, a Martini, obviously. Make sure you keep the bottle in the freezer so you're always ready to roll. Alternatively, we think it smashes in a Bloody Mary. Extra spicy for us, yeah?
Where to buy it: It's available for RRP £25 from the Waitrose cellar.
Ramsbury Single Estate Vodka
Image via Ramsbury Estate facebook
Why we love it: The Ramsbury Estate distillery is nestled down in Wiltshire, and when it comes to field-to-glass spirits it doesn't get better than this. The distillery uses heat generated by Ramsbury's own sustainable woodland; the livestock is fed spent wheat and grains from the distillery (lucky guys), and wastewater is cleaned by wildfire friendly reed bed systems. Boom. They've nailed sustainability, and their vodka is all the better for it - elegant, with some chocolatey notes and a creamy texture.
How to drink it: Try this one in a Gibson Martini: 50ml Ramsbury Single Estate Vodka, 15ml Lustau vermouth, 10ml Onion brine, 5ml Cornichons brine and garnish with a silver pickled onion. 
Where to buy it: You'll find it on the shelves in Waitrose or buy it directly from the Ramsbury Estate shop RRP £29.50.
Chase Vodka
Image via Chase Distillery
Why we love it: What these guys can't do with a potato ain't worth knowing about. William Chase is the same guy behind Tyrrells crisps (we always have a packet of sea salt and cider vinegar on the go in our gaff) and it's the same potatoes he grows on his farm in Hereford that go into making Chase Original Potato Vodka. They distil it in their copper pot still for the purest finish and they're not afraid to experiment (we especially like what they've done with their Oak Smoked Vodka).
How to drink it: They say it works best in a Vodka Martini, and we're inclined to agree.
Where to buy it: Buy it directly from their website for RRP £38.
Kavka Vodka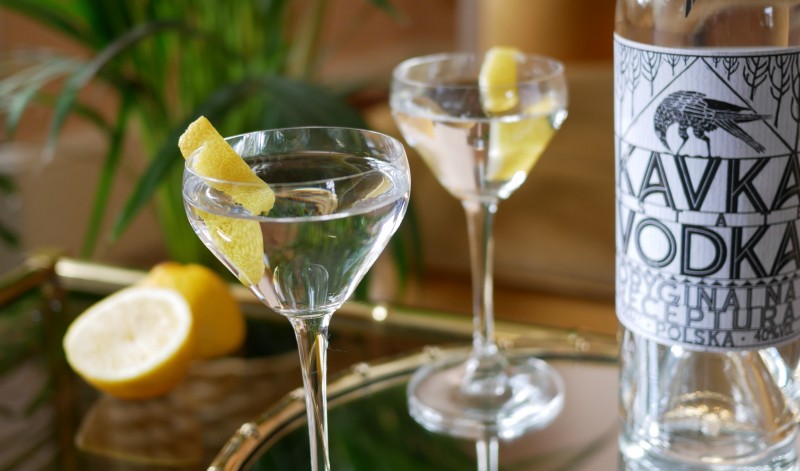 Why we love it: If you're after a true expression of old school Polish vodka, this small distillery in the west of the country is bringing it. They've been doing what they do best for over 200 years, and you don't spend two centuries of distilling vodka without getting really bloody good at it. They use production methods that were popular back in the 18th and 19th centuries which means they are able to produce a fine premium vodka with proper bite and real distinction.
How to drink it: Shake this one up into an Espresso Martini for something extra powerful.
 
Where to buy it: You can get it by tomorrow if you have Prime, RRP £29.80.
Crystal Head Vodka
Why we love it: It shouldn't be about the famous name behind the bottle, but it's hard to not address the fact that there's an actual Ghost Buster behind this one. Dan Aykroyd co-founded Crystal Head vodka in 2008. It's filtered through diamonds, sold in crystal and comes in skull-shaped bottles. Proper low-key stuff, ya know? It's been going down well since then… Inspo came from the legend of the 13 crystal skulls that have been found around the globe. This is some Indiana Jones-level sh*t. It's also kosher approved, free of additives and has won a couple of gold medals to prove its worth. Oh and the Crystal Head crew throw THE BEST parties. Find someone with an invite to the next one and convince them to let you be their plus one.
How to drink it: Try it in a Martini served in a miniature crystal head skull. They're strong, so pace yourself.
Where to buy it: Master of Malt have the original and all the other limited edition bottlings available, starting from RRP £42.25 (we're saving up for the Aurora bottle).
Discarded Grape Skin Chardonnay Vodka
Image via discardedspirits.com
Why we love it: The crew at Discarded Spirits absolutely f*cking hate waste, and they're doing whatever they can to avoid it. This mostly means reusing traditionally 'wasted' ingredients to make their spirits - like grape skin, for example. This Grape Skin Vodka is made with the parts of the winemaking process that are normally discarded: the skins, stems, the seeds… They've distilled all of that (AKA the pomace) as the base of their Grape Skin Vodka, thereby creating something totally new, innovative, sustainable, and would ya believe it, utterly delicious. If you don't think "I wonder if I could turn this into booze" the next time you chuck away a banana peel, you ain't their people - and TBH, you're prob not ours, either. 
How to drink it: This vodka makes for the most conscious Cosmo you can put together: 30ml Discarded Grape Skin Vodka, 25ml citrus cordial, 25ml Cointreau & 40ml cranberry juice.
Where to buy it: You can buy it on Clink for RRP £28.
Sapling Vodka
Why we love it: Another planet-saving vodka for you here. Sapling is a four-times-distilled, charcoal-filtered vodka made right in the heart of London, using local ingredients to reduce transport emissions. For every bottle of this creamy, subtly sweet vodka you buy (perfect for a Martini), they plant a tree. And you don't just take their word for it, either. On each bottle a unique code tells you what tree was planted where, and a little about the planting project. Talk about having a lovely taste left in your mouth.
How to drink it: Try it in a Bloody Mary made with The Pickle House Spiced Tomato Mix, featuring The Pickle House's original pickle juice for extra tang. Banging.
Where to buy it: Direct from Sapling's web shop, RRP £30.
Mermaid Salt Vodka
Why we love it: Before you recoil at the idea of salt vodka, hear us out. This isn't salty vodka. Phew. No, this is a vodka made with a small amount of rock sea salt sourced from water collected in the flood tide of the Isle of Wight's southern coast. Wild, right? The salt is naturally evaporated by the sun and wind, which gives it a depth of flavour and a touch of sweetness. Take a sip. You'll feel the fresh sea air and saltiness on your lips of a day spent walking the beach. Oh, and the bottle? It's a thing of beauty.
How to drink it: Double down on the Mermaid fam and stir this down in a Vesper Martini: 60ml Mermaid Gin, 20ml Mermaid Vodka & 15ml white vermouth.
Where to buy it: Get both from the Isle of Wight Distillery shop for RRP £39.90.
Victory Vodka
Why we love it: We love what they do at Victory London. These guys are pretty damn adventurous when it comes to trying something new, which is how they stumbled upon creating this wicked vodka made by distilling unroasted green coffee. This isn't a coffee-flavoured vodka, though, honey. It's got some creamy, vegetal notes going on created by the extraction of the savoury aromatics of the coffee. Lush. And if you wanna replenish your stock once you've finished it (which we bet won't take long) you can buy yourself a refill can of this stuff to add back into your bottle. Sustainable and delicious.
How to drink it: Fill a highball glass with loads of ice (seriously, right to the top) and then top 50ml of victory Vodka with extra sparkly soda water and a massive squeeze of lime. Chuck the wedge in for extra zing and you're onto a winner.
Where to buy it: Go direct to the Victory London website for your first bottle, and then return again to get your refill can (which is cheaper!).
Amass Vodka
Why we love it: We love vodka because it is categorically not gin, but that's not to say that a botanical approach to vodka production isn't still really exciting to us, and the way they do it over in Copenhagen at the Amass distillery is really exciting. They make their vodka through a pretty unconventional production method; by distilling marigold, chamomile and fresh lemon zest in an aquavit still to capture the essence of the botanicals, and impart a softer, smoother mouthfeel (want to low-down on aquavit? Here ya go).
How to drink it: Get this vodka lengthened with a generous splash of London Essence Pomelo & Pink Pepper Tonic.
Where to buy it: You can get one of these beautifully opaque bottles from Spirit.Ed for RRP £29.
Dima's Vodka
Image via Dima's Vodka Facebook
Why we love it: Any vodka that comes with a serving suggestion to be paired with pickles is a bit of us. Dima's is a bad-ass Ukrainian vodka made with three different grain varieties: barley, wheat and rye. That means its rocking a rich, rounded flavour profile that's as creamy on the palate as a creme brulee. You'll probably pick up a bit of sweetness, a bit of nuttiness and maybe even a hint of vanilla.
How to drink it: Get it chilled in the freezer before serving alongside a plate of snacking pickles. The sharp, juicy saltiness perfectly complements the sweet smoothness of the vodka.
Where to buy it: Get it straight from Dima's Vodka website for RRP £35 and you'll also receive a little packet of snacking pickles to enjoy with it. BOOM!
Snow Queen Organic Vodka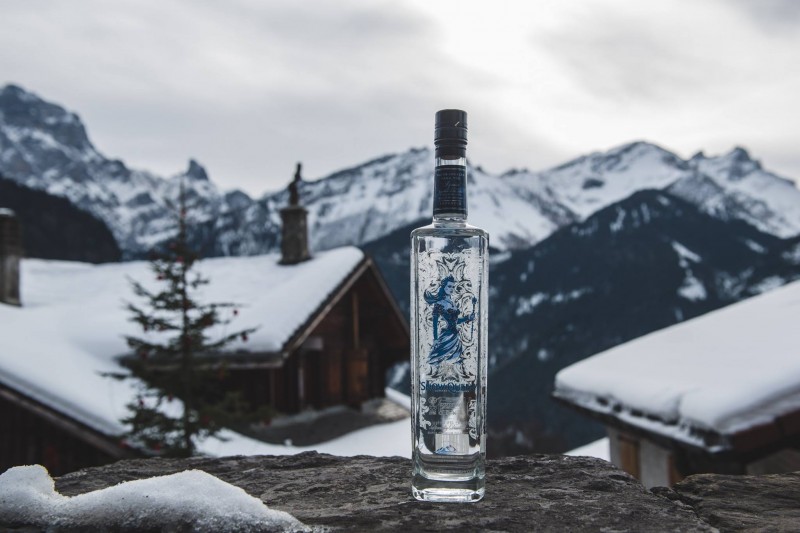 Image via Snow Queen Facebook
Why we love it: Any vodka good enough to be used in a Dukes Martini is definitely good enough for us. Snow Queen Organic Vodka is made from organic wheat from Kazakhstan, and crystal-clear water from snow-crowned peaks of... well, they don't specify that bit, but as she's bottled in France, we can make some assumptions it might be there. You can't cut corners when you're creating royalty, so they've gone the extra mile to produce this smooth vodka by distilling it no less than five times. God save the Snow Queen.
How to drink it: Either head to Dukes for an ice-cold Martini, or if you're kicking it at home, give it a go in a Cherry Cosmo; 35ml cherry juice, 25ml fresh lime juice, 25ml Cointreau liqueur, 15ml Kirsch brandy and 2 dashes pure cane sugar syrup.
Where to buy it: Find a bottle in the Waitrose Cellar RRP £32.49.
Reyka Vodka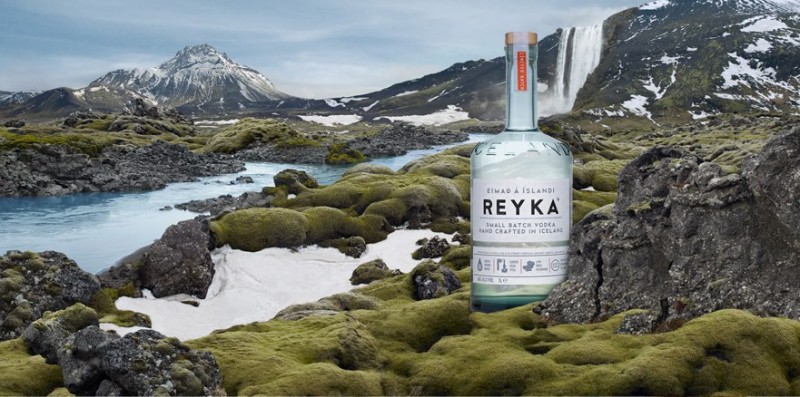 Image via Reyka Vodka Facebook
Why we love it: You might have heard of the likes of charcoal filtration when it comes to things like tequila production, but for this small-batch vodka, the team at Reyka run their vodka (which has been made with glacial spring water and distilled using sustainable energy from geothermal heat, FYI) through actual lava rocks found in Iceland where this spirit hails from. So it's technically made from Iceland as well as in Iceland, and we think that's pretty f*cking cool.
How to drink it: On the rocks feels like a fitting way to imbibe this, given the way it was made. Ice(land) ice(land), baby!
Where to buy it: Get it on Prime for RRP £29.
Ukiyo Japanese Vodka
Why we love it: If you're trying to expand your vodka repertoire, this is one to add to the collection ASAP. Ukiyo Japanese vodka is made with long-grain Indica rice inoculated with black kōji, which is then fermented and distilled into a high-quality traditional Japanese awamori spirit before being redistilled into Ukiyo's pure rice vodka. They've packaged this smooth characterful vodka in a beautiful smokey glass bottle. The attention to detail is sick, designed to mirror the mountains and seas of Japan.
How to drink it: As with Japanese shōchū or sake, this rice vodka, with its creamy mouthfeel, is ideal for sipping or pairing with a meal.
Where to buy it: It's online with Master of Malt, RRP £37.
Eight lands
Image via Eight Lands Facebook
Why we love it: You think they only make whisky in Speyside? Think again, baby. Coming straight atcha from the Scotch whisky heaven, Eight Lands makes the most of the malted barley and malted wheat they have in abundance up there to make a vodka packed with flavours of brown butter, vanilla and roasted coffee. 
How to drink it: After dinner in place of dessert, neat, right out of the freezer. 
Where to buy it: You can get it delivered for free when you buy it directly from their online shop for RRP £37.
Grey Goose Vodka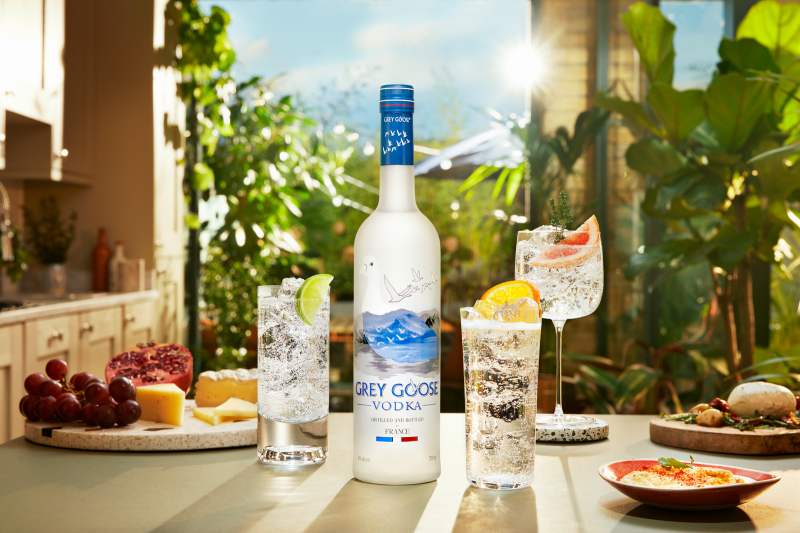 Why we love it: For a vodka that can often be seen adorned with a sparkler carried above the heads of Mayfair party-goers with too much cash, Grey Goose is actually pretty epic, and hella classy. It's French and fancy (made in Cognac) created with the finest ingredients from that side of the Channel. You'll pick up some sweetness on the palate if you're sipping it neat, and it'll bring some real roundness to your cocktails if you're getting creative.
How to drink it: We love building this up in a Spritz, like Le Grand Fizz: 35ml Grey Goose Vodka, 15ml fresh lime juice, 25ml St-Germain and 60ml cold soda water, garnished with a lime wedge.
Where to buy it: It's unsurprisingly one of Master of Malt's best sellers, so grab it there for £34.45.
Absolut Elyx
Why we love it: We're big fans of what they're doing over in Sweden at the Absolut distillery. We always have a bottle of their classic on our shelf, but if you're feeling flashy, Absolut Elyx is the glamorous sister you need to have on hand. Who can resist the call of that copper trimmed bottle? And the copper ain't just there 'cos it looks sick, FYI. This single-estate vodka is made entirely by hand in a vintage copper column still from 1921. The result? Pure luxury, baby!
How to drink it: We love drinking this in any cocktail that comes served in one of Absolut Elyx's infamous copper vessels, like their copper disco ball or playfully bonkers copper flamingo.
Where to buy it: From The Whisky Exchange, RRP £35.75.
Belvedere Vodka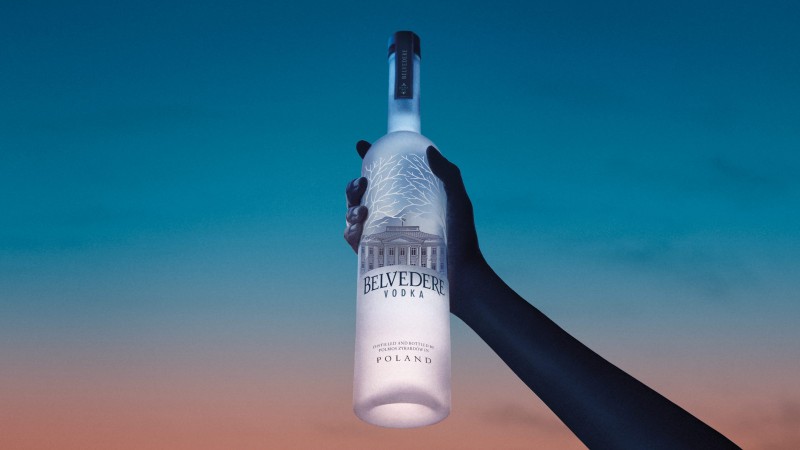 Image via belvederevodka.com
Why we love it: Another popular nightclub sparkler vodka (must have something to do with the gorgeous frosted bottle), this Polish rye vodka shouldn't be overlooked because it's popular with trust-fund babies. To make this vodka stand out, the Belvedere master rye distillers harness the energy of fire to quadruple-distil the spirit. This gives the vodka depth, character and a texture smoother than a velvet dressing gown. Yes, please.
How to drink it: Try it in a classic Sour by dry-shaking 50ml Belvedere Vodka, 20ml lemon Juice, 15ml simple syrup and an egg white before adding ice and giving it another shake, then double strain into a coupe.
Where to buy it: Get it from The Whisky Exchange for RRP £33.95.
By Georgie Pursey
Originally published 17/03/2022