It ain't just the leaves dropping over the next few months...
Thew new term has started and some newbies have joined the class. Time to make friends with these killer new arrivals coming to shake up your Autumn.
The new gin we've got a lot of time for:
Porter's Orchard Gin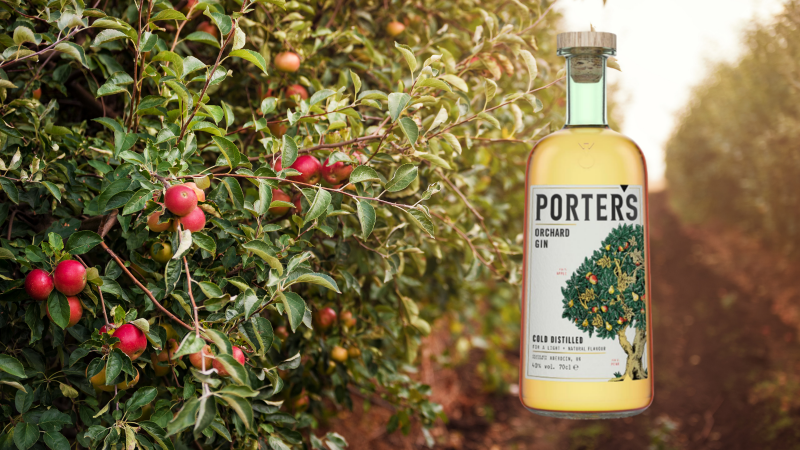 A gin inspired by Champagne? Yeah, that sounds like a bit of us. Orchard is the new expression from the Porter's Gin squad. They wanted to create a gin with a flavour profile that nods its head to great-tasting French wines, with Blanc De Blanc champagne at the forefront of their minds. They've cold-distilled green apples and pears into their classic juniper base to imitate the champagne's Chardonnay grape and its intense fruitiness. The result is a smasher of a gin with some butter and biscuit tasting notes. They had us at champagne, but they've won us over with biscuits.
Pre order your bottle here, and it'll be shipped to you from the 23rd September
The perfect new non-alc spirit:
New London Light
Introducing New London Light, a brand spanking new non-alcoholic 'spirit'. It's possible you're already a fan of sober spirits - it's a market that's grown phenomenally in the last couple of years - or perhaps you're thinking of dipping your toe into teetotal tipples. In which case, NLL is a great place to start. It's inspired by the heritage of London Dry Gin and even contains juniper. This is one of the three ingredients that are distilled to create the base - the others being zesty ginger and habanero capsicum. This is then blended with 15 more hand-picked botanicals including orange, sage, cardamom, cascarilla bark and lemongrass. You're getting a complex, citrusy yet smooth 'spirit' to pair with your tonic, all the while knowing it's having none of the negative effects that can come with overindulging on the alcohol. Can we get a hangover-free hell yeah?
Find out more here: www.salcombegin.com/new-london-light
The bitters to up your cocktail game:
Angostura Cocoa Bitters
If you're big into your at-home mixology, you probably already have the OG Angostura bitters in your arsenal, but hold up - they've brought another dimension to your casa bound cocktail making and expanded their already renowned collection of bitters to include cocoa. Your Old Fashioneds are about to level up. They've used the world's finest cocoa from Trinidad and Tobago to give top notes of rich bitter, floral, nutty cocoa with a bold infusion of aromatic botanicals which hold up with sweet vermouths and aged spirits. Try it in a Chocolate Margarita and you'll never look back.
ANGOSTURA® Cocoa Bitters launched August 10th and is available in UK, US & Mexico with a worldwide distribution coming 2021
The new tinnies to try:
Vacay
We lost count of how many new cans hit the shelves over the summer, but one we couldn't help but notice was VACAY. This awesome new range of craft canned cocktails have brought the escapism of a vacay we've all been needing this year, and they've done it with some seriously high-quality spirits. Mexico? Their fresh-as-hell Paloma will take ya straight there. Hawaii? A sip of their Vodka Soda made with orange, hibiscus & lemon is the best way to get lei'd.
The VACAY began on August 27th with cans available to purchase from here. Use code ONEOFEACH to get 25% off a mixed pack of 4.
The pre-batch your weekend needs:
Empirical Spirits: Yalla Habibi Rise Again
Epic Copenhagen based distillery and self-proclaimed 'flavour company', Empirical, has launched a special collab in its pre-batched cocktail series with Jad Ballout, award-winning bartender and owner of No.46 in the World's 50 Best Bars Electric Bing Sutt which was among the many businesses devastated by the horrific explosion in Beirut in August. Yalla Habibi Rise Again is a reconstruction of their classic "EBS Gimlet" made using Empirical's spirit, ES x ee #1, Manzanilla Sherry, Green Apple, Sumac, Shiso, Basil and Yuzu for a fresh and fruity flavour profile. 
All the proceeds will go back to helping the bar rebuild. You can order a bottle from the Empirical webshop.
Something a little fruity:
Vestal flavoured Vodkas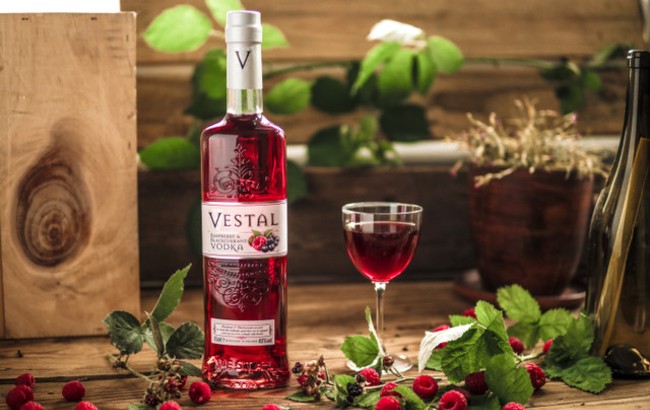 Feeling a bit fruity? So were the crew at Vestal Vodka when they dreamt up the first two flavoured expressions of their Polish vodka. Based on traditional Polish fruit-based vodkas known as 'Nalewka', the new Black Cherry and Raspberry & Blackcurrant vodkas are macerated in Vestal's 2015 vintage (said to have the longest known rest period for any vodka at four years) to create two killer bottles that make for a banging cocktail. Our fave? Raspberry & Blackcurrant in a glass of Champagne. 
Both Black Cherry and Raspberry & Blackcurrant Vestal Vodkas are now available to buy over here
For a banging Dirty Martini:
Four Pillars Olive Leaf Gin
Great things come out of a bit of travel, and when the Four Pillars fam took a trip to Spain 5 years ago, they got the inspo to create what has become the latest addition to their gin family. The Olive Leaf Gin has a big base of juniper with a savoury overlay of coriander seed, rosemary and bay leaf (from Four Pillars co-founder and distiller Cam Mackenzie's backyard), olive leaf tea, olive oil, lemon myrtle, macadamia, orris root, and fresh lemon and grapefruit. The result is a gin that is savoury, textural, bright and perfect for any Martini - make sure to try it in a Gibson - that's Cam's fave.
The gin will be available in select global markets from October 2020
A vodka with a whole lot of flavour:
Mermaid Salt Vodka
Before you recoil at the idea of salt vodka, hear us out. This isn't salty vodka. Phew. No, this is a vodka made with a small amount rock sea salt sourced from water collected in the flood tide of the Isle of Wight's southern coast. Wild, right? The salt is naturally evaporated by the sun and wind, which gives it a depth of flavour and a touch of sweetness. Take a sip. You'll feel the fresh sea air and saltiness on your lips of a day spent walking the beach. Oh, and the bottle... it's a thing of beauty and basically has your next candlestick holder written all over it. 
Mermaid Salt Vodka is now available to consumers to get their hands on right here.
To make an Irish Coffee like the pros:
Homeboy's Irish Coffee Bitters
If like us you're BIG fans of award-winning Irish neighbourhood bar, Homeboy, chances are you've become well acquainted with their Irish Coffee a few times by now. No matter how hard we try to recreate it at home, we've never quite nailed it in the same way those lads do - but this new launch might see our luck change. They've bottled up their own signature Irish Coffee Bitters designed to give body to those made with instant, espresso or craft drip coffee, so the whiskey doesn't just cut through.  It's made with a base of neutral grain spirit from the Teeling distillery, coffee and cacao, and it's pretty epic in other drinks too. Pop in and ask 'em how they use it, and then buy a bottle to take home with ya. BOOM.
You can get your own bottle of bitters direct from the bar now, or head to Speciality for trade buys.
The non-alc for tequila heads is here:
Fluère Smoked Agave
So you're not much of a booze drinker but you dig a smokey marg? The non-alc spirit brand Fluère has the solution to staying on the wagon while getting the Agave party started. BOOM! They've added a new bad-ass and alcohol-free mezcal alternative to their range of booze-free spirits. It's made using the same techniques as alcohol-based spirits, with the addition of fresh Salmiana agave juice from Mexico to give it a vegetal agave sweetness with a few bitter overtones and hints of black pepper.
Fluère Smoked Agave officially launches in November 2020
A new mixer to play with:
Pollenade
Although this isn't strictly booze, pair the new Pollenade with your fave bottle & you've levelled up at-home cocktail hour. It's fizzy, low-calorie (50 per can, sweet) and packs a flavour punch with the combo of natural grapefruit, raspberry and lemon juices. But what makes this soft drink different from the other zillions on the shelves is that it contains 15mg CBD. If you're not clued up on CBD yet then get schooled with this article where we tell you all you need to know. Basically, it doesn't make you high, but it does naturally increase anandamide, aka the ''bliss'' molecule. This means drinking Pollenade will give you a natural lift without the after-effects of booze (bye-bye hangover). It's the ideal alternative if you're getting stuck into Sober October, or are just looking for an alcohol-free alternative to something sparkling that's gonna recharge you. Saying that it also makes a killer mixer. We're combining ours with gin to make a G&CBD. Snoop Dog would be proud.  
£3.30 per 330 can or £18 for a box of 6, available from uk.withpollen.com.
Espresso Martinis without the heart palpatations:
Conker Decaf Cold Brew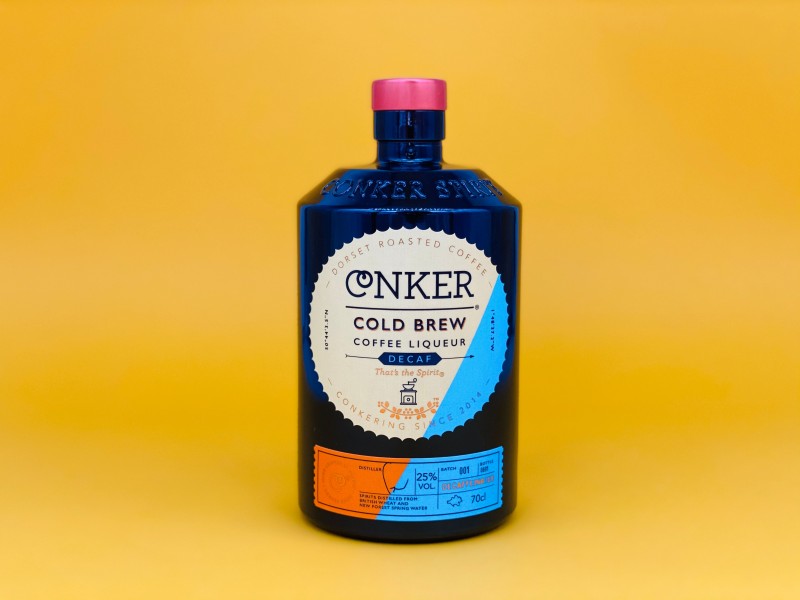 Conker Cold Brew Coffee Liqueur burst onto the scene a couple of years back & instantly had us - & the booze world - hooked with their premium combo of Grade 1 forest grown speciality Ethiopian and Brazilian coffee, demerara sugar and distilled British wheat spirit. And now they're breaking moulds once again, with a cold brew liqueur that delivers all the flavour & none of the late-night fidgets. We've all been there - the dinner party is done, you've got mates round, and Espresso Martinis are on the cards. But also - you're going to bed in an hour, goddamnit. Who in their right minds would choose to have coffee now?? Roll up Conker's Decaf Cold Brew Coffee Liqueur. Does it taste like quality coffee? Yes. Is it well-balanced, with hints of orange and grape? Yes. Does it make a silky, indulgent Espresso Martini? Hell yes! But will it have you up all night, buzzing from too much caffeine? Absolutely not. 
For more information, visit www.conkerspirit.co.uk. Available from www.masterofmalt.com