London has found tons of ways to achieve a Monday hangover. From proper smash-ups to kicking back with a Scotch to come live jazz, go beat the Sunday night fear. 
SUNDAY FUNDAY
Sunday Lyan at Lyaness
You won't find any Sunday dread on the Southbank, baby, 'cos Lyaness is saving the day. Head to this swanky yet chilled bar (it's the World's Best, FYI) for their Sunday Lyan series of takeovers and special menus (check the line-up here), or book in for a boozy afternoon tea - it's bangin'.
When the magic happens: Open on Sundays from 12pm-11pm
20 Upper Ground, South Bank, London SE1 9PD
Keystone Crescent
If you want to party hard, then Keystone Crescent is where it's at - open til 4am on a Sunday. Pow. You'll be hanging with mostly bar industry types who come here to let their hair down - it never hurts to make friends with a bartender. Oh, and FYI: It's a member's club, so you usually gotta pay...
When the magic happens: Open on Sundays from 8pm-4am
28 Keystone Crescent, London N1 9DT
Prepare for the classiest Sunday sesh imaginable at Fitz's Bar, the luxurious drinking den at the Kimpton Fitzroy hotel in Bloomsbury. Get stuck into the mega-creative Theory of Colour menu, and channel your inner dancing queen under the massive disco ball - even if you're just boogie-ing from the plush velvet seats. 
When the magic happens: Sundays from 6pm-12am
Russell Square, Bloomsbury, London WC1B 5BE
Simmons Bar Soho
Renowned for its happy hour, Simmons Bar Soho is where BarChick heads to get serious on a Sunday. From 2-8pm you can get ridiculously cheap booze - like two cocktails for £10. Booyah. Drinks from £2.50. Watch out London.
When the magic happens: Open on Sundays from 12pm-10.30pm (happy hour 2pm-8pm)
2 Bateman St, London W1D 4AE
Duke of Kendal
Less sing-a-long, more freestyle musical - all put on by die-hard locals. They turn up here every Sunday to smash out their favourite tune, accompanied by a superstar pianist lady. Just rock up, but if you want a seat smack bang in front of the piano, you'll need a reservation. Or get there early. And it's free entry. Let the music play...
When the magic happens: Open on Sundays from 11am-11pm. Sing-a-long is from 8.30pm-10.30pm
38 Connaught St, London W2 2AF
Two One Four
This secret gin bar in Bermondsey does an epic Sunday Social, with special priced cocktails (£6) and double G&&Ts for a fiver. Or play guess the gin with their killer gin flights. 
When the magic happens: Deals run from 5pm-6pm everyday, including Sundays
214 Bermondsey St, London SE1 3TJ
Go civilised-ish with a Victorian-themed Tipples & Treats sesh at Mr Fogg's in Covent Garden. We're talking two madcap cocktails and a next-level slice of cake, for a Sunday sesh your gran might almost approve of, for £29.50 per person.
When the magic happens: Precisely 2:01pm on Sundays
1 New Row, London WC2N 4EA  
Get all vintage chic with a dainty party in Soho's underground tube-themed bar. Descend into the 1940s, sit back and fill your boots with spiffing cocktails and retro sweet treats - all while you enjoy live swinging music performed by the talented Scoundrels on the platform. It's all immersive-theatre style, so prepare to be greeted by the station master, who'll set you up with your rations. If you really want to get involved, there's a fancy dress box. Tipples & Treats - that's two cocktails and a slice of cake - clocks in at £32 per person.
When the magic happens: Every Sunday from 2pm-5pm
13 Kingly St, London W1B 5PG 
EASY LIKE SUNDAY MORNIN'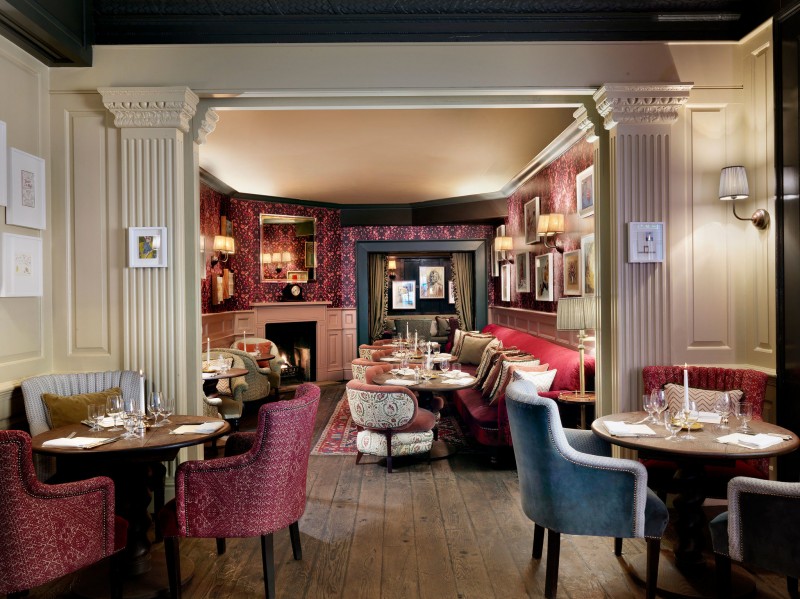 If you wanna start early doors, try Dean Street Townhouse - it opens at 8am. This is a Sunday spent in style - brought to you by the Soho House gang (but you can actually get in here without bringing your membership-holding mate). The breakfasts are banging and the Bloody Marys are awesome. If you just can't bear the trip home after a mega session, the rooms are surprisingly affordable, 'cos you can snag one for £50 if it's going spare. Pow. Cocktails from £11.
When the magic happens: 8am-11pm  
69-71 Dean St, London W1D 3SE
If you happen to be around Bank on a Sunday (you workaholic, you) then go big balls and get up to Coq D'Argent, a rooftop paradise in the big dawg city. And, surprisingly, for Bankerville, it's open on the weekend. BarChick could happily spend a sunny day here hanging on the rooftop supping the extensive cocktail menu.
When the magic happens: 12pm-5pm
1 Poultry, London EC2R 8EJ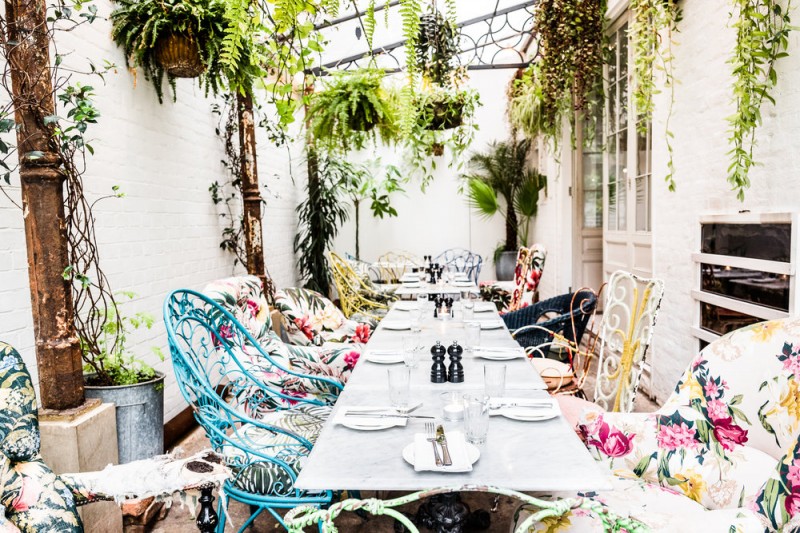 Party in the jungle each Sunday at Bourne & Hollingsworth - think white-washed warehouse space meets garden centre chic, with hanging baskets, palms and fully grown trees. All that's missing is a squawking monkey. Team up the outdoorsy, leafy vibe with Sunday brunch faves and unlimited Sunday cocktails, and you're on to a winner. Bottomless Bloody Marys or Bellinis and two courses from £39.
When the magic happens: 10am-4pm 
42 Northampton Rd, London EC1R 0HU
SUNDAY FEASTING
For a bloody good caveman-like feast, head to this basement in Soho, brought to you by ex-Hawksmoor chef Gorden Ker, who sure knows how to cook a bit of meat. Sundays are jolly here. It's all about the roasts, with meat cooked over English oak, served up with duck fat-roasted potatoes. Drool. Then there's the Beefy Marys - or the Breakfast Martini, if you like to start your day with a kick. The roasts start at a meat-free £14 through to £22 for the works. Cocktails from £7.50.
When the magic happens: Open Sundays 11.45am-8pm
24 Great Windmill St, London W1D 7LG
The Gun Spitalfields
This kickass spot manages to balance nicely between modern/trendy and charming/traditional. Not an easy task, especially for a pub that first opened in 1929, but these guys make it seem easy. They've neon signs, creative cocktails and weekend DJs, along with antique mirrors, distressed walls and curtained booths. Winning. Weekends are when The Gun really comes into its own. The killer Bloody Marys and food-coma inducing roast dinners make this the ideal place for a Sunday sesh. Add a DJ and the very pretty indoor tree twinkling away, and you'll be coming back time and again.
When the magic happens: Sundays from 12pm-12am
54 Brushfield St, Shadwell, London E1 6AG, UK
You'll find a fantastic bottomless Sunday feed at this sexy underground dig. Knock yourself out with a cocktail on arrival, chips, dips and edamame, unlimited hot and cold dishes, flesh and buns (course), dessert and, best of all, unlimited Prosecco, red or white wine. Well, as much as you can cram in during your two-hour table slot. It's all yours for £45 per person.
When the magic happens: Sundays from 12-4pm
41 Earlham St, London WC2H 9LX
Updated 30/09/2022
Into it? You should also check out: