Canned wine is here and it's BIG news: we spoke with some of the brands leading the trend to let you know why.
There was a time when the screw cap bottle of wine was a way of sorting the connoisseurs from the 'just picked up the cheapest bottle at the offy on the way to a dinner party' crowd.  Then people started to accept that, actually, it's a decent way of keeping wine fresh; a good way of helping you to not drink a whole bottle to yourself and that it is actually pretty decent vino. In some cases: better.
We got used to the concept of drinking cocktails on the go. But unlike the G&T with its cult-like following (thanks, Fleabag) canned wine didn't quite take off when the RTD (Ready To Drink) movement did. 
Wine the hell not?
Popularity of the canned format in the UK is following on from a megatrend for canned wine across the pond, where it's been making major gains for the last 5 years. In the same way you don't wanna take a shaker, muddler, and strainer with you to the park for an on-the-go mojito, you don't always wanna cart around a case of wine at the beach. 
We spoke with Jeany, the co-founder of Mirabeau Wines who produce some of the most highly awarded rosé to come outta Provence. Swanky wine in a can?? Who'd have thought it! But they've been making their "dinky canettes" for 3 year nows, having started in the US in 2018. "It felt like a trend we immediately were comfortable adopting. Carrying glass is a problem in so many places, and they're greener and more recyclable than pretty much all other wine packaging options."
SUSTAINABLE SIPPING
Their ability to be recycled is a huge plus when it comes to canned wine. They're 100% recyclable, and over 70% of 'em do end up that way. The lighter material also means a reduced carbon footprint during transit. And we can now say sayonara to single-use plastic cups while drinking at festivals or picnics. Yes! More of that, please.
Let's not forget the fact size does matter - sometimes you want it a lil bit smaller. "It's perfect when I want a large glass but don't want to open a whole bottle 'cause I know I won't finish it if it's mid-week", one fan told us. Not to mention the dilemma of wanting a different variety of wine to your drinking partner. "The single-serve format promotes responsible drinking vs opening a bottle and over-indulging", says Marc Laventure from Liquid Brands, the makers of sparkling canned wine, Cansecco. Absolutely. Always drink responsibly, yo.  
So which wines taste best in the can? 
When you hit up your local supermarket you'll notice that majority of canned wines on the market are of the pale and fizzy variety. Whites, rosés and spritzers with their simple, bold and slightly sweet flavours tend to work best when in a tin, while more complex wines are always gonna be that bit better in a glass.   So if you're after a vintage Chataeuneuf du Pape liklihood is you ain't gonna find it in a can. 
"There are so many benefits to canned wine, but so many people are unaware of it," says Mark Woollard, co-founder of brand-new-to-market, HUN wines who have launched both still and sparkling canned rosé alongside a white. "We saw an opportunity to launch a canned wine brand with premium quality wine, sourced from Stellenbosch, that is Vegan and supports Fair Trade initiatives."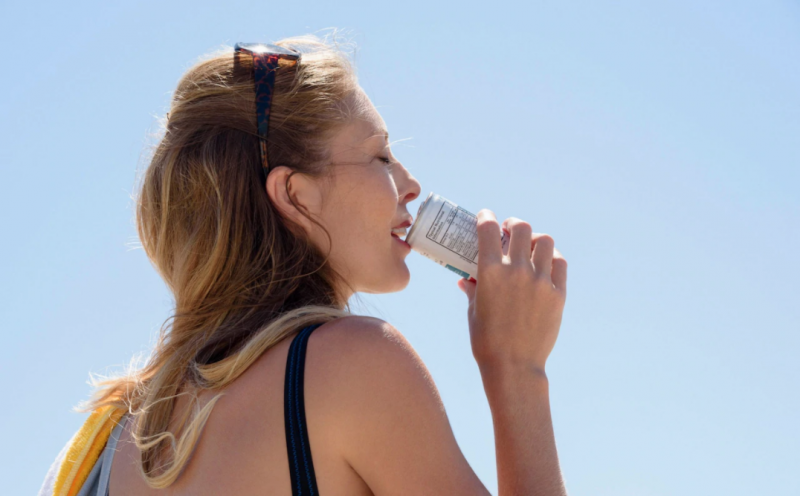 Image: Getty Images
A blind taste test from WIC Research (yeh, that stands for Wine In Cans, love it) found that when 86 adults were given identical white wines poured into a cup, one from a bottle and one from a can, 48.5% preferred the bottled version compared to 45.3% who preferred the canned version (with 5.8% seeing f*ck all difference), so you should be pretty safe when opting for a can of white plonk.
But that's not to say brands haven't been experimenting successfully with canned reds - the more high maintenance of the vinos. Usually, when it comes to red wine, there's a full science to bringing out the best in the liquid; the glass you serve it in, how and when air is introduced, how long it's open before you drink it. When it's in a can, it's a case of crack open and go. So what's the deal there?
Image source: www.winestar.fr - these guys are all about premium canned French wine, FYI
General consensus is that fruit-driven, brighter style wines such as Pinot Noir and Grenache are better suited for canning consumption. The Canned Wine Co. choose their grape varieties especially to compliment canning. Their rich and fruity canned Touriga Nacional should, therefore, taste better (or at least, the same) out of a can than a bottle. 
What about the metallic taste?
We asked a few of our fave drinkers what their vibe was on canned wines, and a lotta the 'yet to be convinced' crowed said it lacked the same 'ceremony and theatre to pouring from a bottle', and feared a metallic taste. Absolutely fair - no-one wants wine with hints of stone fruit and aluminium. But the thing is, the wine producers know this. Fine grapes didn't die just so they can be laced with metal and ruin your picnic.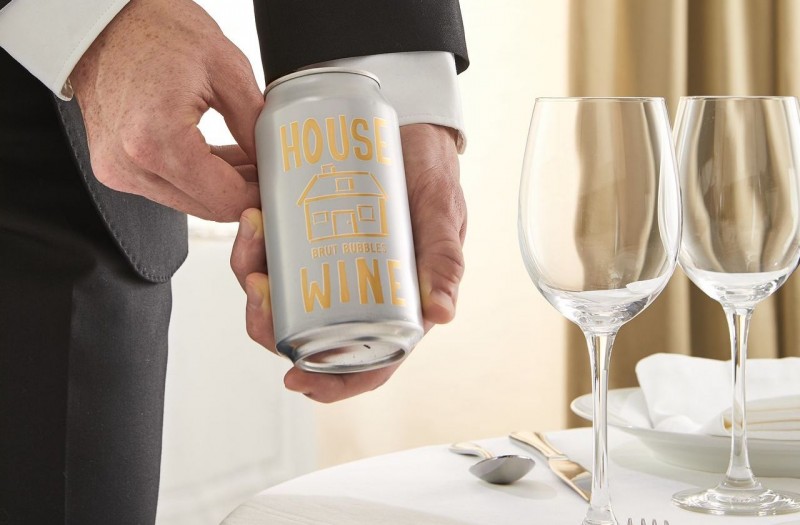 Image source: originalhousewine.com - these guys are based out of Washington and are all about making epic wines physically accessible
It's fair to say alotta research has been put into making sure canned wine lives up to it's much older bottled sister. Canned wine has to be produced with lower SO2 and copper levels than bottled wines to ensure the liquid doesn't react with the metal or the liner. 
"Canning technology has improved dramatically in the past few years." says the crew from Canned Wine Co. "Aluminium cans are now lined with a water-based polymer which protects the flavours of our wines perfectly. We've worked hard with wine-makers, wine-technologists, and canning companies to bring you the very best experience with our wines. Our grape varieties have been chosen specially to compliment canning and should taste better out of a can than a bottle."
Credit: Getty Images/iStockphoto
Cansecco's Marc had this to say: "The after-taste of metal was not a worry for us. You can now get every other kind of drink in a can (including water) without noticing any after-taste, so why would it be any different with wine?" Man's got a point and we like it.
So what should you be drinking?
Looking for a canned vino that looks as good as it tastes? Ya can't beat the slim-line packaging of these Nice wines. They've got all the colours covered - with a pale rosé from the Montpellier area and a Savvy B from Cotes de Gascogne, and their newest recruit: a juicy Argentinian Malbec. They call it "wine for whenever". For times wine is essential and glasses are optional. Finally, it's easy to stash wine in your desk drawer/handbag/up your sleeve. Amen!
Get your NICE wine for whenever from here
Love a super pale rosé? Who doesn't?! The bottled beauties that come outta this South of France winery are stellar, and the same can be said for their super-sophisticated cans for on the go. The liquid in these slim-line tins is made from classic Syrah and Grenache grape. Pair it with a straw hat and a jaunt through a lavender field and you'll feel like you're in Provence. Magnifique!
Get your rosé-on-the-go from here
U OK Hun? You will be once you get your hands on the new cans from this sassy new brand launching this month. Their Sauvignon Blanc, pale Rosé and low cal Rosé bubbles are all from Stellenbosch, South Africa. They ditched the bottles and popped their wine into a recyclable can 'cos they're all about that eco life. They're also the UK's first fair trade canned wine. And vegan too. YES HUN.
Treat yourself to a few cans here, HUN
First up: this isn't prosecco in a can cos prosecco can only be served in glass bottles (dontcha know!), but this sparkly little number is about as close as you'll get to your fave brunch tipple. This medium-dry sparkling Italian vino is made from grapes picked from a family-owned vineyard which has been producing wine for a century - absolute pros. And it's naturally carbonated through fermentation with no added CO2 during filling - we dig that.
You can purchase this sparkling canned Italian fizz here.
Not ventured far into the world of canned reds? Well the Canned Wine Co. crew will help ya start your journey with their Touriga Nacional. Picked, pressed and wildly fermented into a rich and fruity red wine from the foothills of Mt Serra da Estrela, these guys are all about the flavours, grapes, aromas and textures. Their cans are infinitely recyclable (hell yes to this) and decent for on the go (or for when you wanna drink in your garden without smashing your fave glassware)
Get your hands on these canned vinos here
This winery based out in Napa Valley specialising in Cab Sauv and red blends launched what they claim to be the first "super-premium" range of canned wines in the UK last year. Their products include a white blend (Sauvignon Blanc, Viognier & Rousanne), a Merlot and a rosé made from Pinot Noir. Their bottles will usually set you back 70 quid, but their "top-notch Napa wine in a beer can" (their words) will set you back less than a tenner for the equivalent of half a bottle. We like the sound of that.
You can buy your cans of "Larkan" from here.
Want more on-the-go drinking inspo? These are our favourite canned cocktails