April is bringing the goods, y'all: a four-day bank holiday, some much-needed sunny vibes (fingers crossed) and a full line-up of top-notch boozy events to keep ya busy all month long... 
Easter Cocktails at Discount Suit Co
When: Throughout April
Where: Discount Suit Company, 29 Wentworth St, London E1 7TB; The Umbrella Workshop, Unit 10, Cleeve Workshops, Boundary Street, London E2 7JD
What: A Kinder Bueno in cocktail form? Now that's our kinda dessert! The wizards at East London drinking den Discount Suit Company have made all our boozy dreams come true with their limited-edition Easter cocktail, Kyrö Bueno. It's a mix of Kyrö Dairy Cream Liqueur, hazelnut eau de vie, VSOP Cognac and Swiss chocolate liqueur, all garnished with handmade dark cocoa star cookies from legendary bakery Lily Vanilli, so you can snack while ya sip. And if you can't make it to the bar, don't fret. This one's also available to buy online as a bottled cocktail, complete with garnishes and swish glassware, for £20. 
Book in here
Hapusa Gin at Nightjar Carnaby
When: Throughout April
Where: Nightjar Carnaby, Kingly Ct, Carnaby, London W1B 5PH
What: Hotfoot it to our fave central London jazz den this month and you'll be able to sample an exclusive menu of three Hapusa Gin cocktails for £13 a pop. Expect Nightjar's signature creative garnishes and presentation style, along with Hapusa's super-fresh flavour profile (hailing from India, it's the world's first gin to use Himalayan juniper as a botanical). Pow!
Book in here
Croydon Whisky Festival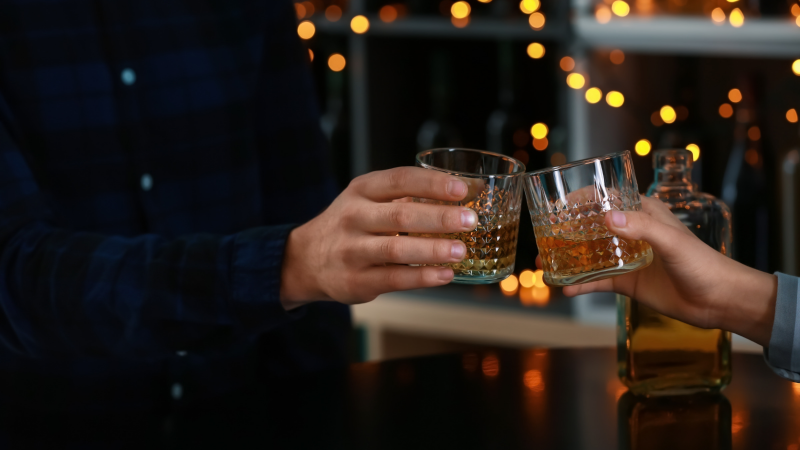 When: Saturday 1 April
Where: Stanley Arts, 12 South Norwood Hill, London SE25 6AB
What: The Croydon Whisky Festival is back for its second year. It's gonna be a live one, featuring stands from some of the best whiskymakers and spirits producers in the game - Compass Box, Empirical, Nc'nean, Never Say Die Bourbon, Penderyn, The Oxford Artisan Distillery and loads more will all be in attendance. And since your ticket comes with a tasting glass, you'll be able to sample their juice while you chat to them. Peckish? There will be plenty of food trucks on hand too. A dram lover's dream!
Tickets £40; book here
Rooftop Drinks at The Standard
When: From Friday 7 April
Where: The Rooftop at The Standard, 10 Argyle St, London WC1H 8EG
What: It's that time of year again: terrace season, baby! Grab your sunnies, put on your short shorts and make your way 11 storeys up at The Standard in King's Cross for the reopening of the hotel's rooftop. The outdoor space will once again be serving up signature cocktails and big tunes from London's best DJs, along with new dishes from a concept called Buns, inspired by Taiwanese street food. Chashu pork belly with spicy mayo? We'll take five, thanks. 
Book here
Girl Power Brunch at 100 Wardour St 
When: Sunday 9 April
Where: 100 Wardour St, London W1F 0TL
What: When life hands you a four-day weekend, you go to bottomless brunch. We don't make the rules. This April bank holiday, the crew at 100 Wardour St are doing it BIG with a singalong brunch modelled after the NOW That's What I Call Music albums that millennials grooved to as kids. Devour some delicious plates (Moroccan shakshuka with harissa flatbread, yum), sip fizz or epic Ciroc cocktails and show off your moves to a soundtrack of Miley, Celine, Kylie and Beyoncé. 
Tickets are £30 for two courses or £35 for three courses, plus £25 for bottomless fizz; book here
Top Cuvée Easter Egg Hunt
When: Sunday 9 April, 12-5pm
Where: Shop Cuvée Highbury, 189 Blackstock Road, London N5 2LL
What: Make your way over to Shop Cuvée and the team will get you set up with an interactive scavenger hunt in Clissold Park, featuring an epic goodie bag and the chance to win some next-level prizes (you KNOW you've always wanted an Ooni pizza oven). It's like hunting for Easter eggs in your gran's backyard, but better - not least because you can sip natural wine as you search...
Sign up here
New "Technique" Menu at Eve Bar
 
When: From Thursday 13 April
Where: Eve Bar, 34 Southampton St, London WC2E 7HF
What: After giving Eve Bar's interiors a revamp, chef Adam Handling and his crew are launching a lush new cocktail list to match the makeover's energy. Developed by bar manager Matt Fitzgerald, senior bartender Ellie Ireland and co, the new menu doubles down on the bar's zero-waste ethos, with each drink featuring a leftover ingredient from the kitchen upstairs at sister restaurant Frog, crafted using an arsenal of techniques like clarification, carbonation and fermentation. We've got our eye on the Chicken Butter Old Fashioned (yep, it's a thing).
Book here
Everleaf Masterclass at Tattu London
When: Tuesday 18 April, 6.30pm
Where: Tattu London, The Now Building Rooftop, Outernet, Denmark St, London WC2H 0LA
What: Wanna find out how to whip up a show-stopping cocktail, sans booze? This is your chance to learn from a master, as Tattu London's head of bars Will Meredith teams up with zero-ABV aperitif brand Everleaf. You'll get to snack on dim sum canapés and sample three wicked drinks from Tattu's Cherry Blossom menu, all made with Everleaf Mountain, as Will and the Everleaf team drop some serious knowledge.  
Tickets £25; book here
Gelato & Wine Pairing at Badiani
When: Thursday 20 April, 7.30-9pm
Where: Badiani Chelsea, 303 Fulham Rd, London SW10 9QH
What: Just when you thought a wine-soaked evening couldn't get any sweeter, Badiani went and added gelato to the mix. The session kicks off with a glass of Prosecco before moving onto five guided wine and gelato pairings, plus a Sgroppino to end things with a bit of fizz. Wanna keep the party going at home? You're in luck, 'cos the gelato brand is offering special discounts on its wines and gelato boxes for takeaway. Wicked!
Tickets are £40 a pop; book here
La Punta Expendio de Agave Takeover at Kol Mezcaleria
When: Sunday 23 April
Where: Kol Mezcaleria, 9 Seymour St, Marylebone, London W1H 7BA
What: Epic takeover alert! One of the hottest seats in the town, Kol Mezcaleria is hosting the team from Rome's La Punta Expendio de Agave for a one-night-only extravaganza in  collaboration with The Lost Explorer Mezcal. Get ready for an agave-soaked evening of six Oaxaca-inspired cocktails, plus killer bar snacks from the Kol kitchen (wagyu empanadas, yes please!).  
Tickets are £15 and include a welcome drink; book here
31/03/2023