Everything from tips on how to enjoy fresh versions of your fave go-to summer drinks, to the trends you need to be looking out for in the new season. 
Crémant
Yes you probs have heard about it on The High Low (Dolly is a fan of this fiz). But what is it? Basically Crémant (pronounced Cray-Mon) is a sparkling wine from France. It's made the same way as Champagne but doesn't get to be called champers cos it's not in the right location. Savage - but good for us, cos you can get a banging drink without the luxury price tag. Crémant de Limoux has notes of green apples & honey, Crémant d'Alsace is creamier, and Crémant de Bourgogne can be crisp & citrusy, or full & round. Vinatis has a decent selection here.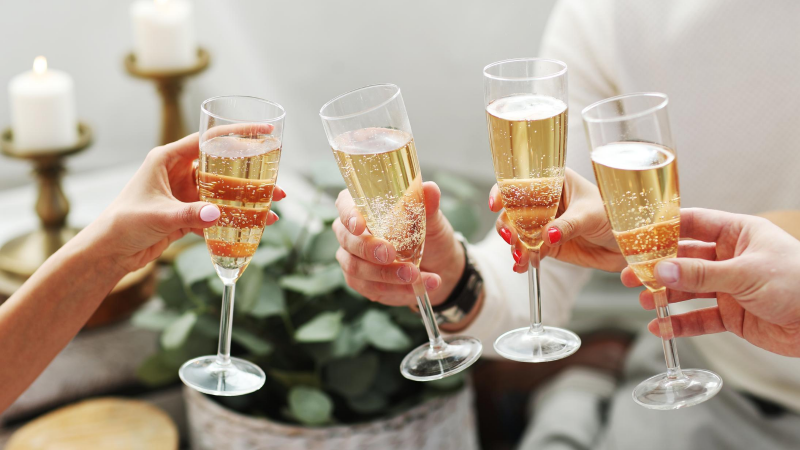 Fruit Liqueurs 
Liqueurs can get a bad rap - you often think of your nan's booze shelf and some sort of sticky, sickly drink served in a tiny glass. But used right and a fruity liqueur can be an awesome way of pimping up your fizz or adding a sassy element to a cocktail. FARE has an awesome collection ranging from açaí to kumquat. All their products are sourced ethically and sustainably and trust us when we say that adding a drop to something bubbly takes it next level.   
Baijiu
Unless you've travelled in China then Baijiu probably hasn't hit your radar - more than 99% of Baijiu is sold there & just 0.5% is exported. It's a clear Chinese distilled liquor, and it's not messing around at 40%-50%. It might be clear, but the flavour profile/complexity is closer to whisky in its richness. It's traditionally served at room temperature, and varieties are distinguished by their aroma. Everything from savoury (Jiangxiang) to medicinal (Yao xiang). Curious? Check out the range at Selfridges. Heads up: some of them can set you back a fair bit. 
Rosé
Nothing says summer like a chilled glass of rosé. And while we'd ideally be sipping it in a pub garden while the sun blazed overhead, lockdown is a chance to expand your rosé repertoire. Mirabeau, the award-winning wine from Provence has six different styles in its 2019 vintage. La Folie is slightly sparkling, Forever Summer is lower in alcohol, and the Prêt-à-Porter Rosé comes in a can. Ideal for those one-hour walks. Wanna try something brand new? STILL By Hattingley 2019 Rosé is one of the first non-sparkling wines from this English vineyard. It's dry, it's got red fruits, and it's ideal for al fresco dining - even if that means sitting by a window. 
Vermouth (and tonic)
Anyone for a V&T? Get involved now, cos this is gonna be your new 5pm lockdown drink of choice. Vermouth & Tonic is an Italian classic and you'll often find them drinking it for aperitvo hour. Not as punchy as gin & tonic or as straight-up pre-dinner deadly as a Negroni, this is one refreshing mix to enjoy as day turns to evening. Not only does vermouth clock in with an ABV of 16-18%, but the botanicals give it tons of flavour. Just mix it as you would a G&T but add a slice of orange as garnish. We're into super smooth & complex Discarded Cascara Vermouth.
New Wave Mixers
We're mixing things up with seriously creative soft drinks. The badass gals at Double Dutch have got crafty, bringing us killer combos like Cucumber & Watermelon and Cranberry & Ginger. This one is awesome with vermouth, FYI. Then there are Two Keys mixers - epic when added to booze. Pink Grapefruit and tequila, hello. You can automatically give that kinda sad bottle of gin a glow-up, just by popping a cap on the Green Tea mixer. Not only that though - if you're staying sober they're damn good over ice or combined with a non-alcoholic spirit such as Ceders or Everleaf.  
Pre-batched Spring Cocktails
You want a juicy, fruity, refreshing cocktail to see in the sunny weekend - but you don't want the hassle of making it. No drama, as our fave bars are stepping up & delivering some of their sexiest serves. 'Sunny Sangria', Aperol Spritz and a Paloma can all be ordered from Lollipop and deliver UK wide. If you're in London you can go totally tropical with the Aride from Laki Kane (a Seychelles-inspired drink of rum & mango, mmm), or if Manchester is your home-town then get a mezcal, chilli & citrus hit with a First National from Crazy Pedros. Both of these - and a bunch of others - can be found at thedrinksdrop.com. Enough to keep you merry through summer, we reckon.   
Want more details of cocktail-delivery during lockdown? Here ya go: www.barchick.com/bar-chat/booze-delivery-services
Other pre-batched cocktails can be hit up here: www.barchick.com/bar-chat/craft-bottled-cocktail-delivery 
Sparkling Tea 
Tea? Sparkling? Yeah, it's a thing, and what's more - we're fans. Saicho is a cold-brewed sparkling tea that's been designed to be paired with food. Whether you're sober-curious or just fancy a day/night off the sauce, this is a sophisticated and delish way of making an occasion of it. The range includes three complex flavours: Jasmine, Darjeeling and Hojicha. Jasmine is lighter with floral, vanilla notes; Darjeeling is spicy/woody; while Hojicha has notes of seaweed & roasted chestnuts. Pour into a flute/coupe for that fancy feeling (who cares that you haven't worn a bra in two weeks?) or sip on the rocks over ice. www.saichodrinks.com and can be ordered here.