Don't keep things bottled up. Unless they're cocktails.
We had a hunch back in January that the rise of Batchology (aka craft bottled cocktails) would be pretty big for this year. And while we didn't quite anticipate the sh*t-show that has been 2020 so far - well, seems like we were onto something. 
Fair play to all the epic bars out there who've managed to roll with the punches and are delivering their best-selling serves to our doorsteps. But we've gotta give kudos to these bad-asses who were bottling up epic, delicious and creative cocktails before the world went bat-sh*t crazy (yeah, pun intended). These are the ones sat on our home-bar shelves that you should 100% consider adding to yours...
Craving the taste of travel? Who isn't! These craft bottled cocktails taste like driving the Amalfi coast; road-tripping across America in an open-top 'Stang; hitting up a hacienda down Mexico Way for a freshly made Margarita. Sounds delicious, right? The hand-crafted recipes are perfectly balanced and made using spirits from small-batch, founder-run, craft distilleries. It doesn't get more authentic than that. Each bottle is a double serve, and at the moment there are 4 killer cocktails to choose from (though we've had a sneaky taste of a potential 5th and spoiler alert: it's f*cking epic)
 
You can buy a bottle here and right now for a limited time there's 15% off all cocktails. Whoof!
Espresso Martini delivery!! We all love to indulge in a bit of home mixology, but sometimes ya just can't be arsed. That's where these guys come in to save the day like the crafty rock-stars they are. Tails bottled cocktails are all about bar-quality cocktails, and they're bringing ease and speed to your abode when it gets to drink o'clock. HELL YES. They use balanced and blended premium spirits and liqueurs with all-natural mixers, juices, sugars, flavours and bitters to make their collection of batch cocktails. They do all the hard work so all that's left for you to do is get shakin', stirrin' and drinkin'. PERFECT. 
Get your hands on a few of these batched cocktails here.
Yeah, Ryan "The Lyan" Cheti might have some killer bars to his name, but he also has a few serves bottled up for home-style imbibing. And of course, they're f*cking awesome. We'd expect nothing less. This collection of classic cocktails each have a lil bit of Mr Lyan magic, removing the faff and hassle of enjoying a world-class cocktail at home. In classic Lyan style, they're next level epic, like the Spotless Martini which uses olive and lemon peel distillates, and The Diamond Rickey which is a blend of Mr Lyan's gin, a lime and almond liqueur and grapefruit distillate, made for summer evenings... at home. 
Get one of Mr Lyan's world-class cocktails to enjoy at home here. 
These guys are the winners of countless awards and critical acclaim, which is just one of the reasons you should want one of their bad-ass bottles on your shelf. The Spirit of Zing team hand-crafts cocktails in small batches using bespoke bitters, liqueurs and ageing processes so that you can enjoy a world-class mixology experience in the comfort of your home, which, let's face it, is something we're all craving right now. The creativity of the Persian Lime & Nori Margarita is a bit of us, but they've got plenty of bottles to tickle every tastebud.
Grab yourself a bottle or two over here.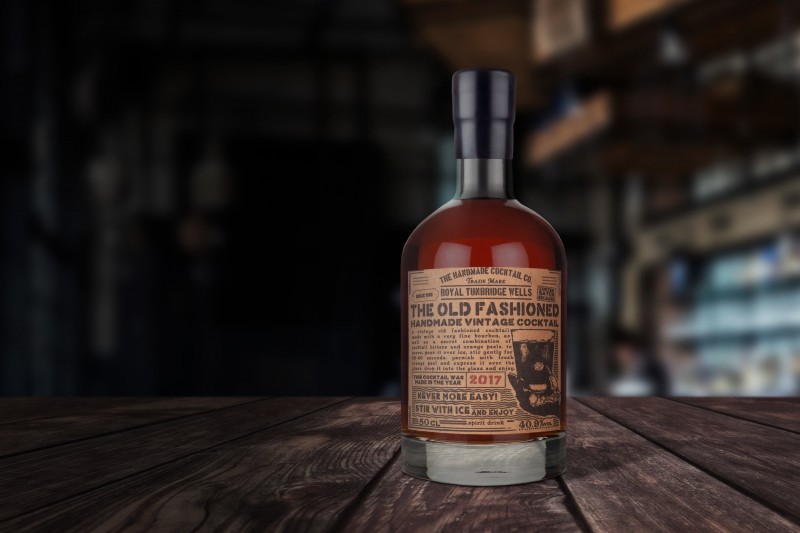 The Handmade Cocktail Company are all about the classics when it comes to their pre-batched cocktails. And boy do we like 'em classic. The concept behind their 'Vintage Cocktail' range is simple - you get all the ingredients for a banging cocktail pre-mixed to your door, then just pour it over ice, stir, strain off into your glass and garnish. Each bottle is marked with the year of the cocktail's 'birth' so they feel a bit fancy ("Would madame care to sample the 2018 Martinez? Oh yes, a very good year...") There's plenty to pick from, it just depends what you're craving when your at-home Happy Hour rolls around.
Fill your shelves with the vintage classics here.
This distillery found in one the UK's chocolate-box villages has done something seriously clever with our beloved Espresso Martini. They've made this craft cocktail using locally-roasted Monsoon Estates Coffee Company ground beans, and carefully distilled them in the Cotswold Distillery's beautiful copper Holstein still with fresh orange peel and their own blend of coriander seed, cassia bark, and cinnamon. It's got the taste of velvety coffee with a touch of chocolate orange and a hint of spice... and it's crystal clear! Serve it ice-cold into a chilled glass for a perfect cocktail every time.
Buy a bottle for your home bar here. 
This Copenhagen based distillery and self-proclaimed 'flavour company' has a one helluva kick-ass pre-batched cocktail series available for free home delivery worldwide. You can pick up a bottle of the pioneering distillery's own cocktail blends, like the Pony Negroni and Bonita Applebum, and there are more sh*t hot creations on the way. They've launched a banging collab series with bars and bartenders to provide support for the hospitality industry which gives a taste of your fave bars that are currently closed due to the lock-down. A chunk of the sales from each of the collab bottles will be donated to the bartender's chosen charity, beginning with the ES x Lyaness choice of Hospitality Action. As if it wasn't already obvious that these guys are absolute legends, they also have a spirit called F*ck Trump and His Stupid F*cking Wall. Fair play. 
Get a taste of the flavours of Empirical Spirits here.
If you're a fan of whiskies from the New World, you'll probably already have heard of Starward. This Melbourne-made whisky is aged in locally sourced red-wine barrels and given a bold, velvety flavour from the turbulent climate they get in that corner of the world. It tastes pretty special neat, but if you prefer your whisky stirred down in a cocktail, you'll dig their bottled Old Fashioned made with a new twist of house-made bitters and wattleseed demerara syrup. It tastes bloody ace. You just gotta pour it over ice and enjoy. 
Pick up a bottle to enjoy at home over here.
Want high-end cocktails but worried that your delivery will be attempted while you're taking your state-approved exercise and you'll miss it? Well baby, these guys have you covered. Rather than bottling, they've packaged up their premium crafted cocktails in uniquely-designed sleeves slim enough to slip through pretty much any letterbox. Ideal for lining up on a shelf to stock your very own cocktail bar or for spreading out on a table for you and your friends to pick and choose from - BOOM! Their range of cocktails is tops, from Tommy's Margaritas to Boulevardiers and Gin Sours to Daiquiris. All you gotta do is pick out your fave glassware and pour them over ice before popping the packaging into the recycling (yeh, these beauties are environmentally friendly, too - legends).
Build yourself a box of cocktails with Nio here.