Put down the kettle chips and step away from the sad low-fat hummus selection. You've been cooped up inside for 3 months - your forays into park-based socialising deserve better. And we've got better.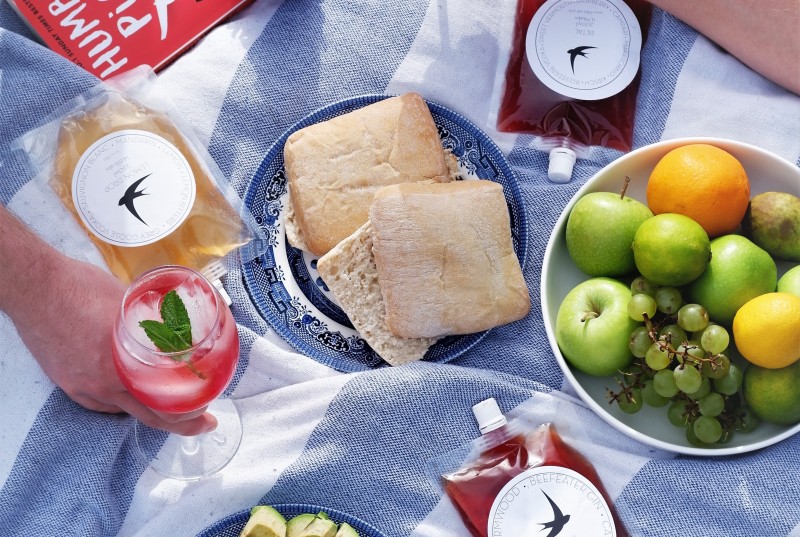 Got to the park and realised you've somehow managed to leave your drinks at home, or been in the park long enough to drink your entire supply? The crew at Swift Shoreditch have your back. They've just launched their new bottled cocktail park drops. Within an hour you can get the award-winning bar's bottled cocktails dropped off at your location, chilled and ready to drink using the location app, 'what3words'. That's right. If you're chilling in Victoria Park, London Fields or Haggerston Park, they'll find your 3m² location hook you up with the goods, from their Spicy Margarita to the Smoky Coconut Old Fashioned and Rhubard & Custard Milk Punch.  You can even request cups and ice if needed when ordering. 
The Park Drop cocktail delivery service is available every weekend, Friday to Sunday from midday to 7pm. (Last orders at 6pm) Order from here.
Got a birthday to celebrate this Spring? You know a picnic is the answer. You bring the blankets, The Sun Tavern will bring the booze. They've created the Umbrella Party Drinks Hamper, AKA the Ultimate Party Kit for your post-lockdown sessions in the park. Crack on with a few of their crafted fruit ciders and a couple of Teeling whiskey finished ginger beers, then move onto a Strawberry Kir (Prosecco included) before letting their bottled cocktails get the party started. You could even top up your party with their Beer Pong kit. Why not?
Grab the Party Drinks Hamper RRP £80 from Umbrella London
Dragging a heavy picnic basket of food across a park is out. Getting the works delivered from your favourite London restaurant to your exact location in the middle of London's best green spaces is IN. SUPPER London have expanded their delivery service into 13 of London's parks and green spaces. They've teamed up with location App, What3Words, to precisely locate you and your hungry crew in Regents Park, Hyde Park, Holland Park, Kensington Gardens, St James's Park, Green Park, Russell Square, Lincoln Inn Fields, Ranelagh Gardens, Battersea Park, Parsons Green, Shoreditch Park and Primrose Hill, so you can sit on the grass and tuck into some yellowtail sashimi from Nobu or your favourite ceviche from COYA without carrying it across town first.
You'll need to download the SUPPER app from the App Store or Google Play to pick your delivery location and place your order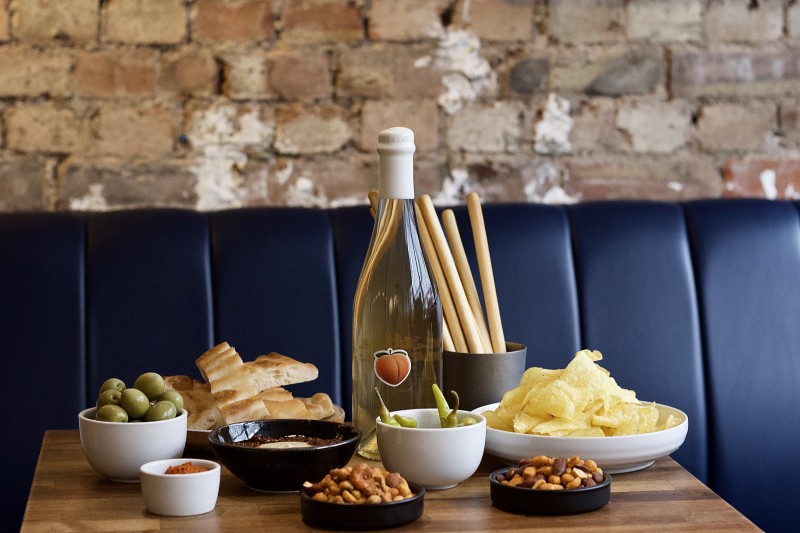 They nailed takeaway cocktails over lockdown. Now they're nailing takeaway picnic boxes to ease you back into park-based civilisation. North London gem Little Mercies has launched its 2-Person Picnic Boxes packed with a bunch of al fresco goodies. Expect Olives & Guindilla Peppers; Pimped Hummus & Rose Harrisa; and Turkish Flatbread, Breadsticks and Torres Truffle Crisps. Spike it all with a bottle of wine, or a few of Little Mercies' most popular bottled cocktails (you can choose between the Lockdown Bellini or Grapefruit Sprit, or both) for some next level picnicking.
Prices start £19 for the box and a bag of ice, with an additional cost dependent on drinks choices. Order via the Little Mercies website. Available for collection from Little Mercies, or same day delivery to local addresses and parks. 
We've all seen American teen movies, and we all know the person you want at a party is the dude that rocks up with a keg. You're about to become that person. For an awesome reunion with your crew to remember, sling one of these 5 litre bad boys over your shoulder and swagger up to that picnic blanket to let the good times roll. These expertly blended cocktail party kegs each hold 33 mixologist-grade cocktails and last over a month once tapped – the picnic gift that keeps on giving! We guess it's lucky there's a rule of 6 going on, or you'll have everyone in the park swarming to get in on the action.
Liberation Cocktail Kegs RRP at £99 and available in 4 flavours (Gin Garden, Espresso Martini, Strawberry Daiquiri & Pornstar Martini). The pre-mixed serves are also available in 75cl bottles.
Epic artisan produce? Check. A bad-ass selection of natural wines? Check. Plastic free cutlery & picnic cloth provided? Check. The summary of the Provisions Wine & Cheese Picnic Hamper is that they've thought of everything. The more detailed summary is that the hamper which can feed and water 3-4 people includes everything you'd want for a picture-perfect picnic, from organic houmous and tapenade, to gourmet patês and juicy, fat olives, as well as a bottle of organic wine, with options ranging from Chateau Fontvert rosé from Luberon, Prosecco by Le Spinee, the orange 2016 Mogul by Mas Théo or red Mas Theo - Ptit Gaby.
Hampers can be collected from the store or delivered the same day delivery within four miles of Holloway Road. Oh and nationwide delivery? Check. Prices start at £35 (3-4 people, without wine) and go up to £79 (4-6 people, with wine!) Order here.
Cocktails you can fit in your back pocket? We're down. Rather than bottling, the team from NIO have packaged up their premium crafted cocktails in uniquely designed sleeves slim enough to slip into your handbag/pocket/picnic basket without taking up any room. BOOM. NIO stands for Needs Ice Only, so cube up your cool box and spread out the cocktail collection on your blanket for you and your pals to choose from. Their range of cocktails is tops, from Tommy's Margaritas to Boulevardiers and Gin Sours to Daiquiris. When you're done, hit up a recycling bin and you're on your way (yeh, these beauties are environmentally friendly, too - legends).
Build a box to take with you here.
There's nothing more heartbreaking than the moment you misjudge how flat your picnic blanket is and send your bottle of wine flying over your cocktail sausages. The answer? A sturdy, fully recyclable box that houses the equivalent of three standard bottles of wine. Come to mamma! Belle Année Boxed Wine is the side-kick you wanna be rocking up with to your next park hang. It's part of Maison Mirabeau's Atelier range; a fruity and food-friendly rosé made with Grenache Syrah grapes. It bangs with salads, fish, roast chicken and Mediterranean-style dishes, and if somehow you don't finish it all, it can chill in your fridge door for another four weeks without losing its freshness. No vinegar transformations here. 
Available to purchase in Waitrose stores nationwide, and online at waitrose.com and waitrosecellar.com, RRP £25.99.
Sick of scotch eggs? Sausage rolls not your bag? Rudy's picnics are totally vegan, baby, so it's less meat, more meeting up with your mates. They've got three wicked picnics available - if you're feeling fancy, we say hit up the Premium Picnic (£69) with olives, flavoursome fig balls and a rich pepper and tomato spread, as well as five cans of Frizzenti sparkling wine from drinks experts, Liberation Cocktails. All packaging and cutlery is made of 100% compostable material - cos when up close and personal with mother nature after so long stuck inside, you wanna make it stylish and sustainable.
The picnics are all available to pre-order for daily collection from Rudy's Vegan Butcher in Islington after 1pm. For nationwide delivery, order from Monday to Wednesday before 5pm for next day delivery, orders after 5pm on Wednesdays will be shipped on Monday of the following week.
The beer x soft-drink hybrid of your youth is making a comeback, y'all. That's right, Summer 2K21 is gonna be the Summer of Shandy. Refreshing, gently sweetened and in some cool and tactile stubby cans. Pop 'em in your cooler and crack a few open when you're needing a hit of refreshment. The crew behind Shandy Shack have perfected two flavours: in the blue-canned IPA Shandy is a hop-packed IPA with a slosh of natural lemonade, and tastes like summers on the village green; while the green-canned punchy pilsner lager is topped with a splash of crisp elderflower pressé, with some chilling-on-a-sun-drenched-bench vibes. Both clock in at under 2.8% ABV - good if you're planning an all-afternoon sesh and don't wanna go too hard too early.
Grab a mixed pack from Shandy Shack here
It's probably adios to those holiday in Marbella plans, but hola amigo to the taste of Spain in the park with this epic picnic hamper curated by Michelin- starred Nacho Manzano of Ibérica. It's packed with all the goods you need to take ya to Spain while swerving a two-week quarantine, including 4 bottles of Spanish Estrella Galicia lager (+ glassware & bottle coolers), multi-award winning Jamon Domecq, 5 epic cheeses, a bad-ass trio of Chorizos. Wanna feel that Spanish heat? Opt for one of the hot picnics, including Ibérica's famed Ham croquettes, Tortilla and Padron peppers. Costa del who?
Nationwide picnics available to order from here. Local delivery picnics available 2.5 miles from Ibérica restaurants online store or Deliveroo priced from £40 (Marylebone, Victoria, Farringdon, Canary Wharf, Leeds) 
Hitting up one of Central London's parks? Why not go bouji? The recently opened cafe from the squad behind Michelin-starred HIDE on Piccadilly have launched a wicker-made treasure chest of gourmet delights for you to collect and take to the park with you. You'll find homemade strawberry & hibiscus jam and Goji berry cookies alongside smoked rapeseed oil with garlic & rosemary. There's a sh*t load of sweet & savoury favourites from the Hideaway retail range, and some extras with a capital E available for you to pimp your picnic; we're talking black truffles, Beluga caviar & their famous lobster roll for that touch of luxury you've earned after a year of lockdown.
Hideaway Hampers start from £70 for collection from Hideaway.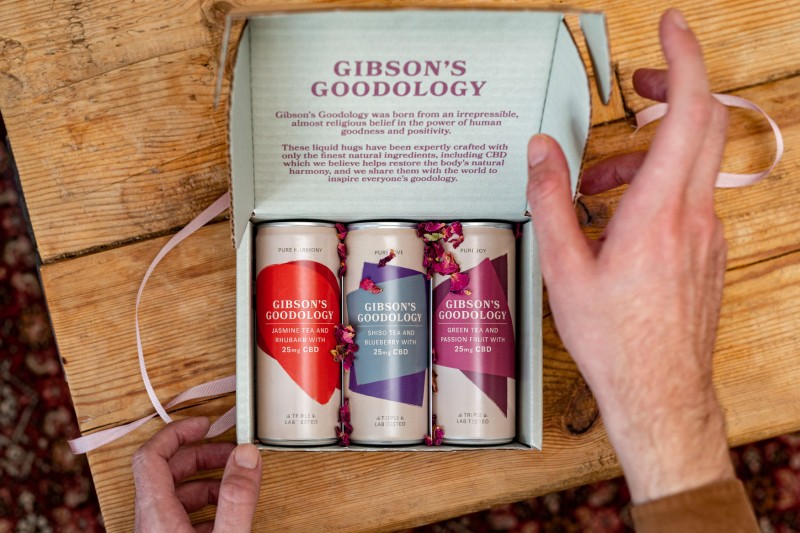 Dining al fresco? You gotta bring the tinnies. These cans are awesome for when you're swerving the booze, or wanna bring a little bit of pace to the party but still have a wicked time. Gibson's Goodology cans are laced with CBD (we've got the lowdown on wtf that means here) and have 25mg of the stuff per serve. They're rocking three flavours in the collection (which they call "liquid hugs" - cute); Shiso Tea and Blueberry, Green Tea and Passionfruit and Jasmine Tea and Rhubarb. Each is designed to restore the mind's natural harmony - and we all need a bit of that after the year we've had, amirite?
Restore yourself with one of their packs (we'd hit up the taster 3 pack first) here.