With over 560 distilleries in the UK alone, there's always a new gin joining the market. How ya gonna choose which one to add to that booze shelf of yours? That's where we come in.
Seventy One Gin
Is it a perfume or is it a gin? With a bottle like that, it's kinda hard to tell, right? Well, obviously it's gin, and a belter at that. SEVENTY ONE gin is the brand new spirit created by the London-based Turkish director and photographer Mert Alas, AKA one of the fashion world's premier image takers for nearly three decades, and one half of the acclaimed duo Mert and Marcus. We're talking photography legendary here, people, so with an eye for style, you can bet his gin is one to focus one.
SEVENTY ONE is self described as "an after-hours gin"... and we all know the best things happen when the doors close. This golden-hued gin is bringing all the night-time hedonism to your glass, which you can fill with ice or keep it neat for a smooth, warming sipper. Expect dark chocolate notes, rich woodiness and lingering warmth. We know what ya thinking: is this a gin or a whisky? Well it's spent some time maturing in a cask (71 days, actually) and has a price point not far from some of the punchier whisky drams (just think of the Avios), so maybe consider it to be whisky's second cousin twice removed...
Key Botanicals: Juniper, Coriander, Angelica and Lemon form the heart, with hints of smoke, peat and spicy citrus. Wild ivy leaves from Albania, grapefruit and damask rose from Turkey, and Cinchona bark from Ecuador.
How to drink it: SEVENTY ONE considers itself a "hypnotic spirit of the night" so swap out your end of the night dark spirit for a glass of this. Make sure it's your fanciest rocks glass - this sh*t is fancy, remember.
Where To Buy It: From seventyonegin.com | £140 | 70cl
Hayman's Exotic Citrus Gin
There aren't many London gins out there using citrus as one of its key botanicals, but the Hayman's fam doesn't tend to do things the way everyone else does, and that's why we like 'em.  They've used totally natural, hand-peeled & sundried fruit peels to ensure that their characteristic flavours and oils are retained during the 2-day distillation process that goes into making their new Exotic Citrus Gin, and the result is a total Summer vibe bringing lively, zesty notes to your glass.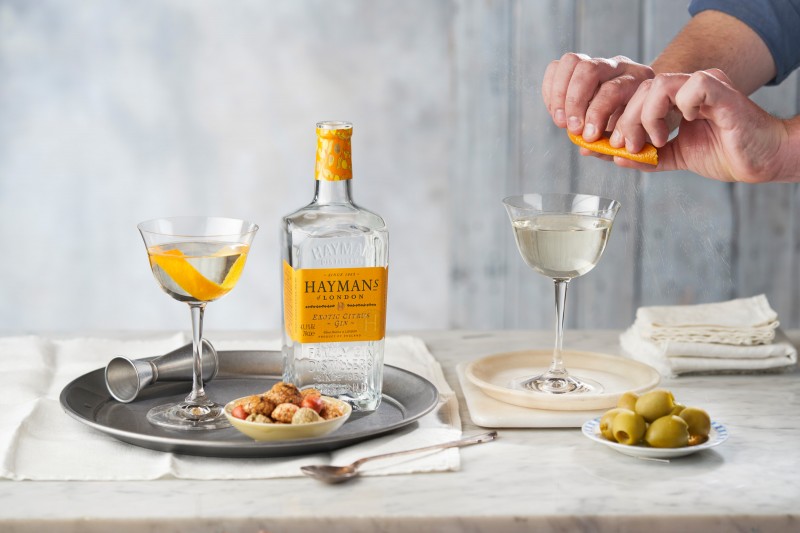 Key Botanicals: Kumquat, Pomelo, Persian lime & Mandarin
How To Drink It: In a zesty Exotic Citrus Martini: 70ml Hayman's Exotic Citrus Gin, 10ml Dry White Vermouth, 1 Dash Orange Bitters, Orange zest. Stir down over ice and BOOM. That's one exotic Martini, gang.
Where To Buy It: The Hayman's online shop | £28 | 41.1% | 70cl
Umami Gin
Umami is of those flavours you can never really explain, but you know you love it. Salty without the salt, savoury without the...uhh, savoury? Whatever the "fifth taste" is, we're here for it, especially when it's laced in a new gin from Audemus Spirits. The base flavour for this Umami Gin comes from South Italian capers. They're distilled at 45 degrees to maintain the fresh iodic aroma, and then combined with an infusion of Parmigiano-Reggiano. Uh huh - this gin has been made with cheese. You better brie-lieve it. Combined with juniper, two other ingredients, and a base of neutral grain spirit, the blend is then left to rest in cognac barrels for several months. The result is a fresh, lightly savoury gin - you've never tried anything like it before.
Key Botanicals: Sicilian capers, Juniper, Parmigiano-Reggiano, Bergamot
How To Drink It: Try it in a Gibson Martini - the savoury notes feel like they've been made for it!
Where To Buy It: Master of Malt | £38.95 | 42% | 50cl
Portobello Road Celebrate Butter Gin
There is nothing that cannot be improved with the addition of butter. This is a cold, hard fact and deniers will be judged. Ya know who isn't a denier? Gin historian Jake Burger and his crew of botanically-lead genius' who have taken their award-winning craft gin AKA the signature 171 London Dry, and redistilled it with English unsalted butter in their tiny thirty-litre copper pot still. It might seem like an off-the-wall flavour choice, but in true Portobello Road Gin style, Celebrated Butter Gin has been inspired by the history books as a nod to Charles Dickens. Please sir, can we have some more?
Key Botanicals: Unsalted Butter, Lemon, Bitter Orange, Coriander, Liquorice and Nutmeg
How To Drink It: Another gin that kicks ass in a Martini - especially if you dig a creamy mouth feel.
Where To Buy It: Direct from Portobello Road Gin or Ocado | £30 | 42% | 70cl
Wimbledon Garden Gin
Rain in June. Drinking a cup of tea in a heatwave to "cool down". Saying "right" before you do literally anything. You can't get more English than that, right? How about launching a gin distilled using local botanicals found on Wimbledon Common just a few weeks before the legendary Tennis Tournament starts just around the corner? Yeah, that's pretty "peak English" if you ask us. After creating some banging real ales, smashing beers and top-notch vinos, the crew at Wimbledon Brewery have now turned their hands to gin (because why wouldn't they?) and are feeling pretty proud to finally bring Wimbledon Garden Gin to your home bar, with a mild herbal bitterness with a hint of sweetness that is gonna taste ace in your summer G&T.
Key Botanicals: Gorse, Heather (both found on Wimbledon Common) Liquorice, Lemon, Cascade hops and Honey (created by local bees)
How To Drink It: In a Wimbledon Bloom (even the name is soooo English!) 25ml Wimbledon Garden Gin, 25m Apple Juice, 25m Elderflower Cordial, ½ Lemon Juice. Shake with Ice and serve in a Champagne flute (¾ of the way) and then top with Prosecco
Where To Buy It: Wimbledon Brewery | £38.50 | 43% | 70cl
Grace O Malley Heather Infused Irish Gin 
After launching their killer Irish whiskey on St Paddy's Day, the Grace O Malley crew are set to launch their Irish heather infused Irish gin just in time for World Gin Day (12th June). Boy, these guys love a themed springboard. Named after a 16th Century Irish Pirate Queen, Grace O'Malley is a bit of a legend of centuries gone by (how couldn't she be with a title like that), and the crew behind this new gin are planning to give their spirits the same level of icon status as their muse. The gin inside the bottle has been made using modern distilling techniques which have captured the sick flavour profiles of the Emerald Isle, with notes of dry heather and maritime undertones. We'd expect nothing less from a fearless leader of land and sea. Yaaaas queen.
Key Botanicals: Heather, Wild Thyme, Red Clover, Blackthorn, Fraughan (wild blueberries) and Stone Amphire (wild sea fennel).
How To Drink It: With a fresh, floral finish it's perfectly served in a gin and natural tonic with a grapefruit garnish. 
Where To Buy It: Amazon | £33.99 | 43% | 70cl
Hyke Gin Very Special
Fancy taking a Hyke? You will soon... if you've not come across Foxhole Spirits before then get involved, as they create banging booze from surplus materials. Their Hyke Gin is made using English-grown wine grapes, a by-product of the winemaking industry which is usually just chucked away after pressing. But why discard when you can... drink? This new expression is their richest, most luxurious spirit yet. Well, there are a bunch of seriously sexy botanicals at play, including Grapefruit, Earl Grey Tea and Lavender, plus other more unusual ingredients, such as Lapsang Souchong and Red Sandalwood. The flavours are punchy yet balanced; powerful yet nuanced. Yes please. So why the 'Very Special'? Wait for it... Foxhole Spirits adds a tiny drop of its very own brandy, aged especially for this purpose in ex-cognac barrels (remember Brandy VS means 'Very Special'). Now that's smooth.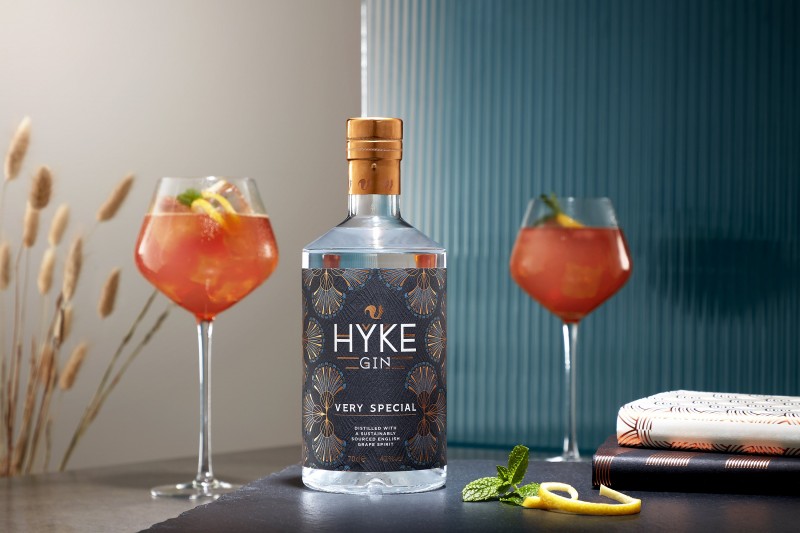 Key Botanicals: Grapefruit, Earl Grey Tea, Lavender, Lapsang Souchong and Red Sandalwood.
How To Drink It: Enjoy in a Very Special G&T by serving with Premium tonic water & garnishing with a single sage leaf and a lemon twist.
Where To Buy It: Foxhole Spirits | £36 | 42% | 70cl
Green Man Woodland Gin
A paper bottle might sound about as useful as a chocolate teapot, but the lot from Silent Pool Distillers ain't no fools. They've created the world's first paperboard bottle made from 94% recycled paper and put their new Green Man Woodland Gin in it, and wait for it.... it works. The bottle is five times lighter than its glass counterparts, uses 77% less plastic than other plastic offerings and has a carbon footprint six times lower than glass or PET plastic bottles. Can we get a f*ck yeah?! Of course that's all pretty epic but what about the liquid IN the bottle? Well, it's handcrafted and inspired by the woodlands of Surrey, designed to capture the essence of the Pagan spirit of The Green Man in a bottle, and tastes like a refreshing walk through a forest.
Key Botanicals: Pine, Fir, Birch Leaf, Hawthorne, Rosemary and Rowan
How To Drink It: Serve with premium Mediterranean tonic and garnish with sprig of pine and a twist of lemon for that afternoon hike in the woods vibe.
Where To Buy It: Silent Pool Distillers | £30 | 42% | 70cl 
Tarsier Khao San Gin
Even though this South-East Asian gin has been inspired by the vibrancy and excitement of Bangkok's Khao San Road, it's a far cry from any of the Amphetamine-laced buckets of cheap booze you probs found yourself drinking on your Gap Year. This sh*t is sophisticated; meticulously created by two distillers who were inspired on their backpacking adventures a few years back, though it's only really started making waves in the UK recently. Tarsier Gin is named for the tarsier primates (google them - they're v. cute) of which 10% of profits go towards their conservation in the Philippines. This Khao San gin is one of the bottles from their Backpacker Series and it'll hit ya with flavours of Thai birds eye chillis, lemongrass and kaffir will send you back to (a sophisticated version of) the Khao San Road. Lovely jubbly.
Key Botanicals: Thai Red Chilli, Lemongrass, Kaffir Lime Leaf.
How To Drink It: The Khao San Gin works with any tequila style cocktail such as a Tommy's Margarita and a Paloma. Amazing in a Red Snapper too!
Where To Buy It: On the Tarsier Gin website | £37.99 | 41.2% | 70cl
Sir Captain Tom's Limited Edition Barrel-Aged Gin by Otterbeck
Last year was sh*t, but it definitely had its silver linings. No, we're not talking about the world uniting over the madness of Tiger King. We're talking about the story of Sir Captain Tom Moore walking laps and raising £££ for NHS Charities. What a legend. Now, to raise cash for the Captain Tom Foundation, the fam at Otterbeck Distillery have released a limited edition gin in his memory. Uniquely, this gin has been aged for about a month in ex-bourbon casks but despite the liquid remaining clear, it has managed to pick up a killer depth of flavour from the whiskey that used to kick it in there. Just don't get too used to it. There are only 100 bottles of this limited-edition gin in existence - ya snooze you lose.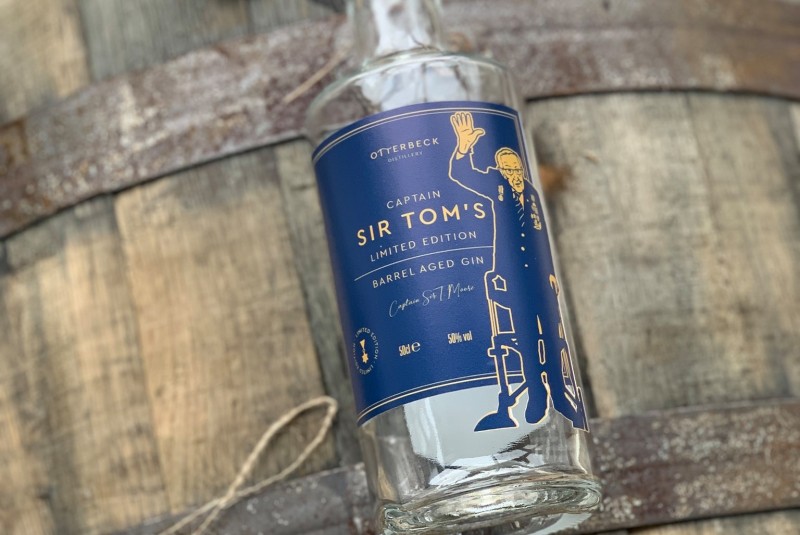 Key Botanicals: Sage, Rosemary and Thyme
How To Drink It: While walking around your garden, Sir Captain Tom style
Where To Buy It: From The Otterbeck Distillery website | £100 | 50% | 50cl
Looking for more gins to add to your home bar? These are the 20 BarChick loves
Looking for a way to drink your gin that isn't just in a G&T? We love these 5 cocktail recipes
Wanna know where to go out to drink epic gins? These bars kick ass