There's loads of ways to romance your beau in London...
Whether you wanna pop the question, make up for some mischief, or just spend some time with your fave human, these are where BarChick heads when she wants to crank up the romance...
You know he's going to whip out some serious bling if he takes you to this place - It's known as the 'most romantic restaurant in London'. The conservatory is knee-deep in a forest of white blossom, along with fairy lights, an open fire and a window to the stars. Locally sourced fish and a hefty wine list – it would be rude not to say yes.
33 King Street, Covent Garden, WC2E 8JD
This classic Mayfair brasserie is a lower key high-end option with its busy and bustling vibe and art deco touches. They do all the standard date dishes: steak tartare, oysters and shellfish – because what's a sexy date without an aphrodisiac or two? This place is also top for a romantic breakfast.
160 Piccadilly, London W1J 9EB
Proper old-school Paris romance. Covered in hanging vines and with loads of cosy tables – you might as well propose while you're here 'cause it doesn't get more romantic than this. There's live jazz and swing played every night of the week and sexy French food to go with. If you go in for a simple bottle of fizz, prepare for a hefty service charge, and a music charge to boot. But other than that this place c'est the dogs b*llocks.
42-44 Battersea High Street, SW11 3HX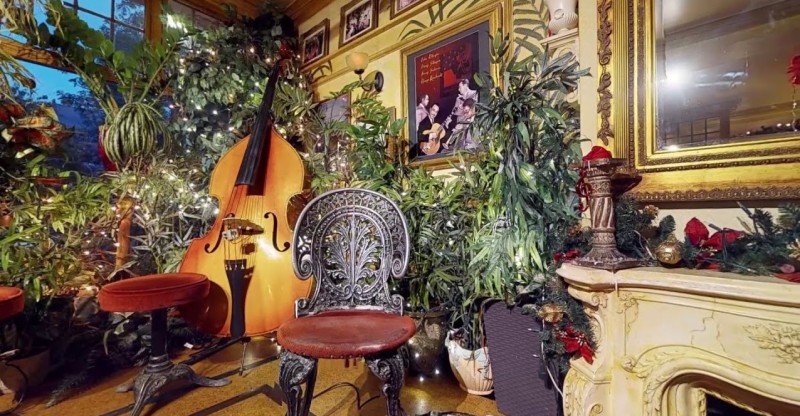 Wine and dine BarChick at a place with an awesome view and she's yours. Think Parisian chic, with alfresco seating overlooking Tower Bridge - pow! On chillier nights you can still catch the view in the sexy restaurant inside.
36D Shad Thames, London SE1 2YE
If you want the view, but without the epic price tag, head to Blueprint café instead – which also overlooks Tower Bridge.
Restaurant. The food is the best of British cuisine,  and they're all about fresh and seasonal British ingredients from local farms and suppliers which we're always down with. 
Design Museum, London SE1 2YD
This place is open for you 24/7, baby. Seriously. With 360 panoramic views of the city from 40 metres up high, this is the pinnacle of wooing your beau. With a speedy lift that could rival that of a theme park, your adrenaline will be pumping either way.
Heron Tower, 110 Bishopsgate, London EC2N 4AY
If flashy is where it's at, head to Sexy Fish. A waterfall, 20 insane Frank Gehry fish lamps swim above the bar, and if you can get into the private dining room you'll be surrounded by floor to ceiling aquariums. Sure this place is a restaurant, but drink smart and go for a late lunch or an early session at 6pm. 
Berkeley Square House, Berkeley Square, London W1J 6BR
Bob Bob Ricard is a vividly coloured, flamboyant and surreal take on the 1930's. All mirrored ceilings, backgammon flooring and gold. Conversations won't dry up with these surroundings, and neither will your glasses with the infamous "Press for Champagne" buttons at each table. Give it a press, your date is worth it. 
1 Upper James Street, London, W1F 9DF
This place is a Mecca for dim sum and it's also very sexy, with its dark wood paneling and sultry ambience. Head to the bar at the back because no matter how good the food, the cocktails are pretty special too. Drink the Lamachee Martini, made with Belvedere Vodka, plum wine, lemon juice, vanilla sugar and lavender syrup. It's a little bit of heaven in a glass.
15-17 Broadwick St, London W1F 0DL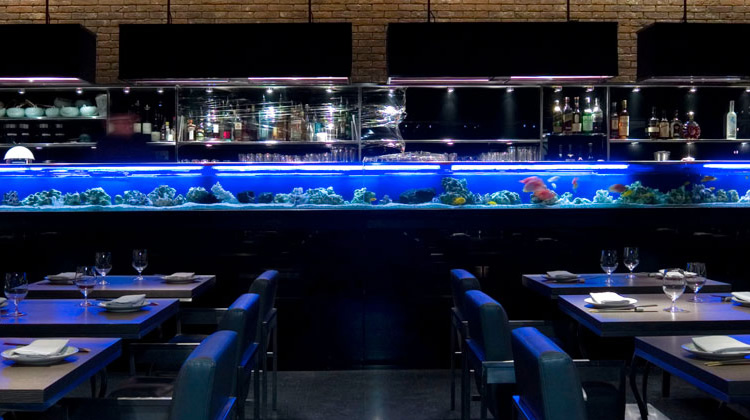 If you've got money to burn - this is the place. We're talking sushi served on plume of dry ice, candyfloss beef and miso soup served up like a cappuccino with tofu cream on top. Plus the place is slick and super sexy, but with a cool quirky twist. There's a huge giant horse lampshade and a booze cellar full of old sake bottles. Oh and there's an awesome lil' lawn with tables, complete with picket fence. This is pure date-night gold.
117-119 Old Brompton Rd South Kensington SW7 3RN
Small and perfectly formed (like BarChick), this place has a long bar at this trendy American-style diner. Bang smack in the middle of the saucy part of Soho; easy to find as its the only place not offering you a peep show. You can see Russell Norman and his crew have done their research in Brooklyn, (in the food as well as the fit-out). You'll find sliders, mac and cheese, soft shell crab and a legendary truffled egg toast, even cheesy Southern grits! Plus a tidy selection of cocktails most of which are a handily Spuntino size and Spuntino priced so you can work your way through a good selection.
61 Rupert St, London W1D 7PW
They'll know you know your stuff if you bring them to this legendary place. Lots of small plates from Southern Spain, North Africa and the Eastern Mediterranean (deffo try the cheese fritters with Cretan thyme and honey). It's super bright and airy here so just make sure there's nothing stuck in your teeth.
32 Exmouth Market, London EC1R 4QE 
This place is renowned, and for good reason - the small plates here are EPIC. Low lit, with a bangin' cocktail list, this place also screams date night - but in a relaxed kind of way, keep the trainers on if you want. It ain't cheap, but it's worth it if they are.
15 The Pavement, Clapham Old Town, SW4 0HY 
It's underground with sexy low-lighting. Whether there's a queue or not, make a beeline for the bar and dip into the epic cocktail list. Then grab your table and tuck into awesome sharing plates, just like it says on the tin - tender meats and soft white buns to shove it in. Just be prepared to get a bit messy, so that white shirt's probably a no go.
41 Earlham Street, London, WC2H 9LX
Run by the Flesh & Buns dudes (above), this place is awesome date place material.  The food is top notch and real quirky, a Western twist on Japanese classics will no doubt give you loads to talk about. The lighting's low and sexy (which is always welcome). When you're done with dinner, hit up the secret bar downstairs for delicious bottled cocktails and sh*loads of sake.
14A Old Compton Street, London W1D 4TJ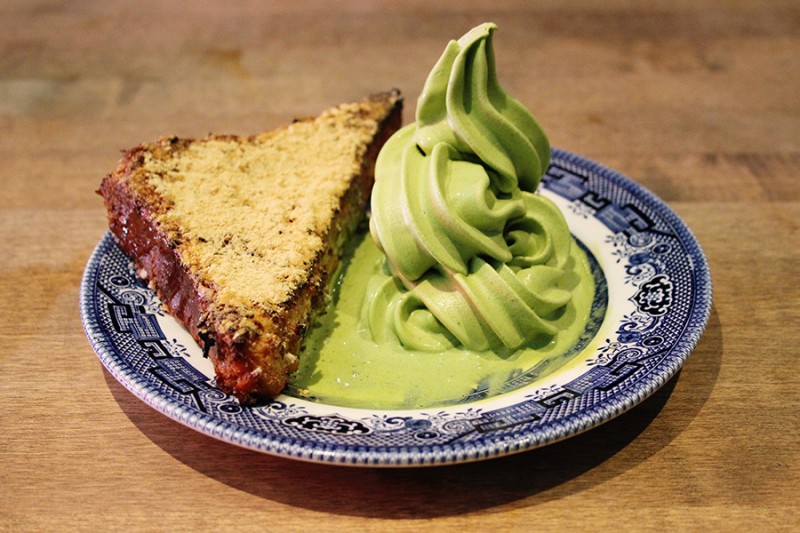 16. Smoke & Salt @ POP Brixton
POP is a solid choice for a date, and Smoke & Salt is killer if your date is a big foodie. If you've got a warm evening on your hands, grab a seat outside this repurposed shipping container beneath the fairy lights, and tuck into the best value tasting menu in London. Seriously, £27 will get you an epic 7-courses of delicious seasonal food, and the cocktails are pretty dreamy, too; the Rhubarb Collins is a BarChick fave.  
336 Coldharbour Ln, Brixton, London SW9 8QH
17. The Gun
Sunday date on the cards? It's gotta be an epic roast, and the crew at The Gun in Spitalfields have created a killer of a spread. Order the Roast Feast for 2 and settle in for the afternoon, cos you probably won't be able to move after you've devoured it. Arriving on a wooden board comes ALL the meats snuggled within two beast sized yorkies, with all the trimmings and a gravy you'll wanna drink from the cup. Grab a table near the front and you'll have a perfect view of the live jazz band there to give you the soundtrack to your lunch date.
54 Brushfield St, Spitalfields, London E1 6AG
Something a bit er... different? At this over-the-top Italian you'll find live opera singers for waiters and they burst into song every 15 minutes. While you listen, you can enjoy their delish French dishes... it also gives you a chance to think about your next convo topic if the chat is lagging... 
Corus Hotel, Hyde Park, 67 Bayswater Road, W2 3LG
All sorts of hijinks go down in this pitch-black restaurant. Grab their hand and make out like you're scared of the dark - that should get things moving nicely. We recommend eating with your hands at this place, so if you're feeling brave, how about feeing your date? Could be sexy, could be a disaster... but at least it'll be a fun story for the WhatsApp group chat afterwards. 
30-31 Clerkenwell Green, London EC1R 0DU
20. Frenchie
If you wanna take your new beau to Paris' but can't quite afford the Eurostar just yet, that's alright. A tap of your Oyster card will get you to Frenchie in Covent Garden... and that's the next best thing. It's all fine French food and delicious fancy wines here. Start with the bacon scones and thank us later.
16 Henrietta Street, London, WC2E 8QH
Not forgetting this classic crazy place. From a quirky Alice in Wonderland style tea parlour, to an enchanted-forest style restaurant and THOSE space egg toilets - there is no doubt your date will be totally blown away, (although if they're a Londoner, they've probably been here by now).
9 Conduit St, London W1S 2XG
The coolest kids of the wine world, these guys serve up only the best vinos by the glass and bottle. The cocktails rock too... and then there's the food. BarChick snacked on Scallops with XO sauce and some kinda Whitebait tempura jenga. The place is light and airy - with a palm tree in the middle for summer vibes... or you can just head outside for alfresco fun on the huge terrace. For a more intimate vibe, head to their other place 'round the corner on Hackney Road which is another real night winner - there's an emphasis on wine by the glass, and they also do a mean cheese toastie if you need something to snack on.
250 Paradise Row, London E2
Want more ideas?  You should also check out: Where to take a guy on a date &  Where to take a girl on a date