The bottles you need in your home bar when you're off the booze but still want cocktails in your casa
Whether you're craving a cocktail but got to drive later, got your pregnant or sober mates coming round or just fancy something more than orange squash while riding that wagon, hit up a few of these bottles for that booze-free buzz.
Why we love it: If you're looking to add some South American sass to your glass, this is it. This alcohol free alternative has been described as "joy in a bottle". We think it's more like a bottled fiesta, baby! It's flavoured with tropical ingredients such as Inca Berry, Pineapple and Papaya, and is inspired by founder Ellie Webb's Columbian roots.
How to drink it: Try it in a Tropi-Cali - 50ml Caleño, 20ml pineapple juice, 15ml fresh lemon juice, 15ml 2:1 sugar syrup and 6-8 mint leaves. Shake it all up with ice and then strain into a rocks glass before garnishing with a sprig of mint.
Where to get it: Straight from their website. And they've got free shipping. Hell yeah.
Why we love it: We get excited when an awesome non-alc option washes our way, which this one did at the end of 2019. Here's some facts: It's Cornish through & through, made using plantlife found round the headlands. Its totally free from added sugar, artificial colours & artificial flavourings and the guy who created it is an ex surf instructor. Doesn't get much fresher than that.
How to drink it: For a herbacious kick we've been adding rosemary to a Pentire & Tonic, or a slice of lemon peel gives it a zesty lift. We highly recommend you get involved. 
Where to get it: Grab a piece of coastal living from here
Why we love it: The guys at Lyre's have captured the essence of a gently mellowed American Classic Bourbon Malt with flavours that are distinct and contemporary, without the bite of booze. Yeh, that's right. This American Malt with its generous flavours of vanilla and toasted nuts with herbal notes providing a complexity is totally booze-free. And these guys aren't just about mimicking, they have their own distinction as a premium, non-alcoholic bevvy, and we love it.
How to drink it: Give it a go in an Old Fashioned: 50ml Lyres American Malt, 10ml sugar syrup & a few dashes of Angostura bitters, stirred down over an ice cube.
Where to get it: Pick up a bottle here
Why we love it: How could we not love anything made at the Portobello Road Distillery? These guys are the G's of making wicked booze (we've got most of their gins chilling on our shelves) but turns out, they're not too bad at creating a bad-ass low-alc, too. It's been created by Jake F. Burger and has been distilled using the same botanicals that comprise Portobello Road Gin's signature London Dry.  The whole liquid is a journey - literally - with juniper berries and orris from Tuscany, lemon peels from Spain and bitter orange peels from Haiti & Morocco, nutmeg from Indonesia and cassia bark from South East Asia.
How to drink it: Temperance & Tonic is our go to when we're keeping the booze intake low. On its own it comes in at a modest 4.2% ABV, but when mixed with 200ml of good quality tonic (always) it turns into a 0.4% ABV serve.
Where to get it: For £23 from the Portobello Road Distillery site, or Ocado.
Quarter
Why we love it: It's not a non-alc, and it's not quite a low-alc... but it's also not gonna have you falling off your chair at the end of the night if you sink 6 of these with tonic. Quarter is claiming the space chilling right in the middle of the full-strength spirits and the no-and-low categories. This 12%er is a lighter spirit. It has all the characteristics of a gin (we're talking bold on the juniper, with an elegant hint of citrus from grapefruit and orange) but with with just a quarter of the ABV, it's a G/N, rather than the real deal. But that's the point, right?
How to drink it: Quarter G/N's versatility and flavour profile makes it the perfect base for any cocktail that would traditionally use Gin. For us, it's a vibe in a Lowgroni.
Where to get it: Via QuarterProof.com for £27.
Why we love it: When it comes to a boozy apertivo, MARTINI have nailed it, so it's hardly a shocker that their non-alcoholic equivalent is also bad-ass. Their MARTINI Vibrante is just as deliciously complex, with a citrusy hint. This brings Apertivo hour to the masses, so bring on the salty snacks and olive bowls. La Dolce Vita is for everyone, baby!
How to drink it: A generous dousing of tonic water makes a perfect pairing with MARTINI Non-Alcoholic Vibrante's citrus taste. Best expressed in a glass with plenty of ice, a mix 50/50 with tonic so really let this one shine.
Where to get it: Get it on Ocado
Why we love it: What do you do when you're a conservation biologist who owns a bar? You create a non-alcoholic aperitif. Obviously. Paul Matthew is all about that plant life. And sustainability. Turns out when you know your sh*t about botanicals, it's easy to create something which tastes f*cking delicious and doesn't rely on an alcoholic buzz to catch a drinkers eye. There are 3 flavours in the range; Forest is the OG, made with 14 bittersweet botanicals that find their home in the woods (think cassia bark, orange blossom and gentian); then you've got Marine which gets its round umami flavour from seaweed, plus  a subtle gin vibe thanks to a hit of juniper; then finally you've got Mountain which brings piney-fresh and floral notes to the party with rosehip and cherry blossom. Hangover who?
How to drink it: Everleaf Forest is brimming with botanicals that give it a tropical forest smell (!) and a wild 'n juicy taste, and all of that makes for a pretty epic year-round spritz.
Where to get it: From the source (and they'll give you 10% off your first order, too - legends) or you can pick up a bottle in M&S.
Why we love it: When you're based by the sea, you're always gonna make waves when you bring out a new product. That's what the Salcombe Gin crew have done with this new bottle inspired by the heritage of London Dry Gin and all the gin making principles (and if you've tried any of their gins, you know they know what they're doing there) Naturally, you'll find juniper kicking it in there along with zesty ginger and habanero capsicum. It's a balanced beauty with plenty of citrus and floral notes going on. Delish.
How to drink it: To bring out the tangy citrus and spicy gingers notes of this liquid, pair it with a few flavours of tropical fruits with a Becalmed cocktail; 50ml 'New London Light', 10ml Agave syrup, 15ml Lime juice, 100ml Coconut water - stir it all together in your glass and garnish with a slice of pineapple & star anise.
Where to buy it: From the Salcombe Gin website
Why we love it: Sometimes food just doesn't taste as good without a drink by its side. Non-alc No. 18 by Nine Elms has been designed to complement good food and its as complex & balanced as a Fleetwood Mac album. Like the best of 'em, they've taken this down the botanical road with 20 different flowers, herbs and spices, and the juice of 4 types of berry.
How to drink it: This is very easy to pair with a sh*t loada diferent dishes. Mix it into a cocktail or serve it straight like we do. It might look like red vino, but you won't have that headache the next day.
Where to get it: From any of these stockists
Why we love it: This plant-powered 'social elixir' combines eleven herbs and plants which have naturally blissful qualities of their own. It's bittersweet with a curious savoury bite. Sounds right up our Straße. And then there's the effect. You know that kinda giddy, kinda talkative feeling you get after two cocktails? This concoction gets you there, booze-free. Oh, and did we mention it was created by the OG founder of BarChick? Hell yeah!
How to drink it: Try it in a herbal stimulant. Based on the Espresso Martini, it's the perfect pick me up. Social Elixir charged with espresso, now that's a party in a glass right there. 50ml Social Elixir, 25ml espresso strength coffee, 7.5ml (a teaspoon and a half) of maple syrup. Add all ingredients to an ice-filled cocktail shaker and shake HARD until ice-cold and fine strain into a chilled cocktail glass. Garnish with grated raw cocoa beans.
Where to get it: From the Three Spirit webshop
Why we love it: Seedlip was the world's first distilled non-alcoholic spirit. They use herbal remedies (no, not those herbal remedies) and distillation techniques that date back to the mid-16th century (old school) -- but in layman's terms, it's pretty much made the same way as gin, but it's NOT gin. Creator Ben combined six botanicals to make Seedlip: allspice, grapefruit, lemon peel, cardamom, American oak and cascarilla bark. Not a juniper berry in sight. 
How to drink it: Give it a go in a MartiNO, a non alc take on a Martini. Mix 40ml of Seedlip Garden 108 & Æcorn Dry over ice & strain into a coupe. Garnish with an olive.
Where to get it: From the Seedlip website.
Why we love it: This is the sister brand of Seedlip, designed to enhance and compliment their non-alc spirits. The idea? To allow you to create killer non-alcoholic cocktails - start to finish. Yes, great for bartenders, but just as important for when you wanna get your groove on in your crib. When it comes to pioneering, these guys really are it.
How to drink it: In a NOgroni, the non-alc alt for the legendary Italian aperitif; 25ml Seedlip Spice, 25ml Æcorn Aromatic & 25ml Æcorn Bitter over ice in a rocks glass and garnish with an orange peel. 
Where to get it: Also from the Seedlip site. You can even buy the NOgroni bundle 
Why we love it: Ceder's describes its range of three drinks as "alt-gin", so if that's the spirit you're craving, this is the one to go for. It was created by hubby and wife pair Craig & Maria when Maria was preggo and missed the "sophisticated" adult drinking experience. Apparently, soda and lime just didn't cut it. Totally fair, babe.
How to drink it: It's designed to either be served on the rocks or with a tonic. We go for the latter with the Ceder's Classic. It's the closest you get to a G&T without the G.
Where to get it: Get your hands on the whole fam here
Why we love it: There'll be no Jack Sparrow style swaying after a few measures of this bad boy. This non-alcoholic RumIsh has all the characteristics of rum, without the balance impeding qualities of its boozy counterpart. RumISH is made from Madagascar vanilla and nutmeg – similar notes that you'll find in a typical dark rum. 
How to drink it: Try a Daiquirish, with 60ml of RumISH, 20ml of fresh lime juice and 20ml simple syrup. Shake it together with ice and fine strain into a chilled coupe before garnishing with a lime wheel.
Where to get it: All the stockists are right here for you
Why we love it: This is the gin to drink when you want to drink less alcohol. Literally. This game-changing SMALL gin allows you to make a full-size G&T with just 5ml of the stuff. The tiny serving size allows you to reduce the alcohol in your G&T by an incredible 80%, while keeping all the wonderful gin character. Each bottle of Small Gin comes with a specially designed 5ml measuring thimble hand-tied around the neck and contains the same botanical flavour as a 25ml measure of standard gin. This is HUGE.
How to drink it: In their Perfect Serve: 5ml (a thimbleful) of Hayman's Small Gin topped with 100ml tonic and garnish with a lemon peel (that's a total of 0.2 units of alcohol)
Where to get it: Get it from the Master (and PS. pocket-sized gin bottle (20cl) contains 40 serves!)
Why we love it: We've all followed the siren call of a night fuelled by Long Island Iced Teas which has lead us into the dark pit of a two-day hangover.  Stryyk's solution is a combo of the warming spice of capsicum with the cooling notes of cucumber and menthol, which emulates the characteristics of a classic pure vodka but with none of the bad decision inducing alcohol. It's got no sugar, no artificial flavours and no allergens, so you can power through the party and still burn bright like the god damn star you are the next day. Whoopa!
How to drink it: When we think vodka, we think Pornstar Martini. When we think Not Vodka... we still think Pornstar Martini, but strike the vodka... or more accurately, STRYYK the vodka. Add 50ml of Not Vodka, 35ml Passionfruit Puree, 10ml Vanilla syrup & 10ml of Passionfruit syrup to a shaker with ice and do your thing. Pour into a coupe and garnish with half a passionfruit. 
Where to get it: Get it here
Why we love it: Wanna keep a clear head while soaking up the fresh, summery flavours of Aperitivo Hour? Wilfred's ya guy. This rosy bottle brings a carefully crafted blend of distilled natural rosemary, bittersweet orange, rhubarb and clove to your evenings while the booze remains at bay. You want natural? This baby ain't just free of the booze; you'll also find its void of allergens, artificial flavours, sweeteners and colours. We think your Aperitivo Hour just got extended.
How to drink it: It's gotta be a Spritz. Chuck a load of ice into your favourite (and biggest) wine glass, and add 50ml Wilfred's Aperitif before topping with 100ml of your preferred premium tonic water. Garnish with a fat wedge of orange and kick back in the sun.
Where to get it: Right here.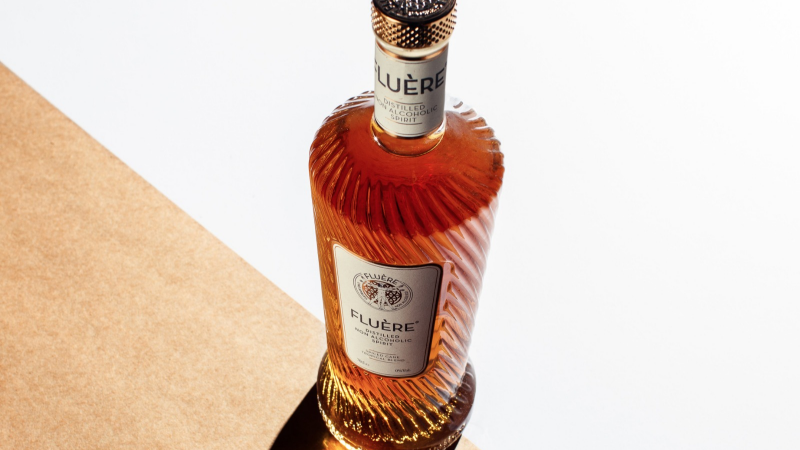 Why we love it: First off: that bottle is a beauty. Stick it on our booze shelf and we'll happily stare at it all day long. But it's whats on the inside that counts, and that dark, chocolatey liquid hits you with hints of dark roasted coffee, cocoa, liquorice, tonka beans and toffee. Hmm-mm. Its crafted from pure sugar cane molasses, so yeh, maybe you'll pick up some rum vibes. But this ain't rum. It's it's own thing, baby.
How to drink it: Its complex profile means it's good for seductive drinks, and when you're feelin' flirty, the Fluèrito is a peppy number that should get your heart racing. Shake together 60ml of FLUÈRE Spiced Cane Dark Roast with 30 ml lime juice & 20 ml sugar syrup and double strain into a coupe glass. Garnish with a lime peel.
Where to buy it: They'll hook you up over here. 
Why we love it: Who'd have thought that notorious Made in Chelsea party boy Spencer Matthews would go and bring out a range of low-booze spirits? Not us. But after a few too many years of going a bit too hard on the King's Road, the reality TV star decided to ditch heavy nights & create a "gin" with 30x LESS alcohol - which happens to be less booze than a freshly baked bread roll... whaaaat?! While it can't technically be called a gin (European law states that it must contain 37.5% alcohol) you could say this is gin's healthier, lighter cousin.
How to drink it: Give it a go in the "Clean Club" and wet shake 50ml of CleanGin, 15ml of lemon juice, 15ml of honey syrup, 2.5ml orange blossom water and 4 raspberries over ice before fine straining and shaking again without ice. Pour into a tumbler and serve.
Where to get it: The CleanCo crew will sort you out
Why we love it: When something is referred to as "the Champagne of...", you know it's gonna grab our attention. This particular bottle is known as "The Champagne of tea". Now that's our kinda brew. It won Sommeliers Choice at the Imbibe No & Low Awards 2020, and it's always a top pick when it comes to a bad-ass non-alc alternative to sparkling wine. Expect notes of rhubarb, white peach and a touch of blackcurrant. When it comes to boozeless fizz, this is the real deal.
How to drink it: Like you would a wine or champagne, baby. Try pairing it with food - it works like a charm.
Where to get it: From the Real Kombucha crew.