Whether you're looking for the perfect bar to hit on Valentine's Day or you just wanna spice up your week by treating your special someone to a next-level night out, we know a place. From sky-high wonders to low-key wine bars and subterranean watering holes, these are London's most romantic bars and sexiest date spots.
KILLER COCKTAILS 
Look for the glam Art Deco-style swing doors on the corner, or keep an ear out for the live jazz, and take a step back in time. This spot is all decked out in Edwardian style, the era in which its namesake cocktail was created, but with hints of glam from the '20s and '30s, as well as a cocktail menu that takes you on an epic journey through the decades right into the future. It's a head f*ck of a time warp, and we're into it. The cocktails rock, and the bartenders (big up Marian and Rusty) are some of the best in town. 
44 Old St, London EC1V 9AQ
From a little 20-seater shipping container in Pop Brixton to a restaurant in the pride land (AKA Soho), the duo behind Kricket are nailing it so hard, and their first bar is no exception. This modern and minimalistic take on a basement speakeasy is sure to wow any date lucky enough to be taken there. Soma is all about killer drinks made with seasonal ingredients, high-quality spirits and spices that take centre stage, influenced by the Indian subcontinent. Plus it's got plenty of little tables hidden behind curtains, if you're feeling like a little privacy.
14 Denman St, London W1D 7HJ
We usually steer clear of rooms that can only be hired by the hour, especially when on a date, but we'll always make an exception for this nugget on Bow Lane. Hella intimate, totally hidden and completely personal, book an hour in The Brig, AKA the smallest bar in London, and it's exclusively yours for an hour - the only person ya have to share it with is the bartender, who will mix you up as many drinks as you like in the timeslot. No, that isn't a challenge.
Merchant House of Bow Lane, 13 Well Court off Bow Lane, London EC4M 9DN
SEXY HOTEL BARS
When you're pulling out all the stops, pull up a seat at the Corinthia London's super-suave bar - a collaboration with OG bartender Salvatore "The Maestro" Calabrese. It's all in the details here, from the stunning glassware with playful pops of colour, to the romantic candles that sit atop every surface, to the high-end drinks (hello, Truffle Sazerac). Amid all this luxury, the gorgeous Art Deco-style bar is the star of the production, flanked by lavish red velvet curtains that make the room feel both intimate and grand. Yup, this one's marriage material.
Corinthia London, Whitehall Place, London SW1A 2BD
This is one hell of a beautiful bar. It's glam, majorly Art Deco and not for the faint-hearted when it comes to funds. Into filthy Martinis and the 1920s? Who isn't? Hail down the lacquered Martini trolley and watch the waistcoated bartenders work their magic. Your date will be mega impressed. Promise. And after the kinda bill you're gonna rack up here, you might as well hammer the final nail in and book into an insane suite. It'll be the stuff that legendary nights are made of, for sure.
Carlos Place, Mayfair, London, W1K 2AL
This is one of BarChick's failsafes. First up - it's riverside, dressed in elegant light blues and chromes. Ryan "Mr Lyan" Chetiyawardana is the man behind its inventive cocktails, and to call him a legend is an understatement. Defo get a window seat so you can stare at St Paul's and the lit-up city. It's not candlelit, and there isn't an old geezer singing Sinatra, but it's properly romantic in a new-world, swanky kinda style. Seal the deal with a room upstairs in the Sea Containers, just a swagger away, and you're winning on all fronts.
20 Upper Ground, London, SE1 9PD
Planning on skipping town for a romantic weekend in Paris? The adventure starts early if you swing by this sexy hotel bar first. It directly links the station to the St Pancras Renaissance Hotel (which is where The Spice Girls filmed the music video for "Wannabe", FYI). Talk about a bar with double-height grandeur! With an eight-metre-tall palm tree, three pendant lights made up of 267 brass leaves and a 22-metre long bar, this is a luxurious reimagining of the original 19t- century St. Pancras ticket hall. And hey, if you miss your train to the continent, you're not far from a luxurious hotel experience upstairs. If you wanna be our lover, this is where to take us on a date.
St. Pancras Renaissance Hotel, Euston Rd, Kings Cross, London NW1 2AR
WINING (AND MAYBE DINING)
This Dickensian cave is the wine cellar you wish you had at home, as well as the ultimate date spot. It's candlelit and it's hopelessly romantic, just the way BarChick likes it. Settle in and work through the extensive wine list. Feeling faint? It's cool: heaps of cheese and pickles are on hand to keep you level. Oh, and the lighting here is on your side, so no need to bother with the foundation - your natural glow is enchanting, babe.
47 Villiers Street, London, WC2N 6NE
Bloomsbury's got itself a perfect little bolthole wine bar that looks like it was plucked right outta Paris circa the 1940s, and BarChick's in love. Everything in this place is tres vintage, from the green walls to the refurbed light fixtures, dark wood panelling, foggy panes and roaring log fires. Wanna expand your horizons and chuck the sh*t Sauv in the bin? Noble Rot knows what's up, with wines from underrated countries like Croatia and Greece to prove it. It's even got hard-to-find labels that'll keep the wine snobs happy. Pair the vino with some fat olives and oysters, and you've smashed date night.
51 Lamb's Conduit St, London WC1N 3NB  
Champagne in the space that used to be Prince Charles' wine cellar? Sounds pretty romantic to us. Exposed brick, vaulted ceilings and one of the largest collections of magnums in London - tbh, we're pretty impressed this basement champagne bar has managed to remain a secret for this long. It's got a killer plonk list, with big names like Moët & Chandon, Drappier and Dom Pérignon, all the way down to the smaller houses that'll really make your date one to remember.
116 Pall Mall, St. James's, London SW1Y 5ED

SULTRY SPEAKEASIES
Head underground at the swanky NoMad hotel and you'll find this high-drama cocktail den, one of our fave openings from 2022. The decor doesn't shy away from grandeur, with dramatic lighting, lush fabrics and plenty of corners to cosy up in with your hot date. Speaking of heat - if the Szechuan Gibson is on offer when you're there, you're gonna want to get involved.
28 Bow St, London WC2E 7AW
This subterranean bar has some proper Golden Age New York vibes. The walls are papered in 1920s aeroplane motifs and hung with Tumulte Noir art. The setting alone will have the conversation flowing before you've even ordered your first Manhattan. Speaking of: If you're feeling in a grown-up mood, hit up the Saratoga. It's a Manhattan with attitude, made with Whistle Pig Rye, Hennessy Fine de Cognac, sweet vermouth and a blend of bitters. 
20 Sherwood St, London W1F 7ED
BarChick's a sucker for subterranean boozers under whisky shops, so The Vault is obvs gonna be at the top of our list. If you want a five-course spread and a penguin suit dress code, this ain't for you; but if you dig whisky and sh*t hot cocktails, get on board. Upstairs is London's oldest whisky shop, where you can get warmed up at the tasting bar with a single malt (or two) in hand, but downstairs is where it's at. Give the bookcase a nudge and descend: you'll come face to face with a dimly lit den decked out with old chesterfields and bare brick walls. Dark corners, killer cocktails and a loads of character is what The Vault is about. 
3 Greek Street, London, W1D 4NX
If there's anywhere conducive to matching and mating, it's this signless, hidden basement bar. Happiness has some serious candle-lit nook-and-cranny tables that are bang-on for an intimate evening, and bars don't get much sexier. There'll be no gaggles of groups down here, so you can drink that off-the-scale cocktail in peace. Like a good round of banter? If your date doesn't cut it, the bartender will.
9 Hoxton Square, London N1 6NU 
THE HOTTEST TABLES IN TOWN
Wanna introduce your date to a whole new level of hedonism? Say hello to Bacchanalia, the latest project from Sexy Fish creator Richard Caring. If the Damien Hirst artwork and ancient Greco-Roman sculptures don't keep the conversation flowing, busy yourself with tucking into the lavish Mediterranean cuisine and cocktails. It might not be easy to get a primetime booking here, but good things come to those who wait.
1-3 Mount St, London W1K 3NA
Restaurateur Alan Yau's Shanghai-inspired spot in Mayfair is seduction at its finest, dripping with red curtains and sexy decor in a jazzy 1930s kinda way. If you're into nostalgic romance, the dinner dance aesthetic and sentimental crooners and pianists, this is the one for you. And at 15,200 square feet, it's pretty impressive.
17 Berkeley Street, London W1S 4NF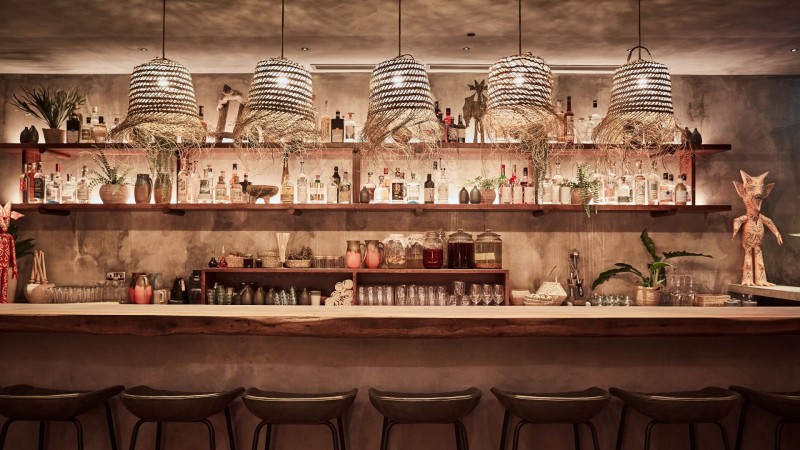 Into forward planning? Good, 'cos there's about a three-month wait for a table at this next-level Mexican restaurant in Marylebone. But trust us when we say: it's worth it. You'll need to flex the plastic - food like this doesn't come cheap, but just think of the Airmiles. The dishes are as close to the real deal as you can get without digging out your passport, and the agave list is legit. Kick things off with a Kol Margarita, or if you wanna impress, hit up the agave pairing menu. Those smoky spirits will taste epic with family-style tortillas - go for the octopus with bone marrow for something extra luxurious. Don't want the Mexican party to stop once you've scraped your plates clean? Then head down the spiral staircase to the Mezcaleria and let the fiesta continue with a round of Mezcal Martinis.
9 Seymour St, London W1H 7BA
COOL CATS
If your date is a Bowie fan, this cosy little spot in Soho will win you some major points. Enjoy a drink upstairs, then ask one of the bar team if you and your special someone can take a peek downstairs, where they've got a full-blown altar to our man Ziggy Stardust - not to mention some serious interior design inspo. 
22 Great Windmill St, London W1D 7LD
Big on Cluedo, Sherlock and '20s Prohibition? Good. First things first: you better come loaded with a good case of blackmail or alien abduction, 'cos you have some serious role play to do if you want to make it through that bookcase and into the bar. Leave your newfangled devices at the door (or in your pocket) and hit up the hard stuff. Every cocktail's a winner, but if your date's not into it, steer 'em toward the beer dispensing radiator. Whatever you do, the crumbling green walls, crackly Boardwalk Empire tunes and apothecary drawers will leave you and your date feeling well snug.
310c Earls Court Road, London, SW5 9BA
Feeling naughty? This Brick Lane slammer is criminally good fun. You've done the crime, now ya gotta do the time - but good news is your sentence is only for an hour and 45, and that's plenty of time to enjoy four crowd-pleasing cocktails made with the booze you've managed to sneak in past the warden. There's no strip search in place, but if you're feeling frisky you can ask your date/cellmate to do the job once you're outta the slammer.  
212 Brick Ln, London E1 6SA
LIVE MUSIC VIBES
Hands down one of the best bars in London. This NYC-style speakeasy boasts a killer cocktail menu with no shortage of playful, over-the-top garnishes. Pair those drinks with some cheese/charcuterie and you won't be going anywhere anytime soon, which is sweet 'cos you're gonna stay for the live ragtime, blues and swing. It's bookings only, so if you want that date to run smoothly, you know what to do. Try the Carnaby location if you're feelin' a Soho vibe. 
129 City Road, London, EC1V 1JB
Expect the vibrancy of Mexico and the sexiness of a 1920s Harlem jazz club at this bad-ass scarlet basement bar in Stokey. Plush velvet banquet-style seating, low lighting and candles complete the seriously sassy effect. It's a vibe we are here for. This place is a hub of girl power, and the place to hit up if you're itching for a taste of some female-led live music. They have a diverse roster of artists jamming nightly, so you'll easily find something to suit your and your date's tastes. The crew from Tigre Tacos upstairs are on hand to give you a Mexican feed to pair with the fly menu of mezcal cocktails, too.
92 Stoke Newington High St, Clapton, London N16 7NY
Thanks to its Daisy Buchanan-meets-tropical disco vibe and wickedly creative cocktails, Fitz's at the Kimpton Fitzroy hotel is worth visiting any day of the week - but we suggest bringing your date here on a Thursday or Friday evening to bless your ears with the jams of some seriously talented musicians playing jazzy covers of some of our fave rock, pop and folk classics. 
Kimpton Fitzroy, Russell Square, Bloomsbury, London WC1B 5BE
KICK-ASS VIEWS
Take a ride up to the 40th floor of the Heron Tower and you'll hit one of London's highest bars, where you can chill face-to-face with The Shard and The Gherkin. Fretting about last call? Don't. This baby's got a 24-hour licence, which means your date doesn't have to end. Espresso Martinis at 5am? Sure. Breakfast at midnight? Whatever. When London shuts down and goes dark, this is where you wanna be.
Heron Tower, 110 Bishopsgate, London, EC2N 4AY
Great Gatsby, eat your heart out. This dark and mysterious Art Deco-inspired oasis sits high and mighty on the 24th floor and has one hell of a view of the lit-up city. Show your date a grand time with their new, puntastic cocktail list. Hungry? Jason Atherton's behind the food, so you probably should get some snacks at least. BarChick swears by this place, it does the trick every time.
Tower 42, Old Broad Street, London, EC2N 1HQ
Get yourself 10 storeys up at The Standard, and you'll find yourself in the hotel's glitzy cocktail lounge. From the floor-to-ceiling windows with wicked views of King's Cross and beyond, to the massive disco ball looming large next to the bar, this place is EXTRA. The drinks are too - and with names like Let's Go and Be Mine, you can send your date boozy messages through your order all night long.
10 Argyle Street, London WC1H 8EG