Winter Is Coming...
Kate Malczewski talked to 5 of the UK's top bartenders to find out which cosy drinks they'll be shaking up this winter. You're welcome... 
Sazerac 
Recommended by Will Meredith, Lyaness, London 
As the head bartender of Lyaness AKA one of the best bars in the world, our pal Will Meredith knows a thing or two about classic cocktails – so we're thrilled that he's given us his go-to recipe for this New Orleans classic. "My personal favourite Sazerac contains cognac, as its silky rich body is the perfect saviour for a cold wintry evening," says Will. Amen to that. 
 
60ml VSOP Cognac 
5ml 2:1 sugar syrup 
4 dashes Peychaud's bitters 
2 dashes Absinthe 
 
Combine all ingredients in a mixing glass over ice. Stir and strain into a tumbler without ice. Garnish with a spritz of lemon oils.  
William Chestnut Sour 
Recommended by Cressida Lawlor, London Cocktail Club, London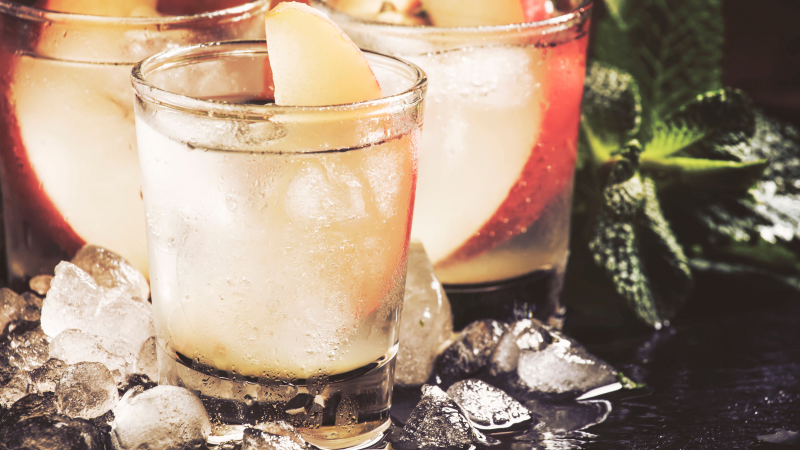 Cressy Lawlor has made her mark on the capital's bartending scene at London Cocktail Club (and she's taught us a trick or two through her highly entertaining YouTube channel, too).  
Her winter cocktail of choice plays on nostalgia with ingredients like chestnut liqueur and scotch: "I've loved chestnuts ever since I was a child as it is one of the flavours I most associate with winter," she says. "The scotch is for the fact that my granny would always be drinking a little scotch and water [as she watched] over myself and my siblings whilst we tried to throw chestnuts in the fire and fish them out with sticks."  
 
1 quarter William pear 
30ml Monkey Shoulder Scotch Whisky 
20ml Briottet Crème de Châtaigne (chestnut liqueur) 
20ml lemon juice  
15ml sugar syrup 
3 drops Ms Betters Bitters Miraculous Foamer 
2 dashes Angostura Bitters  
Pear slices, for garnish  
 
In a cocktail shaker, muddle the pear quarter. Add all of the ingredients except the garnish and shake well. Strain into a rocks glass and garnish with the pear slices.  
Just a Wanky Negroni 
Recommended by Tatjana Sendzimir, FAM Bar, London
With its killer record collection and lovely team, FAM in Mayfair is undoubtedly one of our favourite places to prop up the bar on a cold winter's night – so to recreate its cosy vibes at home, we asked FAM's general manager, Tatjana Sendzimir, for her ultimate cold-weather serve.  
"I love a Negroni year round but I find that the interplay of different flavours in this one, both lighter and more full-bodied, really works beautifully on these increasingly cold winter nights, she says. "Plus you can prebatch a bunch and it's just the easiest cocktail to prepare, meaning you can get to be cosy on the sofa all the faster." And if you're in the mood to mask up and hit the town, this glorious drink is also on the menu at FAM – why not sample it there? 
 
7.5ml Fords Gin 
17.5ml Singani 63 
25ml Londinio Aperitivo 
12.5ml Punt e Mes 
12.5ml Londinio Rosé Vermouth  
15ml water 
Orange twist, to garnish 
 
Combine all ingredients in a bottle, seal, and shake to combine. Store in the fridge. When ready to serve, pour over ice and garnish with the orange twist. 
A Winter's Night  
Recommended by Karl Stanley, Science + Industry, Manchester
We're obsessed with the dark, moody atmosphere and creative drinks of Manchester bar Science + Industry, and we figured its bar manager Karl Stanley would deliver a standout winter warmer recipe. We weren't wrong.  
This boozy masterpiece gets its deep festive flavour from rum and cognac, plus a few special ingredients. "The true winter spirit comes from the candied raisin notes of the Pedro Ximenez, which works in true harmony with the fig and plum syrup," Karl explains. "For me, this is the perfect beverage when you're sitting watching films with friends or family during the darker, colder nights." 
 
25ml Appleton 8 Rum 
25ml Fanny Fougerat Petit Cigue Cognac  
10ml Pedro Ximenez sherry  
15ml fig and plum syrup*  
2 dashes Angostura Bitters  
2 dashes black walnut bitters  
 
Combine all ingredients in a mixing glass over ice. Stir and strain into a coupe glass. 
 
*Combine 50g diced fresh plums, 50g sliced fresh figs, and 500ml water in a saucepan and bring to a boil over medium heat. Simmer for 25 minutes, then strain the liquid into a jar. Add 250g caster sugar to the liquid, stir, and allow to cool. 
Coffee Cocktail
Recommended by Nicole Sykes, Satan's Whiskers, London
When Nicole Sykes tells us that a drink is good, we listen. She's made her mark on bars including Voodoo Rooms in Edinburgh and Lyaness in London, and now she's running the show at one of our fave east London hangouts, Satan's Whiskers.  
Her wintry recommendation is the Coffee Cocktail, which doesn't actually contain coffee at all (its name comes from the drink's resemblance to coffee). "The warm spice and vanilla from the cognac, candied grapes and raisin from the port are all things we associate with winter," Nicole says. "Grating fresh nutmeg on top brings back familiar smells from those fairy-lit winter markets. The drink itself is like a warm hug!" 
 
1 whole egg 
15ml simple syrup  
30ml LVB Port 
30ml Martell VSOP Cognac  
Grated nutmeg, for garnish 
 
Combine all ingredients except garnish in a cocktail shaker without ice. Dry shake, then add ice and shake again. Strain into a small wine glass or coupe and garnish.