And not a photocopied arse-cheek in sight...
This is the one time of year you can really let loose with your colleagues. Don't go the lame route. Go all-out for your Christmas party this year (it's on the company after all). From badass party basements to secret debaucherous party rooms. Here's BarChick's favourite party hangs... and they're all laced with plenty of mistletoe so you can finally snog the that hotty from marketing you've been eyeing up this year. 
This is one helluva banging basement bar. The sister to Brixton's legendary Seven bar, this is a snug low-key industrial-style hangout. It's an epic party place, with a killer cocktail list - expect dry ice galore and drinks served in anything from flower pots to coconuts. They've got a kick-ass basement with room for 30 which you can hire out for an awesome Christmas bash.
The details: 30 max capacity. Minimum Spend: None ( Yep) 384 Coldharbour Lane, Brixton, London, SW9 8LF 
With the LCC crew at the helm, it's a legendary party formula which works every time. They serve up insane potent cocktails, swinging lights and general mayhem all year round, so you know when it comes to festive fun, it's going to kick. off. Not everyone's in the know, but hidden behind the back wall of their Oxford Circus bar is a debaucherous party room that you can hire out exclusively - it's all yours, complete with your very own bar and hijinks galore.
The details: 50 max capacity. 4 Great Portland Street, London, W1W 8PA 
Book buff office? Y'all fit right in at this swish bar, themed around the Bloomsbury set crew. It's just the spot for a refined affair, with English colonial touches, plush leather chairs, and classy cocktails themed around Virginia Woolf and her gang. Book it all up for a group of up to 60. Enjoy!
The details: 60 pax max private hire. Approximate hire costs: £30 per head up to 20 guests, then above 20 around £1000  The Bloomsbury, 16-22 Great Russell Street, London WC1B 3NN 
Low-lit with a killer martini list Housed in the old Singer Sewing Machine building, with retro Chesterfields, original tiles and the bare bricks, this awesome low-lit bar can hold up to 140 of you. It's all about the gin in here, with epic G&Ts and a killer Martini menu - throw in some kickin' pub grub and you got yourself a party.
The details: 140 max capacity. Minimum spend: Depends on the night, 1.5k-6k, 1 City Road, London, EC1Y 1AE
This basement bar ain't easy to find, but that's kind of the point. This place has recently had a revamp, and a new lick of paint is an understatement - think less of the old Grandma chic style, and more vibrant colours, with mismatched boho-style patterns – there's a lot going on. The cocktails are wild, with flamboyant takes on the classics. The Stout Old Fashioned is a bit of us. A few of these and you might finally pluck up the courage to ask your boss for a raise.
The details: 60 people max. Whole venue hire: £3000 minimum spend (depending on day) 28 Rathbone Place, London, W1T 1JF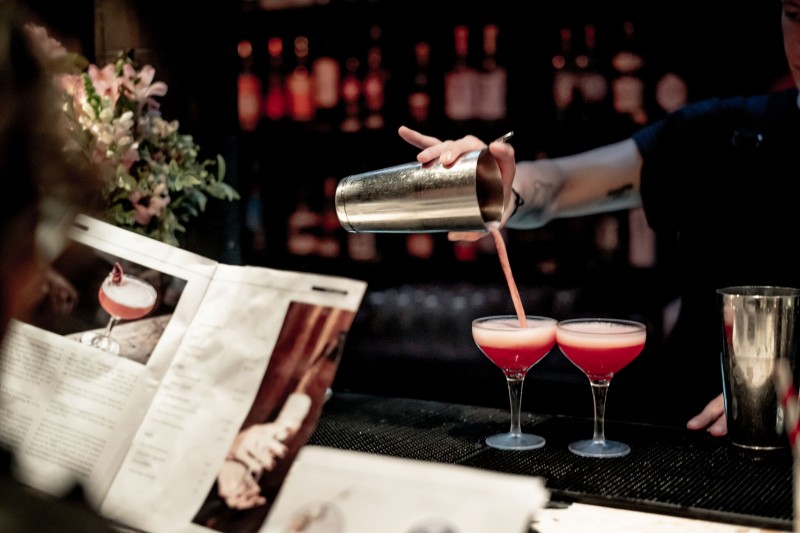 Palm prints, carved wooden tables, steel drum serenades and cocktails in coconuts. This is the party bar for those looking for a wilder kinda party. You can take over the whole cocktail venue, choose from one of the themed tropical areas in the main bar or commandeer the private Spiced Dry Rum Club upstairs, complete with your own sh*t hot bartender and a rum masterclass.
The details: Up to 150 people. Christmas packages start from £40pp. 144-145 Upper St, Islington, London N1 1QY
Nothing says Christmas like sipping on  winter warmer cocktails from within an igloo with a kick-ass view of London behind you. Skylight's transports guests to a wintry wonderland perched above the city. DJs crank up the volume with Christmas anthem remixes while you can make skate rings around your boss on the rooftop ice rink.
The details: You can exclusively hire the space for £75pp at a minimum for 50 guests. Tobacco Dock, Pennington St entrance, St Katharine's & Wapping, London E1W 2SF
Karaoke is fun, but when it comes to belting out the high notes of All I Want For Christmas, we prefer to leave it to the professionals.  Most of the time. This venue within a venue comes complete with a baby grand piano, singing waiters and an endless repertoire of hits you can request all night long, baby.  And if you wanna sing along, well that's encouraged. Your colleagues will just be spared the addition of a microphone.
The details: Sing Easy can be exclusively hired for 100 standing and up to 60 seated guests. 47 Whitcomb St, London WC2H 7DH
You should also check out: London's Best Party Bars /  BarChick's 2019 Christmas Guide