One martini is alright. Two are too many, and three are not enough.
"There are already too many rules to remember in life, so your Martini shouldn't come with a set of instructions as well. Get to know your Martini. If you want to shake it, go right ahead! If you prefer it with a splash of bitters and a twist of Amalfi lemon, then enjoy. Many of these variations may not fit the mould of what's classically thought to be a Martini, but if you love it a certain way, that's what makes it the most memorable, and perfect drink of all."
- Alessandro Palazzi, Martini Legend of DUKES London 
Wet Martini a la The Connaught Bar
Much like the bar, the Martinis at The Connaught are iconic. To recreate the full experience of The World's Best Bar at home, get dolled up and pop your side table on wheels to create your own Martini trolley. Voila. 
70 ml gin or vodka (they recommend Highclere Castle Gin or Snow Queen Vodka)
15 ml dry vermouth
3 dashes of bitters (They use Connaught lavender, cardamom, ginger, bergamot, or tonka signature aromatic bitters - go with whatever you prefer - we love these)
Olive or lemon
Add the dash of bitters to a frozen Martini glass. Stir the vodka/gin and vermouth in a mixing tin/glass with ice chunks, then serve straight up in your Martini glass. Garnish with an olive or lemon peel, whatever you're vibing. It's your Martini.
Dry Martini a la DUKES Bar London
Alessandro and his DUKES Bar team serve each of their legendary Martinis at your table, gently wetting the frozen glass with vermouth before pouring the gin directly into it. These Martinis are so deliciously potent they're limited to two per person. Time to exercise some self-restraint.
Coat your frozen glass with a small splash of dry vermouth (swill it around the glass and discard the excess) and fill the glass with gin. Do not stir, and garnish with a lemon peel. Now... pace yourself!
Pornstar Martini
Ya want a martini that'll get the party started? Always make it a Pornstar. This little number is sweet, naughty and dangerously smashable. We got this recipe from London's greatest party bar, the London Cocktail Club. You'll be dancing on your dining table LCC style after a few of these. 
35ml Finlandia Vodka
20ml Passionfruit Syrup
20ml Apple Juice
15ml Vanilla Sugar Syrup
20ml Prosecco or Champagne
Add all ingredients apart from your choice of fizz to a shaker along with a handful of ice, and shake it harder than your headboard during a saucy sesh. Fine strain it into your martini glass and garnish with half a passionfruit, and pour your bubbles into a shot glass on the side. That's the money shot.
Espresso Martini
Y'all know the story behind this iconic cocktail, right? Invented by the late great Dick Bradsell in Soho back in 1983, the Espresso Martini is as legendary as the supermodel that requested it. Get ready to be woken up and then f*cked up, baby!
30ml Vodka
30ml Mr Black Coffee Liqueur
30ml Good quality espresso
Combine ingredients in a shaker with ice and give it a hard shake before straining into coupette. Give yourself a moment to marvel at your work then let the buzz begin. BOOM.
Dirty Martini
When it comes to a Dirty Martini, we turn to Black Cow Vodka (to make it a Dirty Cow). This pure milk vodka is smooth and creamy, and when it gets a lil bit dirty, oh boy does it shine. This is how they make it at The Savoy's American Bar.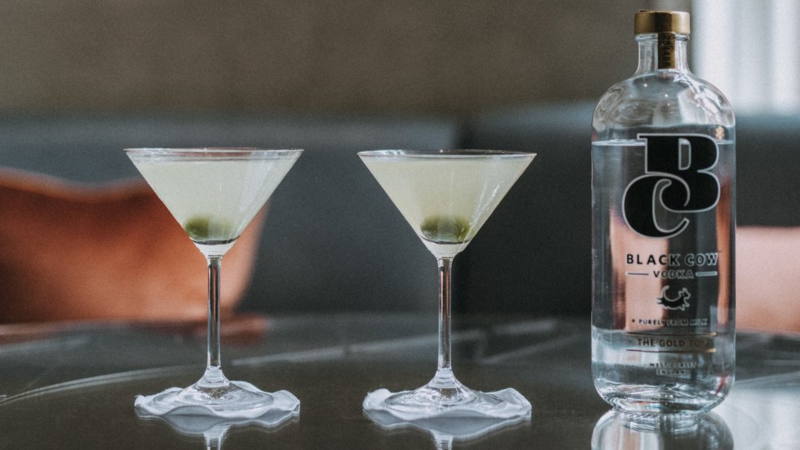 50ml Black Cow Vodka
Splash of dry Vermouth (you decide if you want it wet or dry)
5ml Olive Brine
1 large olive to garnish
Pour the Black Cow, a splash of dry vermouth and olive brine into a cocktail mixer or shaker with a handful of ice. Stir with a long spoon until the liquid is ice cold and the ice has started to dilute the mix. Strain the contents into a martini glass and garnish with an olive. Filthy!
French Martini - TT Liquor style
The French Martini is a gloriously 80's cocktail that plays a bit fast and loose with it's "Martini" title, but we can never resist that pastel pink sweet candy-like flavour. 
50ml Vodka
15ml Chambord
50ml Fresh Pineapple Juice
Fresh Raspberry to Garnish
Add the vodka, Chambord and pineapple juice to the shaker, and top it up with cubed ice. Pop on the lid and give it a hard shake for 10-15 seconds or until your shaker is very cold. Get a chilled Nick & Nora glass and double strain mixture into the glass. Garnish with a fresh raspberry or two. 
Vesper Martini
If you've seen Casino Royale, you'll know the moment James Bond "invented" this legendary martini during a killer game of poker; "Three measures of Gordon's, one of vodka, half a measure of Kina Lillet. Shake it very well until it's ice-cold, then add a large thin slice of lemon-peel."  Drinks don't get more iconic than this.
Do as Bond says.
Image: The Distillery, Notting Hill - Check out their epic James Bond experience to learn more about the drinks of 007
Breakfast Martini
Just cos it's got the word breakfast in it doesn't mean you should replace your morning OJ with this potent and fruity cocktail... though we wouldn't judge ya if you did.
50ml Gin - your choice!
15ml Cointreau
15ml Fresh Lemon Juice
1 full bar spoon of Fine Cut Orange Marmalade
In a cocktail shaker place the spoonful of marmalade with ice and stir it to dilute. Then add the rest of the ingredients and shake with more cubed ice for 10 seconds. Double strain into a martini coupe glass.
Image: Aqua Shard Breakfast Martini
Gibson Martini
The Gibson is the Martini's savoury sister, equally as boozy with gin and dry vermouth, a spritz of lemon zest and swapping the classic olive for a pickled onion. If you're looking for the best in London, you'll find it at the eponymously named Gibson Bar in Shoreditch where they serve it in a vintage silver martini glass, with a hefty onion sunk at the bottom of the cocktail, along with a side of thinly sliced Parmesan and another huge onion on the side. 
Stir down the gin and vermouth in a cocktail mixer with ice before straining into your glass. Add a pickled onion (or slide a few onto a cocktail stick and rest in the glass to stir in the pickle juice).
Vodka Martini
If gin ain't your thing, try this cleaner variation. Don't waste this wicked cocktail on cheap booze cos it'll have nowhere to hide. This is where a premium vodka comes into its own - so we turn to Ramsbury's Single Estate Vodka with its creamy vanilla and buttery wheat flavour. Spot on. 
Stir down the vodka and vermouth with ice and strain into a chilled glass.
To become a Martini Master (and really impress at your next cocktail party), check out our ULTIMATE guide to the world's most iconic cocktail