With tons of new bottles hitting the shelves as the mercury rises, we've hand-picked 10 next-level new vodkas, whiskies, gins, rums, non-alc options and more that'll keep your thirst quenched all summer long. 
Portobello Road Distillery British Asparagus Vodka

When the folks at Portobello Road Gin entered the vodka game, we knew the juice was gonna be good - so even though a spirit flavoured with asparagus sounds a little off the wall, ya gotta trust us on this one. It's soft, fresh, lightly sweet, vegetal and earthy, with loads of big asparagus notes (we can confirm it does NOT make your... well, you get it).
And when we say this stuff is fresh, we mean it. The asparagus is harvested at the height of the season from Portwood Farm in Norfolk, then steeped for 24 hours in Portobello Road's Potato Vodka. The whole farm-to-bottle process takes less than a week, and results in extremely limited quantities - we're talkin' 600 bottles. Snap it up while ya can. 
How to drink it: It's gotta be a Martini, baby. Go easy on the vermouth and garnish with a spear of pickled asparagus. That's basically a salad, no?
Decem
This new range from MasterChef finalist Billy Wright is all about going low. Decem has launched with three "light spirits", each one clocking in at 10% ABV. There's Spiced Blend, which is modelled after spiced rum; Aperitif, inspired by Italian bitters; and London Dry, an alternative to gin.
Our pick of the three is the London Dry: it contains all the usual gin suspects - think juniper, coriander, wormwood, orris root, lemon and orange peel and more - and delivers convincing gin flavour at a much lower alcohol level. Perfect for summer sessions when ya wanna knock back multiple drinks without knocking yourself out.
How to drink it: The London Dry is crying out for some tonic, so make it happen. We're also keen to try this one in a Negroni, where its big botanical flavours are bound to shine through.
£30 per bottle, decemdrinks.com
Takamaka St André Series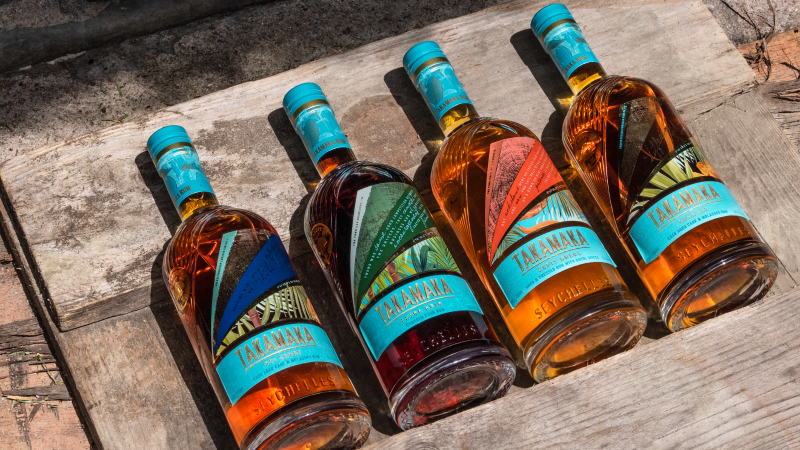 This collection from Seychelles-based rum producer Takamaka is a rum lover's fantasy, with four bottles packing loads of flavour. There's Extra Noir, which gets a triple hit of oak; Zepis Kreol, a full-strength spiced rum with a light vanilla sweetness, a sparky punch and notes of cinnamon and nutmeg; Pti Lakaz, a rich and fruity blend of Seychelles rum, molasses rum aged in ex-bourbon casks for three years and Bajan Foursquare molasses rum; and Grankaz, touted as the "epitome of Seychelles rum", with traditional pot-distilled cane rum aged in medium-toast new French oak, three-year-old ex-bourbon molasses rum and eight-year-old Bajan Foursquare molasses rum.
All of 'em are ace, but our favourite of the bunch is Grankaz, which is as smooth-sipping as they come, with lush notes of vanilla, butterscotch and loads of tropical and stewed fruit.  
How to drink it: You can - and should - sip these neat, but we've naturally got some cocktail recs too. Extra Noir would be great in a Highball; just mix with soda water and let it shine. Zepis Kreol was born for a Dark & Stormy, and Pti Lakaz would smash a rum-based Espresso Martini thanks to its rich cocoa notes. Try Grankaz in a Rum Old Fashioned - we guarantee it's gonna be bangin'.
£35-£50, masterofmalt.com
Amaro Santoni
Give your itty-bitty overgrown garden some grand Florence piazza energy by sitting outside with a glass of Amaro Santoni. This new Italian aperitivo is made with 34 botanicals, including rhubarb, olive leaves and iris, which lend it a gorgeous ruby-red colour and bold, bright flavour. Plus, we're kinda in love with the bottle, with its pink top and floral label - pure holiday vibes.
How to drink it: Honestly, this is delicious simply topped with soda water. But to really jazz things up, try it in a Negroni: one part Amaro Santoni, one part sweet vermouth and one part gin.
£23.95, whiskyexchange.com
Pale Fox Non-Alc Sparkling Wine
Looking for a bubbly without the booze? Pale Fox has ya covered with their new non-alc. This one's made from Trebbiano grapes from Abruzzo and the brand's own Prosecco grapes, which are made into a still white wine. Then the alcohol is removed and the bubbles are added, resulting in a dry no-ABV fizz that leans much more towards Prosecco than it does sparkling grape juice.
How to drink it: Chill and pour into flute - simple as. We're also keen to try it in a lower-ABV version of a Negroni Sbagliato (that's sweet vermouth, Campari and Prosecco).
£21.95, palefoxprosecco.com
The Glenlivet Sample Room Collection
This one goes out to all the Scotch fanatics out there with a passion for unique drams and a fair amount of cash to burn. The Glenlivet's new Sample Room Collection is pure luxury, featuring a 21 Year Old triple-finished in oloroso sherry, Troncais oak Cognac and vintage Colheita port casks, and a 25 Year Old double-finished in PX sherry and Troncais oak Cognac casks.
Yep, these are some next-level whiskies, and we were lucky enough to get a first taste. The 21 Year Old delivers some real fruitiness, with pears, apples and even some fresh strawberries, along with a honeyed sweetness and spices like ginger and cinnamon. Meanwhile, the 25 Year Old is super rich and luscious, with deep chocolate notes, baking spices and lots of raisins and dried fruit. We suggest you start saving those pennies...
How to drink it: The Sample Room whiskies are obvs divine sipped neat or over ice, but if you're shelling out for them, you deserve to drink 'em any way you please - and we LOVE a fancy Old Fashioned.
£215-£515, coming soon to theglenlivet.com
Lucky Sod
When you're in the mood for dessert in drink form, Lucky Sod does the trick. Made with Irish whiskey, vanilla and caramel, it's sticky toffee pudding in a glass. We can totally see this stuff getting the party started as an all-too-easy-drinking shot, but we're really into it as an after-dinner sipper over ice. 
How to drink it: Sweet and smooth on its own, and we'll also be pairing a shot of it with a pint of Guinness for a decadent Boilermaker.
£20.99, amazon.co.uk
Bullards Pineapple, Ginger & Lime Gin
Get ready for sunshine in a bottle. This new pineapple-flavoured gin from Bullards was created to celebrate the launch of the brand's Covent Garden store - all very fitting, considering the pineapple was adopted as the symbol of the area to reference its history as a massive fruit and veg market. In the glass, there's plenty of tropical pineapple flavour, plus some bright, fresh lime and a kick of ginger spice. Still, juniper is still the star of the show here, and we dig it. 
How to drink it: Mix it with tonic and ganish with a wedge of pineapple (give that baby a little char to add an extra-special something).
Vitoria Reggia
Meet Vitoria Regia, the Brazilian gin range that's finally landed in the UK after making a name for itself in South America. It's got four expressions, all made from an organic netal sugar cane spirit: Dry, with juniper, cardamom, allspice, coriander and lime peel; Rosé, vibrant and pink with hibiscus, cranberry and blueberry; Tropical, with mango, pineapple and ginger; and Citrus, with lime, grapefruit, mint and lemongrass.
Our fave is Citrus, which is light and refreshing thanks to the mint, with a beaut bitterness from the grapefruit - but if you love gin, you're gonna wanna check out the full line-up. 
How to drink it: We're mixing the Citrus flavour in a Gimlet ASAP; Dry was made for a Martini; Rosé belongs in a Negroni; and Tropical suits a G&T topped with a slice of mango. Get sipping!
£34-£38, masterofmalt.com
Charmed Circle Strong Waters
Strong water? Yeah, that sounds like our kinda H2O. These two new bottles from Edinburgh-based distillery Holyrood are actually spirits made from barley, developed to showcase different heritage varieties. Chevalier is bright, tropical, fruity and creamy, with a punchy, malty finish, while Golden Promise serves up notes of lemon peel and white pepper. 
How to drink it: These make for a fun alternative to gin, so try 'em in a Martini or a Negroni - or one of our personal faves, a Last Word. The fruitiness of Chevalier would also make for a top-notch riff on a Daiquiri - time to experiment...
£31.95, thewhiskyexchange.com