From the spicy spirit taking on the gin craze to the botanical ingredients making their way into your cocktails, these are the trends you'll be seeing in your glass this Summer.
1. Thinking inside the box with these wines
Last year canned wine was on the up. Those portable and sustainable single serves of vino paired perfectly with those bubbled-up daily walks around the park. This year, brands are swapping out the aluminium for cardboard and sizing up for those park-based reunions with your extended crew. Yeah, Bag-in-Box wine is making a comeback. Hallelujah.
BiB wine was conceived in Australia back in the '60s. Travelled Oz and have the harem pants and shark tooth necklace to show for it? Then you've definitely lost your boxed-wine V plates with a bladder-bag of "goon", and probably have the PTSD from a night throwing up over your flip-flops to show for it. But the good news is the boxed wine rising in popularity in the UK (there are approximately 4 million consumers enjoying the BiB trend) is a far cry from the stuff of your backpacking nightmares. Trust us.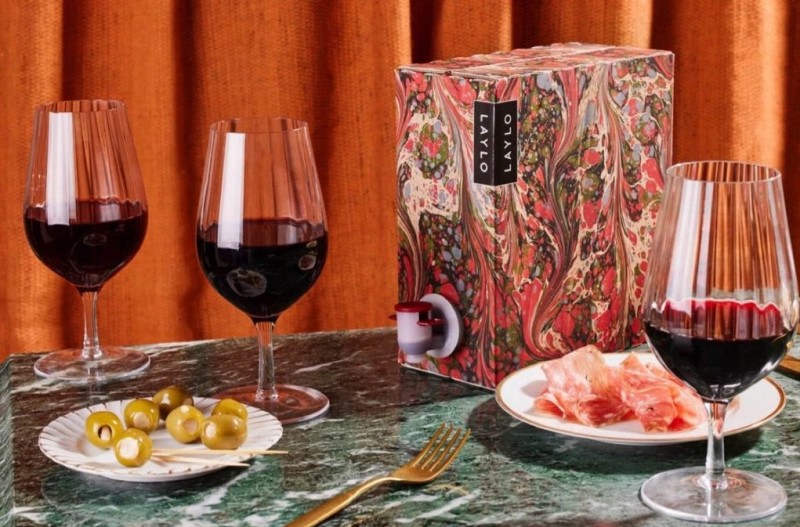 "The biggest barrier we have to overcome when telling our story is the assumption that boxed wine is poor quality," says Laura Riches, Co-Founder of Laylo, a new premium boxed wine company with a fashion-forward design. "Once people realise they don't need to compromise on taste, consumers love the freedom it gives them to enjoy 'just one glass'."
Her fellow co-founder Laura Rosenberger (yeh, two Lauras) believes that the eco-credentials of boxed wine also makes it a 'win win'. "As so many of us are moderating our drinking, boxed wine means you can enjoy a glass of something delicious without committing to a bottle." That's right. You're not actually meant to drink 2.25 litres of the stuff in one go - many of these boxes will sit chilling in your fridge, unspoilt, for up to 6 weeks. Impressive.
Rob Malin, CEO and Co-Founder of When in Rome has his theories as to why this trend is on the up. "Consumers are increasingly conscious of the carbon footprint of the products they buy and the 90% saving in Co2 compared to wine in single-use glass bottles is hard to ignore". Hey, if it's better for the planet, it's better for us.
2. The smokin' hot bars taking over London
We've been writing about mezcal a lot recently, and not just because we'll take any excuse to give this smokey spirit the limelight it deserves. There's been a delicious rise in the number of mezcalerias opening in the capital, from the announcement that Brixton is soon to be home to the second instalment of London's first agaveria, Hacha, to the recent opening of KOL Mezcaleria beneath the restaurant of the same name. Yep, mezcal is big news right now.
"Mezcal has been on the rise for the last 5 years, but until recently it was very much a 'bartenders drink'," Ben Schroder, founder of the Oaxaca-made mezcal Pensador, tells us. "That all changed last year as lockdown forced people away from the bars and into their drinks cabinets. With more time to research online, and a general thirst for exciting, exotic products, mezcal sales went through the roof."
The question is would consumers have become wise to how wicked this spirit is without a global lockdown? Our money is on yes. But would it have happened as quickly? Perhaps not, but the increase in mezcaleria openings is only gonna keep the momentum going, and Ben is with us: "Unsurprisingly, the reopening of hospitality has done nothing to dampen this demand – once you get a taste for mezcal, you're in it for life". Ain't that the truth.
3. Spiced Rum = The New Flavoured Gin
Sick of gin? Nah, didn't think so. But how do you feel about mixing things up a bit and taking a spicier route to your evening spirit and mixer? Yeah, we're into it, too. Enter: spiced rum. The sexy spirit making gains faster than your protein shake swilling mate.
Rum has been on the rise for a few years now, but it's the spicy variety that is really having a moment this Summer, and the pros reckon it's because of its similarities to gin. "Gin is vodka re-distilled and flavoured with juniper berries & botanicals, while spiced rums are rums flavoured with spices & fruit flavours," says Ian Burrell, Global Rum Ambassador and Founder of RumFest which is returning to London this Autumn with its first Spiced Rum Show on October 17th. "Both are quick and easy to make as there is little if any ageing involved, and both are primarily enjoyed with mixers."
If the meteoric rise of gin has taught us anything, it's that ease of creation is the main driving force behind a spirit's popularity. During the pandemic, the UK saw a 29% leap in the number of distilleries being opened as people used lockdown as the kick up the ass they needed to launch that craft spirit they've always talked about, which has been met by an equally high demand from consumers to drink the stuff.  Unlike gin, however, Ian tells us that the growth in this category is going to be seen primarily at the premium end of the scale "as brands seek to craft their spiced rums with less sugar, more aged rum, local ingredients and a focus on provenance." Better get ready for that spicy boom, baby.
4. Eau du

Parfume

Cocktails
Vetiver might not be a word you've come across much before, but if you have a perfume collection to rival the ground floor of Selfridges, you'll have definitely come across it before. Vetiver is a fast-growing grass from the same fam as lemongrass and citronella. The essential oil of the plant is used widely in perfumery and incense production. So why is it making its way into your drinks?
We asked Alex Kratena, co-owner of multi-award-winning Tayer + Elementary and the creator of Muyu Vetiver Gris liqueur why he thinks the lead ingredient of his intensely aromatic composition is having a moment in drinks right now; "Vetiver is a super exciting flavour increasingly popular in drinks because of its unique aromatic, earthy and woody amber-like profile. It introduces new dimensions and depth to cocktails that haven't previously been available in drinks, yet everyone has experienced it in perfumes"
Those new dimensions can be found on the bar menu of The Chinoiserie, the bar of the newly opened Carlton Tower Jumeira hotel in Knightsbridge. While the use of the ingredient is obvious in the signature Vetiver & Ginger cocktail (a combination of Canaima gin, Cocchi Americano, ginger water & vetiver essence) you'll also find it in the non-alcoholic Espresso MartiNO which uses the alcohol-free aperitif, Everleaf Forest, which is created using a botanical blend of orange blossom, saffron and yeah, vetiver, for a dash of citrusy, earthy intrigue. If you haven't tried it yet, we bet it won't be long before you do.
5. The canned booze trend that just won't quit
Launching a Hard Seltzer brand in 2021 is the Gen Z equivalent of Millennials launching podcasts; everyone seems to have done it over lockdown. The fizzy fruit-tinted water with a hint of ambiguous white spirit trend has stuck around more fiercely than a price sticker on a TK Maxx mirror. We've lost count of the number of cans that have launched in this category since it landed on UK shores last summer, and while we might not be totally convinced by the low-calorie, low-ABV messaging (just have a water?) there's definitely a demand out there.
According to Kantar World Panel 2020 data, the hard seltzer category is now worth £12 million in the UK, and is predicted to grow to £104 mil over the next six years according to Grand View Research Market Analysis 2020. Why else might Ellie Goulding have decided to put her world-famous pop-star name (and cash) to SERVED, AKA the best known British hard seltzer brand on the market right now? Girl knows a business op when she sees one. 
Despite those figures, the trend hasn't quite reached the same dizzy heights of popularity in the UK as it has in the U.S. According to the IWSR Drinks Market Analysis, half of U.S consumers drank a hard seltzer at least once a week last year. ONCE. A. WEEK! But when we did our own research on hard seltzer related consumer behaviours in the UK, 53% of responses didn't get the hype, and 34% didn't know WTF a hard seltzer is.
Not that that has stopped the likes of mega brands like BrewDog, Smirnoff, CocaCola and Asahi from launching their own variations, and Ellie Goulding isn't the only celeb jumping on the fizzy bandwagon. Ashley Roberts and Kimberly Wyatt of The Pussycat Dolls have just backed the four fruity variants of Take Five Hard Seltzers; Travis Scott (AKA Kylie Jenner's baby daddy) has CACTI, a tequila-inspired can made with water, cold fermented cane sugar, agave syrup, and a hint of lime juice; and even Gordon Ramsey, the original TV chef with an anger problem has launched "Hell's Seltzer" state-side. Yep, it doesn't look like this trend is going away anytime soon.
6. Whisky Sheds It's Winter Rep
Roaring fires, musty leather armchairs, cold nights and warming drams. We bet if we say whisky to you, chances are your brain will take ya to a wintery evening ripe for a cosy glass of Scotch. But whisky is a diverse liquid and it looks like this malted spirit's rep for being a cold season tipple is melting away, and lighter drams and summery cocktails championing the good stuff are coming into focus. "Whisky is such a diverse, broad and complex spirit, there really is a whisky for every season and occasion," Spirit of Yorkshire's Whisky Director Joe Clark told us. "It is often associated with dark and stormy nights by the fireplace, but actually, a glass of something like our [Filey Bay] light and fruity Flagship or Moscatel Finish is perfect for sipping on a summer evening."
It's not just lighter and fruity whiskies that lend themselves to warmer months. Alex Munch, Co Founder of the Danish whisky brand, Stauning, told us how sipping their Stauning Smoke brings up memories of hot summer days; "It has hints of gentle bonfire smoke which brings warmth, blended with citrus and honey, which results in brighter whisky than most people expect. The smoky taste actually works perfectly with sweet vanilla ice cream, so paired together make the perfect summer treat."
For those that can't disassociate neat whisky with Winter drinking, the cocktails the spirit lends itself to should be enough to convert you into reaching for a bottle of the amber stuff while the mercury is soaring. Annabel Thomas, founder of Nc'Nean likes to lengthen their single malt with a mixer to create a refreshing serve for warmer days; "We are big fans of mixing our single malt with soda, ice and fresh mint – the perfect light serve for spring and summer." And Nc'Nean is not the only whisky producer that has turned to killer mixers to transform their liquid into the perfect Summer cocktail.
"Whiskey has such versatility with its flavours that it blends well with fresh ingredients and great mixers for long summer serves," says Dave Marsland, Brand Ambassador for Daddy Rack Tennessee Straight Whisky, who uses Sicilian lemonade to create their BBQ appropriate signature serve. "The honey and roasted apple notes lend towards a long serve, and due to its caramelised banana nose and buttery mouthfeel it works well within Pina Colada". Time to grab that bottle of whisky off the shelf and get mixing.
7. The New Cocktail Ingredient You'll Be Seeing Everywhere
While you were perfecting your sourdough starter over lockdown, bartenders and drinks producers were spending their pandemic getting jiggy with fig leaves, and it's had a pretty delicious effect on the bottle shelves and cocktail menus of the UK this season. We spoke to Matthias Ingelmann, co-creator of Parafante Liqueurs, the UK's first Italian fig leaf liqueur, to find out WTF this ingredient is and why we've been seeing this ingredient everywhere.
"People are always on the lookout for new interesting ingredients. Fig leaves are one of those that was always used in cooking but got forgotten over the years. With the rediscovery of natural ingredients and movements like farm to table and rewilding, it was just natural that people will rediscover fig leaves, their amazing smell and flavour and start using it in drinks and cocktails too."
Matthias launched Parafante in July with his business partner and co-creator Graziano Madeo. The liqueur uses fig leaves that have been harvested and dried in southern Italy before being macerated, blended, rested, and mixed into Parafante Fig Leaf at their craft liquorificio in Harringay. "We saw lots of bars starting to use fig leaves in their cocktails, but just as a very seasonal ingredient," Matthias continues. "We wanted to give bars, but also home bartenders, the chance to use fig leaves throughout the whole year and make it easier and more consistent for them to add the amazing flavour of fig leaves to drinks."
The Gin Slinger, Scotch Bringer & Canned Cocktail Humdinger Jack Wareing (AKA Brand Ambassador for Langstane Liquor which includes Porter's Gin and Glasshouse Whisky) has also begun championing fig leaves in his cocktails. His 'In A Gadda Da Vida' has been created using a homemade cordial he devised by combining fig leaves with spruce, water and vodka before heating in sous vide. 15ml of that is then added to a build of Porter's Orchard gin (50ml), Apricot liqueur (10ml), and Ginger beer + soda (80ml) to create a perfect summer cocktail, garnished with a lemon twist and a fig leaf cutout. We reckon we speak for everyone when we say we hope this is a trend that sticks around cos that sounds like a bit of us.
Love a trend? Check out what the pros predicted would be BIG for 2021