There's a pink wine for every occasion, from paler-than-pale options perfect with long summer dinners, to gorgeous sparkling versions for celebrating, to cans that let you rosé any way, anywhere. Read on for our pink picks...
Still
Madame F Rosé
She's juicy. She's fresh. She's fruity. She's Madame F. This vegan rosé was created in collaboration with charity Queer Britain to support the country's first LGBTQ+ museum, and it's a banger. Made with Grenache and Syrah grapes, this one's all about big berry flavours - think strawberries, raspberries and blackberries, all drizzled with honey. YUM. And for under a tenner, it's great value, too. 
£9, sainsburys.co.uk
Bowl Grabber Rosé
Bowl Grabber is a brand that's all about ditching the pretentiousness around wine and just enjoying it. That's a mission we can get behind, especially when the wines are this easy-drinking. We dig the rosé in particular - pale as a Victorian child and mega-refreshing, with zesty tangerine notes. We'll take ours with an ice cube, preferably by a pool in Provence (the wine does hail from the Côte de Azur, after all). 
£10, ocado.com
Pink Diesel Rosé
Top-notch wine from a kickass, independent, female-owned company? Things just ramped up a gear. Pink Diesel Rosé is here to fuel your desire for good times and transport you to Southern France even when you're chilling in your casa. It's light, crisp and dry, with notes of honey, peach and citrus creating a completely quaffable wine. Give it up for the girls! 
£14.95, pinkdiesel.com
Maison Mirabeau Nude Pink Rosé
When in doubt, get nude with your wine. Let's clarify - we're talking about Maison Mirabeau's latest release, Nude Pink Rosé. Ideal for mindful drinkers, this is their first certified organic and vegan Côtes de Provence rosé, which is bottled in 100% recycled wild flint glass, stoppered with local cork and has a paper collar instead of a tin capsule. Bursting with red fruits on the nose and palate, and with a delicate minerality, this is the ideal way to do good for the planet. Three cheers for sustainable sipping!
£22, maisonmirabeau.com
Sparkling
Van Hunks MCC Rosé Brut Sparkling Wine
When a drink is described as the 'South African version of Champagne' then we sit up and listen. If you're even a tiny bit interested in wine then it's likely you'll have heard of Stellenbosch - this is the historic SA town surrounded by vineyards that is the go-to vay-cay for vino lovers. Van Hunks is a combination of Pinot Noir and Chardonnay, with the addition of South Africa's Pinotage for a burst of red fruit flavour. What a trio. Get that sun-soaked Saffy feeling via the bubble in your wine glass - whether popping for a celebration or just 'cos it's a Saturday. 
£20 Van Hunks
Bullards English Sparkling Rosé 2009
English gin maker Bullards has gotten in on the sparkling rosé game, and its pink fizz makes us feel like we're living our best Bridgerton life. It's a blend of Seyval Blanc, Auxerrois and Pinot Noir grapes from Sussex - dry, light and fruity, with strawberry and raspberry sorbet vibes and a lovely bit of lemon on the finish. Brb, donning a Regency gown. 
Exton Park RB 23 Rosé
Toasting a special occasion? Raise a glass of this sparkling rosé from Hampshire-based producer Exton Park. To make RB 23, Exton Park winemaker Corinne Seely creates a blend from the winery's massive library of reserve wines, built up since 2011 ("RB" stands for "reserve blend", FYI). With lush floral notes giving way to juicy white peach and strawberry, it's the perfect bottle to pop when ya wanna impress. 
Le Cratère Sparkling Rosé Wine
Cosmic wine from a 10,000-year-old crater? You have our attention. If you're wondering what Outer Space has to do with the sparkling wine in your glass then the clue's in the name: Domaine du Météore's vines grow within and around a crater created by a meteorite that struck a hillside in Southern France over ten thousand years ago. Their organic Sparkling Rosé Wine is made in limited numbers using Syrah grapes. A burst of red berries, a saline minerality on the finish and a galaxy of bubbles to get the good times rolling. 
£28 per bottle, domainedumeteore.com 
On the go
Banks Brothers Pineau d'Aunis Rosé No. 13 2019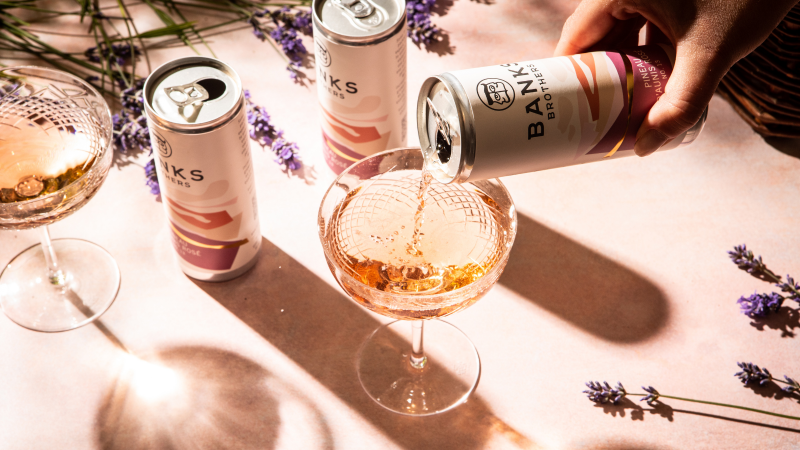 For a posh take on tinnies, check out Banks Brothers' bangin' canned wines. They're the latest from Tommy and James Banks, the fine-dining duo behind Yorkshire restaurants The Black Swan and Roots, and they're all about highlighting independent winemakers. The rosé is seriously good juice, with lots of fruity berry flavours and a distinct note of white pepper to shake things up.
£18 for three cans, banksbrothers.co.uk
Non-alc
Wild Idol
Off the booze? You can still get your rosé on thanks to Wild Idol. We've tried our fair share of non-alcoholic wines, and this is one of the few that really does the trick. Lush fizzy texture? Check. Red-berry notes? Check. Finish that's not afraid to pull up a chair and stay awhile? Check. Just further proof that ya don't have to be on the sauce to enjoy some big flavours.
£35, wildidol.com
Oddbird Sparkling Rosé
This French rosé is sexy, silky, sophisticated sparkling and... sans alcool? You read that right. Oddbird is delivering decadent drinking, only without the drunkenness that can occasionally occur after deciding to pop a cork at midday. Stay chic from your first glass to your last by sipping on this perfectly balanced blend of Chardonnay and Pinot Noir from Languedoc-Roussillon. Hints of strawberry and redcurrant, crisp notes of Granny Smith apple, and the fact you'll be toasting santé without the hint of a slur. We're in.
£9.99 Amazon
Obsessed with rosé? Here's where to drink it in London.