Mum in town? Not booked anything for Mother's Day? (That's 19 March, FYI.) Don't sweat it. We've got a bunch of epic bars and restaurants your mum (or mum-adjacent person) will love, from breezy brunch spots to swanky rooftop bars. 
Brunchtime
One part members' club vibes, one part day out at the Chelsea Flower Show vibes. This expansive, white-washed warehouse space is all glamour and garden chic - a total Instagrammer's dream. These folks go big on brunch so it's not to be missed. Hit the bottomless Bloody Marys or Bellinis with your mama while you get your fill of eggs and pancakes, surrounded by lush plant life. 
42 Northampton Rd, Clerkenwell, London EC1R 0HU
Sit up at the bar and get stuck into one of the best brunches this town has to offer. We're talking eggs done every which way, chorizo hash browns, stacks of blueberry pancakes and banging Bloody Marys.
43 - 51 Great Titchfield Street, London, W1W 7PQ
People have been waxing lyrical about the brunches here ever since they opened. They roast their coffee beans on-site so mum'll be perky, and you'll be caffeinated and ready to steer conversations onto anything other than your dating life. They spread anything on toast, scent their pancakes with orange essence and turn black pudding into something sublime. Tuck in!
Granary Building, 1 Granary Square, London, N1C 4AA
Feasting
If ya mum is partial to a steaming basket of dim sum, a wicked cocktail and some seriously flashy interiors, we know a place. Dine among the cherry blossoms and work your way through legendary bartender Will Meredith's next-level drinks menu at this rooftop stunner.
The Now Building Rooftop, Outernet, Denmark St, London WC2H 0LA
This is a real weekend treat, and about as magical as it gets. You can wind around the gardens, browse the plants in the nurseries and shop for antiques. The real star of the show is the Michelin-starred seasonal food, so eat up.
Church Lane, Richmond, TW10 7AB
Two things you need to know about this Michelin-starred joint in Covent Garden. The first: it's all about sustainability. They make the most of all the ingredients that pass through the kitchen, and anything that doesn't go onto your plate is passed down into the bar downstairs. And the second: this is where you will enjoy the best bowl of butter (served with the freshest loaf of sourdough) you will ever have in your life. Seriously. Run, don't walk.
34-35 Southampton St, London WC2E 7HG
This spot in the City is a vividly coloured, flamboyant and surreal take on the 1930s, all mirrored ceilings, backgammon flooring and gold. Mum will be too distracted by the decadent surroundings she won't even think to ask why you're still single, and when you keep filling your glasses with the infamous "Press for Champagne" buttons found at each table, she won't care, either. 
Level 3, 122 Leadenhall St, London EC3V 4AB
View hunting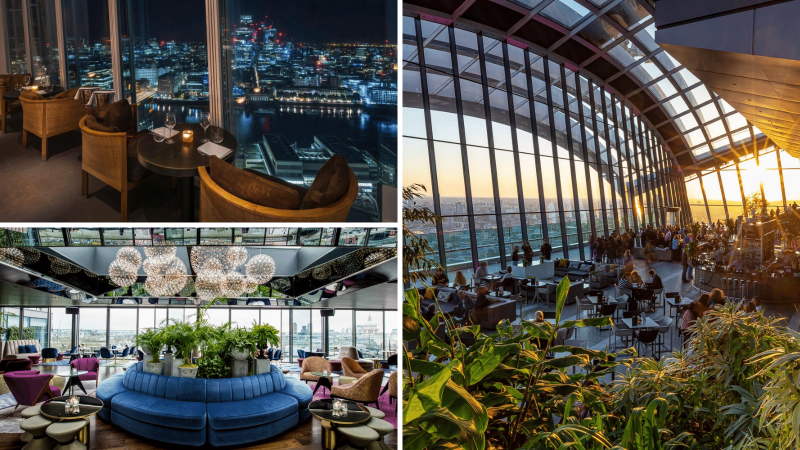 This bar up in the clouds is where to take her for a cocktail, especially if she's a bit of a gardener (their bushes are enviable). Wrap up warm (them plants like it cold apparently) and be prepared for a bit of a cocktail wait (it's okay though, the view will keep you entertained in the meantime).
20 Fenchurch Street, London
Any trip up The Shard is special. If you've got cocktails on your mind it's all about Oblix; they've got a big bar with pretty bottles stacked up to the ceiling and know how to work a shaker (their bar snacks rock, too).
Level 32, The Shard, 31 St Thomas Street, London, SE1 9RY
Sitting pretty atop the Sea Containers hotel, 12th Knot is a sexy and bright hangout inspired by a cult group in the '20s who knew how to party. Sip on Champagne and killer cocktails as the city shines on down below. It's sleek, it's chic, and it never fails to impress. Mum will approve.
20 Upper Ground, London, SE1 9PD
Afternoon tea
There are a couple of well-established afternoon tea hotspots out there, but the most fashionable is definitely the Prêt-á-Portea at The Berkeley - think delicious finger sandwiches, dinky canapés and cakes almost too pretty to eat, all meticulously designed to represent the latest styles of the global catwalks and the designers behind them. It's hella spenny, but this is probs the most affordable way to get your hands on a Balenciaga bag right now, even if it is made out of flower, eggs and sugar.
Wilton Pl, London SW1X 7RL
Any visit to Lyaness is an unforgettable experience, but their take on afternoon tea will stay with your mum for a while. The Fancy Tea channels high-end '80s dinner party vibes with a bold Lyan twist. Expect the usual suspects: sandwiches, savouries, scones and sweets, all washed down with four awesome cocktails.
Sea Containers London, 20 Upper Ground, London, SE1 9PD
Take your mum on an epic world tour in a single afternoon with this indubitably posh tea modelled after Jules Verne's classic novel. Get ready for Cairo-themed finger sandwiches, the cutest beef and gravy pies by way of London, a lush Parisian Mont Blanc and a classic Roman tiramisu. Oh, and quench your thirst properly with a cheeky Champagne Cocktail.
109-113 Queen's Gate, South Kensington, London SW7 5LP
Wine o' clock
This has gotta be one of the coolest spots in London. It's like stepping into a vintage Parisian wine bar circa the 1940s and we're totally into it: dark green leather, huge windows, roaring fires and a quirky wine list with everything from French classics to Greek new school bottles. Fat olives and little snacks are on offer out front but if you mean business or you really wanna treat her, book into the restaurant behind the curtain. Next-level good.
51 Lamb's Conduit St, London WC1N 3NB
What used to be an underground loo is now Clapham's hottest hangout. The wine list is well-priced and the charcuterie is delicious, and mum will adore the love letters in the loos which they found during the redevelopment.
Clapham Common South Side, London SW4 7AJ
If you and your mum have been indulging in some Covent Garden-based retail therapy, this is the place to drop afterwards. It's got cafe meets wine bar vibes, with a wine list 150 bottles long. if natural wines are your ma's jam, she'll definitely find a few glasses she'll wanna try on the menu. Hit the pet nat for something a bit special, or let head som Alex Price give you her recommendations.
19 Kingly St, Carnaby, London W1B 5PY
Lead image credit: Keeping Up With The Kardashians, 2017
Want more inspo for treating ya mumma? Check out our fave boozy afternoon teas in London.
Updated 09/03/2023