'Cos sometimes we wanna stay in and rock the contents of our home bar.
We've rounded up recipes for epic Christmas cocktails no matter what the occasion. These are our go-to festive drinks for when we want...
An Immortal Old Fashioned
Dark, sexy and rich… is how we'll be serving our rum cocktails this December. Mount Gay Rum is bringing the sugar cane goods all the way from Barbados to the Christmas party, and they're sleighing it. Aged rum, chocolate liqueur and a hint of citrus = our kinda festive flavours.
WHAT YOU'LL NEED
50ml XO
5ml Dark Crème de Cacao
2 dashes of Orange Bitters
2 dashes of Angostura 
Garnish: Fresh lemon peel
MIX IT UP
Add all ingredients to mixing glass. 
Then add ice and stir. 
Strain into rocks glass over a large ice cube. 
Garnish with lemon peel.
The Passoã Pornstar Martini
The Pornstar Martini is Xmas with a capital X-tra. It's fun, feisty, and yeah that's a shot of fizz on the side. This ultra-popular cocktail can be whipped up in a flash, ideal for when you're celebrating with a crew.
WHAT YOU'LL NEED
40 ml Passoã
40 ml Vodka
10 ml Vanilla syrup
10 ml Fresh lime juice
1 Passionfruit
50 ml Prosecco/Champagne
Garnish: Half a passionfruit
Glass: Flute and shot glass
MIX IT UP
In a shaker filled with ice cubes, add one measure of Passoã, another of vodka, a dash of vanilla syrup, the juice from half a lime, and the pulp of half a passion fruit.
Give it a good shake!
Strain and serve in a fancy pre-chilled glass, and decorate with the other half of the passion fruit (for nibbling on later).
Follow with a shot of your favourite fizz straight after. 
Johnnie Walker's A White Christmas
Full of wintry flavours Johnnie Walker A White Christmas is bang on for those cosy nights in. The smokiness of Johnnie Walker Black Label, hoppy bitterness of Guinness and damn right velvety vibes of that condensed milk; when you're given an excuse to sip on something this good in the name of Christmas, you take it.  
Best of all it serves all 6 of your mates in one go so you won't spend most of your night in the kitchen regretting that you offered to make the drinks.
Serves 6 & 1.9 units of alcohol per serving.
MIX IT UP
200ml Johnnie Walker Black
900ml Guinness
1 cup whole milk
1 cup condensed milk
1/8 tsp ground cinnamon
1/8 tsp nutmeg
1/2tsp pure vanilla extract
Blend and serve in your best mugs with grated cinnamon.  
A Jaisalmer Peppertini 
Created in the foothills of the Himalayas the gin is triple distilled with 11 botanicals, 7 of which come from India, including lemongrass and Darjeeling green tea… yeah, it's damn good. We drink ours in this fresh and peppery cocktail.
WHAT YOU'LL NEED
The Jaisalmer Peppertini
50ml Jaisalmer Indian Craft Gin
20ml Pink Peppercorn Syrup
20ml Fresh Lemon Juice
40ml Pink Grapefruit Juice
MIX IT UP
Pour Jaisalmer Gin, Peppercorn Syrup, fresh lemon juice and pink grapefruit juice into a shaker.
Shake and double strain into a pre-chilled coupe glass.
Garnish with a piece of Pink Grapefruit.
SoCo White Christmas
If you've only ever had Southern Comfort with lemonade, your mind's about to get blown. This fruity, spicy whiskey liqueur was made for winter nights and cosy cocktails with vanilla, cloves, cinnamon, cherry and citrus all making an appearance.  Whip this drink-dessert hybrid up for your crew and you'll be sleigh-in' it this Christmas. Bonus points if you can also add in the fake snow for effect. 
WHAT YOU NEED: 
Southern Comfort (50ml)
Double cream (50ml)
Simple syrup (20ml)
Whole egg
Glassware: wine glass
MIX IT UP:
Combine all ingredients except cinnamon in a shaker.
Shake and strain into a fancy wine glass.
Garnish with a dusting of ground nutmeg & a cinnamon stick.
The Italicus Spritz
You say festive, we say fizz. Christmas is all about the parties so hang out with your friends and rock their world with this bubbly serve. With notes of Calabrian bergamot and orange, Italicus is adding some class to your Christmas.
MIX IT UP
50 ml Italicus
Top up Prosecco
Serve over ice
Garnish with 3 fat juicy olives
Build in a beautiful glass and enjoy. 
A Hendricks French 75
For those who don't know, Hendricks is the unusual and delicious gin that's infused with cucumber and rose. Tight. What's more, it tastes insane in a French 75. Make this and suddenly you're on everyone's Christmas card list.
WHAT YOU'LL NEED:
•       30 ml Hendrick's Gin
•       10 ml Sugar Syrup
•       10 ml Lemon Juice
•       Top with Champagne
MIX IT UP
Add ice, gin, sugar and lemon to a cocktail shaker.  Shake well and fine strain into a flute. Top with champagne.
A J&B Rare Rhubarb High-Ball with J&B Rare
Ho ho ho, it's time for a High-Ball. Hard Seltzers are topped to be a big drinks trend next year so if you wanna get ahead, this is the one for you. These long cocktails are the best way to stay fresh during party season. This cocktail has loads of festive flavours – toffee, cinnamon… stick a cherry on the top (literally) and this highball is a go-to party drink.
MIX IT UP
In a fancy highball glass (well it is Christmas after all) build:
•       50ml J&B Rare
•       125ml Apple & Cinnamon Sparkling Water (made by sticking apple slices and cinnamon sticks in a jug of sparkling water and leaving to infuse for 30 minutes)
•       4 dashes of Rhubarb Bitters
•       5ml sugar syrup
Garnish with a cherry and a stick of cinnamon
A Hot Toddy with Aberfeldy 12 & World of Zing
This cocktail is the hottest thing to come outta Scotland since Gerard Butler's abs. Aberfeldy 12 Year Old brings rich honey, vanilla and sweet spice flavours, with a slight aftertaste of orange. But there's more - World of Zing have created 3 epic honey-based syrups so you can whip up a winter warmer in no time. 
MIX IT UP:
In a hot toddy mug add
30ml Aberfeldy 12
15ml World of Zing Hot Toddy syrup
Topped with hot water
Garnish with a lemon wheel 
A Black Cow Espresso Martini
Coffee and milk = a combo as classic as p*ssed charades on Christmas afternoon. This is why Black Cow makes the smoothest Espresso Martini out there. It's made from cow's milk. Yes really. Can't have dairy? No stress, the lactose has been removed from the vodka so anyone can get down with this twist. Moo-sic to our ears.
MIX IT UP
50ml Black Cow Vodka
40ml Fresh espresso, cooled
15ml maple syrup
Shake hard over ice and serve in a martini glass. Garnish with 3 coffee beans.
A Gooseberry Signature Serve with Slingsby Gin
Gooseberries…  used for crumble/your mate when they just won't take the hint that three's a crowd, right? Wrong - these little fruits are also banging in gin. This crisp serve is light, bright, and the perfect addition to any festive soiree. Time to gin-gle all the way.
MIX IT UP
50ml Gooseberry Gin
Served on ice with premium Mediterranean tonic water
Garnished with freshly sliced green apple.  
A Salted Caramel Truffle Flip with MONIN
Just when you thought Christmas couldn't get any more luxurious, along came MONIN. Everyone's favourite sugar syrup decided to go to town on decadent drinks and throw a salted caramel truffle cocktail into the mix. The result is this naughty but very nice rich and velvety cocktail. Hey presto - you just won gold at the dessert cocktail Olympics. 
WHAT YOU'LL NEED
MONIN Salted Caramel Syrup 20ml
Cognac 40ml
Cream 20ml
Whole egg
MIX IT UP
Shake all ingredients in a cocktail shaker and double strain in the most beautifully badass glasses you have. We like cut-glass coupes.
Garnish with a dusting of cocoa powder and a truffle on a cocktail stick.
Aperitivo is all about 'opening the stomach' (literally translated) and boy, we'll need some of that this Christmas season. Forget heavy eggnogs and rich cocktails, whip up some of these light and bubbly cocktails for your mates and get festively fresh.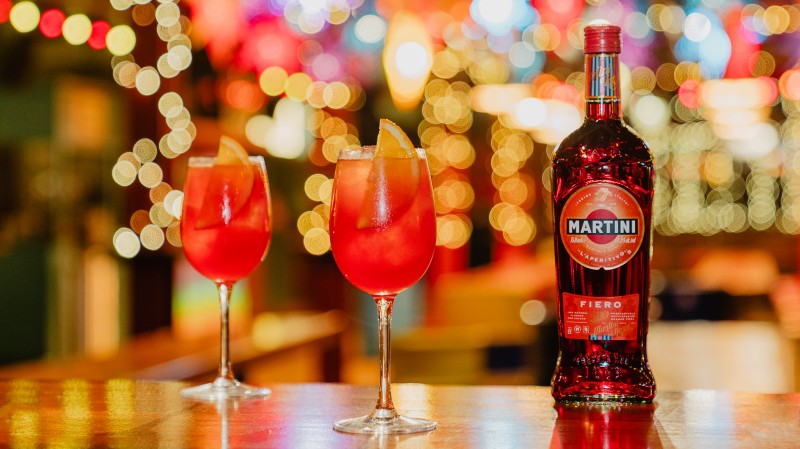 The Fiero Aperitivo
WHAT YOU'LL NEED:
• Martini Fiero 50 ml 
• Martini Bitter 5 ml 
• Simple Syrup 5 ml 
• Orange Juice 20 ml 
• San Pellegrino Aranciata rossa 50 ml 
• Martini Prosecco 50 ml  
 
MIX IT UP: 
Add ice cubes to a wine glass.  
Build cocktail will all ingredients. 
Garnish with an orange slice.  
Perk up your party by introducing your crew to their epic Carthy & Black Espresso Gin Cream Liqueur. Rich coffee notes and a sweet caramel finish make this one sexy serve. It's awesome straight up, or draped over ice. Hey presto - you've got yourself an espresso gintini.
MIX IT UP:
Simple and yet so, so effective.
Iconic Beefeater gin is more London than tourists outside Buckingham Palace and weekend tube strikes. And now they've created Beefeater Pink Strawberry too. POW.
Beefeater Hot Strawberry
MIX IT UP:
50ml Beefeater Pink
40ml cranberry juice 
15ml sugar syrup 
75ml hot water
Serve it up in cute mugs
With 10x the coffee but half the sugar of traditional coffee liqueurs, Mr. Black is the real deal. So if ya love coffee, you need this bottle on your shelf. It's our top choice in an Espresso Martini, and god knows we need 'em over Christmas so whip up this wicked cocktail to perk up you and your crew. 
MIX IT UP:
In a cocktail shaker add:
60ml Mr Black 
30ml fresh espresso
Shake over ice
Strain into a cocktail glass 
Let that caffeine kick perk up your party.
For anyone planning on doing Dry Jan or just those who reckon their liver could do with some love, let us introduce you to CEDER'S.
Ceder's Christmas Spritz 
MIX IT UP
50ml CEDERS Wild  
Verjus  
Top with Frankincense soda
Hell to the yeah.  
This smooth, creamy and nowhere-near-as-sweet-as-you're-expecting English Cream Liqueur can be blitzed up a batch and kept for 2 weeks so you'll have none of that spending all night shaking up drinks FOMO.
Hay Bale-ys (English Cream Liqueur) 
WHAT YOU'LL NEED
• 350ml Ramsbury Estate Vodka 

• 250ml single cream 

• 1x 397g/14oz tin condensed milk 

• 20ml chocolate sauce 

• 1 tsp vanilla essence 

• 15ml amaretto 

• Pinch of cinnamon and nutmeg 

MIX IT UP
Pour all the ingredients into a blender and blend on high for 30 seconds. Add extra chocolate to taste.  
Pour into sterilised bottles and store in the fridge. (The liqueur will keep for up to two months.) Shake well before using. 
Serve by pouring over ice and enjoy 
One for the discerning drinkers. You can't make a Negroni without vermouth, so why not go for one of the best? 
BarChick Negroni
MIX IT UP
Combine equal parts Brooklyn Gin, Antica Formula & Carpano Bitter in a rocks glass. 
Get a hunk of ice and stamp the ice with the top of the Brooklyn Gin lid, 'cos you get the hack and look like a drinks rockstar. 
Stir it up. 
Cut a star out of orange peel (Christmas, yeah?) and garnish.
Rise above any festive fatigue with this banging cocktail - it's time to refresh yourself with the Brooklyn Gin Bee's Knees cocktail.
Brooklyn Bees Knees
MIX IT UP
50ml Brooklyn Gin
20ml Lemon Juice
20ml Honey Syrup (use equal parts honey and warm water)
Shake with ice and serve in a rocks glass with a slice of lemon
Stamp that rock of ice with the lid of the Brooklyn Gin bottle 'cos OH yeah it's only a bl**dy ice stamp. Genius.
Kick back and bee happy.